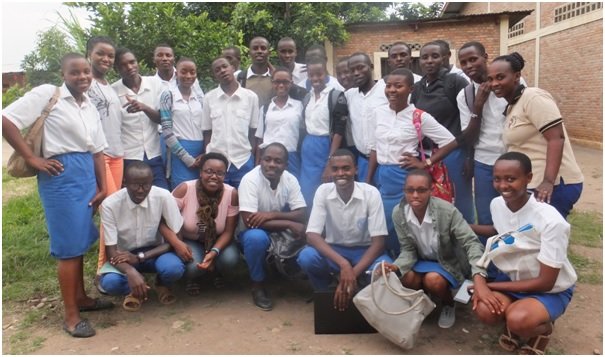 The violence between the police and youth demonstrated how much the cycle of violence and revenge has rooted. IPB believes that the lasting way of breaking it is "to create a future generation that is healed from trauma, mastering the peaceful management and responsible leadership".
To reach there, each young one must contribute in one way or the other. For this end, IPB continue to organizing Healing and Rebuilding Our Communities basic workshop with secondary schools in Bujumbura. This was conducted in Cibitoke school II on March 20 till 22, 2019 aiming at (i) helping them recognize and understand trauma, (ii) knowing how to deal with it, (iii) knowing that life must continues after a traumatic event, and (iv) helping them to reconnect themselves to their communities and rebuild society. Twenty five (25) students were present among the 12 females and 13 males
Following are some testimonies from the basic workshop
Lydia
Something that wounded me mostly was my mother's sudden death. I left home in the morning that day she passed away. We said bye to each other and shared best wishes of meeting after class. Without taking much time at school, I saw my uncle coming to our school very calm and ask for me an authorization of going to see my mother who is at the hospital, he said. I asked him did she have an accident since I left her in good health. My paternal uncle told me: no. And I added by asking: is she seriously sick? He didn't say: the time I left she was not.
When we reached the hospital, I saw people there crying some saying "why did the Lord take her young". Others blaming them by saying: what could we have done and we didn't to avoid this sudden death we assisting today. In this situation of noise and crying, I find myself crying too without any control. Since then I failed to accept that I lost my lovely mother. During the night I'm dreaming many time being with mother and after those dreams I become hopeless and my capacity of memorizing things such as studies has gone away. I developed isolation since I don't want to collaborate with those still having their mum when I missed. I do have many symptoms of trauma we have learnt in the HROC basic workshop. Despite all those negative stories about my life, I'm glad to have participated in the workshop where I come to learn about trauma, its consequences and ways to overcome from them. I have never shared my history because I knew I was not able to afford it. When I was telling about it, I felt little by little released from the burden I did have.
I commit to assist others starting by my family members using the little I come to learn and continue expanding my own healing
Fulgence
Something that wounded me and still wounding me till today is the fact that I felt the national test alone when those who have an inferior note to mine passed. I discovered this when I went to look to the poster table and found my name was not mentioned among those who succeeded. I still remember that one of our teacher found me there and asked how the situation in matter of succeeding was. I asked how it happened that I was not on the list. He told me, "Condolences" and he continued by telling that one of the teachers made an opposition that I could not be accepted for the next class and was decided like that. I failed my mind and missed what to say next and I quickly move from the place with a lot of tears on my yes. Until today I ask myself why I failed and question am I going to pass this school years and tears come to as I don't have any assurance that the teacher should not do the same as last year. I live a disappointed life in matter of studies.
To see the same teacher in front of me during a class of 50 minutes today is comparing to a whole week looking to the level of jealousy I do have toward him.
Having participated in this workshop about trauma and the ways of managing it is an added value to my daily life. I decided to pardon the teacher to live peacefully and be able to stop the consequences that the trauma is having on me. I'm glad to learn that after traumatic event, life must continue. I will do all what I can to assist myself, my family.
Alain
We were two boys and four girls in my family. When I was still in primary school my older brother died and I stayed only one boy with four girls. This death wounded me at the point that whenever I see others boys playing with their brothers. I isolate myself and said in my spirit why my brother died and I don't have another boy to play with or share a same room. The extreme case is during our family promenade in nature or at the beach. My sisters have common ways of enjoying themselves in which I participate easily. There are others which are dedicated to females and those for males. During those dedicated to females by culture, I don't have any way to adjust myself to them except isolating myself and became automatically and think about my older brother who died and felt me alone. I have developed jealousy to those remaining with their brothers in my inner heart. This situation has developed negative consequences in me. The workshop on trauma healing using HROC approach was very profitable for me. It helped me discover the implication of my old brother on me and what are the consequences. What is very important is to know what to do and how to do it to recover from those consequences.
More thank for IPB/HROC
Liliane
What wounded me mostly in my life was my grandmother's death. She loved me and the other grand children very much. What shocked the whole family more is that she died without knowing to what sickness she was suffering and none of us believed she was going to die after a very short time as it happened. She was very important for the whole family and has showed love to anybody. Her death left within our family serious hatred as one of her daughter-in-law was accused to have poisoned her. Today through gossip, each parent advises his/her children to not eat or drink something given by her. This has created a family members division which has negatively effected the whole family and mainly children. It has created a fear and hopeless on living longer whenever the one accused to have poisoned our grandmother still alive. Anyone who gets sick within the family, the first reaction is to look for a local healer before any nurse or physician. This situation has consequences on me and other family members
To have been part of this basic HROC workshop helped to know about trauma and ways to overcome from that was much needed for me. It's a privilege for me to get listened as an opportunity of healing from my wounds and I fell a little bite released. I commit myself to help my family members using the little I learnt. If possible I will recommend them to meet with IPB/HROC's people or participate in a similar workshop.