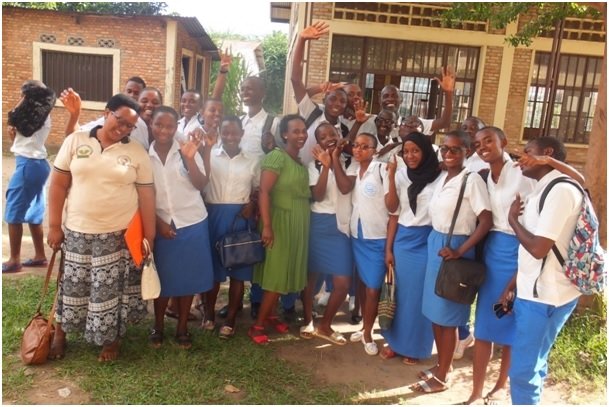 The violence between the police and youth demonstrated how much the cycle of violence and revenge has rooted. IPB believes that the lasting way of breaking it is " to create a future generation that is healed from trauma, mastering the peaceful management and responsible leadership".
To reach there, each young one must contribute in one way or the other. For this end, IPB organized a Healing and Rebuilding Our Communities basic workshop with secondary students of Cibitoke school on February 4 till 6, 2019 aiming at (i) helping them recognize and understand trauma, (ii) knowing how to deal with it, (iii) knowing that life must continues after a traumatic event, and (iv) helping them to reconnect themselves to their communities and rebuild society. Twenty one (21) students were present among the 10 females and 11 males.
Following are some testimonies from the basic workshop
Vianney
I was traumatized by how my mother was mistreated twice by my father. First of all my spent one year without getting pregnant and my father's reaction toward her was to marry a second wife. The second wife was the first to give birth to a girl. Five months after I was born and we grew up in a same compound. One day when preparing rice to cook, my mother asked to that girl to bring to her a basin to clean the rice and she refused. My mother slapped the girl and unwillingly she injured the girl on the noise by the watch my mother was wearing on her hand. On the morning when my father wanted to know how the girl was injured, she said that my mother injured her with a machete. My father got angry and beat my mother very strongly without asking to her the veracity of the message given by the girl. It' was the first time I saw my mother and my father in an opened conflict such that one. That act wounded me to my mother being beaten in front of children and other relatives. I got shocked at the point that I failed to follow my studies that year and I repeated the same class. My wish was to see my half daughter one day asking for forgiveness to my mum but in vain. On the other hand I wanted to see my father value my mother and managing conflict in a way parties in conflict are given opportunities to express how things went on and my father becoming a mediator instead of having privileged to one side. My father's way of dealing with conflict that happening between his two wives and children from the two sides continued to preoccupy on me till today. After learning about trauma, its consequences and the ways to overcome from it, I got new insights about my family including my father's behavior which relate to trauma. After sharing about our personal traumatic events we underwent, I feel released and I knew that my family members need to pass through this process of healing from trauma and this should lead to the family reconciliation and peaceful ways of dealing with conflict too.
Samuel
I started my primary school when my family was living a comfortable life. My father was a businessman and my mother was taking care of us. When I reached the 6th grade, I knew my father's possessions in term of plots and places rented by my father in the market which were procuring monthly contribution in term of finances. When I reached the 7th grade things started to slow down until I missed school fees. I doubted how things could reach that unbelievable point. I asked my mother what happened and she didn't tell me anything. In my own investigation I found that my father had sold all plots we had and all rented places in the market had been removed to him and given to others. Things became worsen until my family failed to pay for my school fees and we eat by chance at home. When my classmates knew that my family was no long able to pay for school fees or bus ticket they gossiped about it one to other ear by ear and I felt ashamed and I started to isolate little myself by little until I stayed alone at school or when coming or going home. Whenever I asked my father what happenedr, he reply that I didn't have the right to ask that and I was strongly angry. I got someone to pay for my studies which is the reason why I am still attending the school. I lost parental affection. I don't have any convenient place either school nor home. I have been trying to give me peace in vain. Following the HROC basic workshop I come to attend and sharing my personal traumatic experiences, I feel a little bit released. I commit to do all what I can and progress within the process of healing and also assist my parents too. I wish IPB should invite my parent in a similar workshop
Alice
I live in CARAMA III. My parent separated from each other three years ago. This was due to the fact that my mother got pregnant when my father didn't want to get another child. He urged my mum to do abortion. My mum on her side refused this suggestion following her religious beliefs. The misunderstanding on that gave to an internal separation where my father chased my mum from the family bedroom. My mum moved to another room.
As I study in a school where I stayed for a whole trimester, it's during vacation that I discovered this situation. When I wanted to know what happened, each one kept the secrecy. During the vacation of the second semester, I found that my father had chased out my mum in one hand and in the other my father was in jail. My mum took opportunity to share how things developed between them. I learnt that the bank wanted to sell our house because my father took a loan and failed to reimburse back. Since my father made quarrels the police decided to put him in jail. I was totally overflowed by this bad news at the point of missing consciousness. My classmates comforted me in vain. I was deceived by my parent who didn't want to inform about what was going on. I didn't know that my father took a loan as I didn't know for what reason this loan was claimed for and what realization was done. During the vacation following the third semester, I found the house already sold. We were received in a center of charitable people who assured accommodation only. There still how to get food and other needs including school material and fees. This year I attended the class two weeks late.
This workshop came in when I was at the last point of mental explosion. I'm glad that I managed to share my traumatic experiences and I wish I should continue until the total healing. I commit to assist my family that is very traumatized if I look on each ones behavior
Remah
I'm a Muslim. I'm the eldest of seven children. Since my childhood, I like playing with boys as I had more confidence in them in term of secrecy and my friends were boys and never ladies as I am. When I reached the 6th grade of the primary school I succeed the national test to attend the secondary school. During the vacation one boy invited me to visit him. Reaching to his family home, he welcomed smoothly and started to dialogue very wisely. After a certain time, he asked me that I was ready to help him and I replied thinking it was a work to do. He then asked me to take off my clothes and I knew he wanted sexual relations. I begged for pardon and finally he penetrated me sexually. After some days my mum started to check if I didn't have any problems and myself to tell her no problems at all. All these were due to the fact I was ignorant in that matter. Finally my mum told me I'm pregnant. I was very disappointed and I went to look for the boy with whom I got sexual relation to tell him that I'm pregnant and by chance he accepted the fact without hesitation and he accepted to meet my father since he didn't want me to stay at his home. The dialogue between my father and the boy was not fruitful and as the result, my father chased me from his home. He was insulting my Mum as if it was her who didn't discipline me. Since my mum loved me much despite this incident that happened to me, she took me to my grandmother to calm down a little bite the situation until I gave birth to a boy on March 29th, 2013. After giving birth my mum decided to bring me back home despite how angry my Dad was due to what happened to me and the big gap I created between my Mum and my Dad. Today, the situation has normalized itself. My Dad accepted finally his son-in-law and my child is getting help from his father. Now the confidence I had toward male has gone since one of them deceived me and had refused to consider the crying and begging I made toward him and finally violated me sexually. This has wasted my future life and confidence I had toward my parents. I appreciated this workshop that came to teach us that after traumatic event life must continue. I had never got chance to share what happened and get opportunity to discharge myself from the grief I underwent during my pregnancy period.
Many thank for IPB and its donors