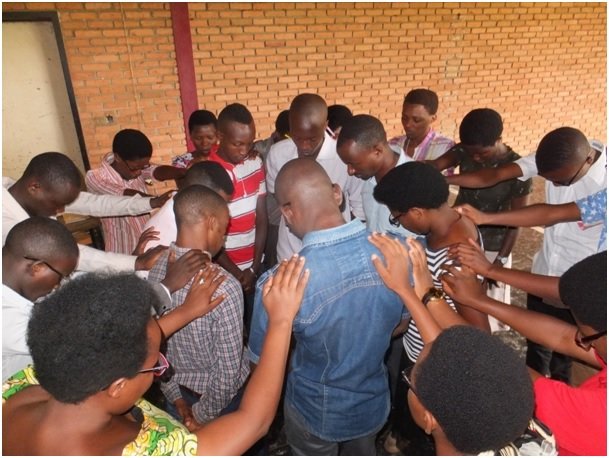 The violence between the police and youth demonstrated how much the cycle of violence and revenge has rooted. IPB believes that the lasting way of breaking it is "to create a future generation that is healed from trauma, mastering the peaceful management and responsible leadership".
To reach there, universities 'students should play the remarkable role. For this end, IPB organized a Healing and Rebuilding Our Communities basic workshop with university students from Kamenge Campus, aiming at (i) helping them recognize and understand trauma, (ii) knowing how to deal with it, (iii) knowing that life must continues after a traumatic event, and (iv) helping them to reconnect themselves to their communities and rebuild society. Twenty one (21) students were present among the 10 females and 11 males.
Following are some testimonies from the basic workshop
Gilbert:
In my life, I didn't have trust and love towards my mother because I didn't have the chance of living with her. I was 2 years old when she divorced with my father. At that time, beside me, my mother was having another son which means my young brother. This situation touched me a lot because both my father and mother remarried respectively to another wife and husband. I stayed with my father. The stepmother tortured me in a way that I can't get words to describe. I was still young at that time but I had to fetch water, cultivate and do other house works. Consequently, I was sick with a cough and I still have some pains. I lived in that situation during 7 months. When I started the high school, I took a decision of dropping out from the school due to the life I was living. In fact, my stepmother was telling me that if I continued to study instead of going to cultivate she was going to stop giving me food. And, she did it in a way that sometimes, I was staying 2 days without eating anything because I attended a school. Whenever my father asked me if I got food, my answer was "yes" to avoid exacerbation of the situation. I could not reveal the truth because my stepmother had told me that she will kill me whenever I could break that secret. I kept living in such situation up to the completion of my high school. Meanwhile, when I was in the pre-final year, I asked my father the cause of his divorce with my mother. He responded to me that they quarreled with each other and my mother decided to leave our house. She went at her family home and after one week, my father took the decision of bring her back. Unfortunately, he found my mother had re married to another man. Then, my father didn't have another choice except looking for another wife. After, I took a decision of asking my mother the cause of her divorce with my father. Surprisingly, she responded nothing. From that day, I was shocked by such kind of reaction of my mother and I got hatred towards her because she didn't even comfort me after telling her all the problems caused by my stepmother. I reached to the point that whenever I met my mother, I was calling her in her name while greeting her which is unfair in Burundi culture. Even on the phone, I could unhook her call or refuse categorically her greetings.
However, after the teachings received in this basic HROC workshop, I really changed and I understand now that it is all about trauma. I decided to forgive my mother together with the children of my stepmother. I renounce committing revenge I had planned to the children from my stepmother. Therefore, I am thankful for this teaching as they helped me a lot. Thank you!
Divine
First of all, I thank people who sponsored this important workshop. As universities, I know we can't afford to pay for it reason why we come to attend it freely without any charge. During the three days' workshop, I come to learn a lot of things which will help me in my future. Something which made me happy in this workshop is the fact that I got to know how my psychological state is and how I should help myself to overcome trauma. Now I know the way I should help others by informing about trauma healing with love and empathy. Before, I had a problem. Whenever a person came to me and shared with me his/her difficulties of life, I could help him/her but then, I remained with those difficulties in my mind. I couldn't stop thinking about them and, at the end of the day, I couldn't find peace in my heart. After participating in this HROC basic workshop, I got to know the causes, symptoms and consequences of trauma. We were told also about the secondary trauma when listening to tough trauma experiences. I learned how I can behave in front of people with such problems and the behavior to display after listening to them. Before coming here, I helped people with problems and among them; some took their problems as nothing. For instance, I have a friend of mine who told me how he killed people. He was with them while their grandfather was being burned inside the house. Not only that, he saw his mother being killed and, at that time, his father was run away overcame the death. After the death of her mother, she didn't get someone to talk about what happened to her. Later, even his father died beside him due to sorrow. The worse thing is that he didn't get an opportunity of discussing with his father about the death of his mother. That friend and I got to know each other last year in the pre-final class of high school. After listening to him while he was telling me about all those problems of his life, I tried to tell him that after any trauma experience/ event life continues. I advised him to continue his studies. He finally overcame from all those problems and now he is living his life well.
I thank a lot IPB for helping us to understand how we can behave in front of people who experiences traumatic events.
Denis
My testimony is about my father who died in 2010 due to the sickness. He spent 3 days under medical treatment in a hospital, and then he passed away. I visited him at the hospital and I saw that he was doing well. I even told other family members that he could come back home the next day as he even accompanied me when I was going back home. After 3 hours, the one who was taking care of him came at home in a hurry with another story about the sudden death of my father. I was shocked by this bad news and for me; it was as if that was the end of our lives because we could not live without the support from my father as our family was poor. I remembered how my father was giving gifts whenever I succeeded at school. Then, I thought I could not continue with my studies. Glory to God, I continued my studies as I had an old brother who completed his studies and have supported me up to now. Something that shocked me more was the fact that my father died before I finished my studies. In fact, in my thinking, I had a vision of thanking him for all what he did for me.
After following the workshop of HROC, I feel very good as I had an opportunity of bring out all the pains that I had. That is why; I invite everyone who has problems to find a trustful person to whom he can tell his/her traumatic experiences of the past and his/her life will change.
Rita

In my life, I was traumatized by many things including the loss of many people starting with my father during the fighting between rebel movements and the royal army. My father had 4 sisters and he was the only one son in his family. Among his sisters, one became a nun. After the death of my father and two sisters, the nun gave up her call in order to help the orphans left by the missed ones. I was traumatized by the death of one of my cousin called Odette. She was in the last year of her secondary school. She was mistreated by her stepmother at the extent of poisoning her and she was brought at the hospital. My aunt asked me to visit her at the hospital. Then, when I reached there, I saw Odette in a painful state. I called my aunt to tell her that Odettte was suffering so much. After short time, the nurses came in they urge me to buy milk for her. She didn't drink it as she was in agonies. When the nurses came back, they requested me to leave the room and few minutes after, they informed me that Odette passed away. As alone, I couldn't figure out how to behave in a situation like that. I called my aunt and I told her that Odette passed away and my aunt feel into unconsciousness. Following Odette's death my aunt stopped the help she was offering to the orphans. The brother of Odette was disturbed by her death. I was also traumatized by her death. Today in our family many people are suffering from trauma including myself.
I'm thankful for IPB which helped me to speak out all of this. I wish there should be follow up to reach a full healing and learn more about assisting others as I wish I should assist my people in my family and community.
Many thank for IPB and its donor