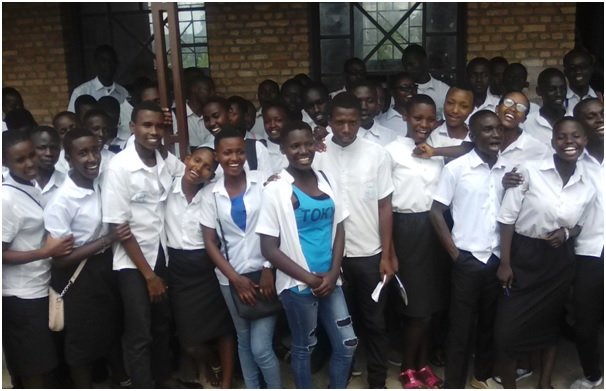 Context.
In responding to the new urgent calling launched by headmasters of secondary schools in Bujumbura, IPB/HROC is continuing to conduct workshops and follow up sessions to implant peace clubs there as a way of assisting psychologically students affected by the 2015 elections crisis and contribute to restore social cohesion within the community.
One (1) HROC basic workshop was conducted (i) to help students at Cibitoke secondary school recognize and understand trauma, (ii) help them know how to deal with trauma, (iii) help them to know that life continues after a traumatic event, and (iv) help them to reconnect themselves to their communities and rebuild society. Twenty five (25) students were present among the 15 females and 10 males
One (1) HROC follow up was organized in Musaga secondary school and 50 participants were there, among them 21 males and 29 females.
Following are some testimonies from the basic workshop
YVES
What traumatized me in my life was the death of my older brother. When this bad news happened, I denied it as I was unable to accept this because he was everything to me. He died suddenly when I was finishing my Primary school and I was very confused without knowing who was going to continue supporting my daily life. Due to the fact that I was thinking about him many times, I used to meet him in dreams and it was tough for me when I woke up and find that I was dreaming. My behaviors changed by developing isolation, blame and guilt within myself. Since my family was accusing a neighbor to have empoisoned him, whenever I missed like school fees, my idea was to revenge one day. After learning about trauma and its root causes including bad thing we do or experience, about JOHARI's window and the fact that life must continue after experiencing a traumatic event, I decide to become a peacemaker within my community. To reach there I have to deal with my today's trauma caused by my old brother death and teach about good cohabitation
CHELLA
What wounded me mostly was a disappointment from my young sister who gave birth to a bastard child. In my region, this is considered to be a curse for the family. My father mistreated all of us and mainly my mother accusing her of not having disciplined her daughter. My father was very disappointed as he expected to get cows as dower comparing how much beautiful my young sister was and how she was admired on her appearance. The more she grew up she became more and more pretty. People, who saw it, did not understand her beauty. Looking at the bad and difficult conditions she put us in, I reached a time I was not able to talk to her. Today our family is total disorganized. My father refused to support my sisters and I by the fact that he disqualified all females in our home. This affected me and I have at least five out of the symptoms of trauma we come to learn. After this three day's trauma healing workshop, I come to understand myself in matter of trauma and I come to learn also how I have to assist my family members including my father.
It was very crucial to learn that after a traumatic event, life must continue. I know it's hard but I'm going to afford it. I advocate IPB to give more knowledge that should help us sensitize these good teachings which were more needed for us who were born from traumatized parents and are transmitting this trauma to the new generation we are.
Some testimonies from the follow up session
Livin
One day I was going back home from school. I saw a young boy sitting under a tree near by the road. I approached him and asked him why he isolated from others because there were other young boys playing football. He told me he was hungry and he is an orphan. I took him to our home and we ate together. Since then, I built a friendship with him as I found he lives not far from our home. Through sharing and following what I learnt from HROC basic workshop, I assisted him psychologically as through our sharing I recognized some trauma symptoms. In his today's testimony, he uses to tell me that I helped him to not fall in banditry or brigandage and other kind of deviations.
Beside that I assisted my family members too. More thanks to IPB for this topical teaching
CHIMENE
I am the Dean of this school. Before attending the Trauma healing workshop, I was not able to deal properly with the problems of new students of school. Today the situation changed in using the technical tools learnt during the basic HROC workshop such as active listening, ways of managing anger and emotions. I am able to know the problems encountered by newcomers and the rest of students. If I see a student isolating himself /herself, I try to approach him/her to find out what is wrong with him/her and meet common solution. I know now constructive ways of communicating with school administrative board including the headmaster.
More thanks for IPB teachings