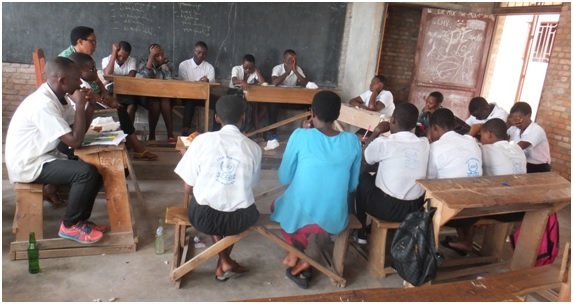 Giving Tuesday:
IPB would like to thank the 9 people who donated $1265 on Giving Tuesday. GlobalGiving then matched this with $188. Those who were unable to donate on Giving Tuesday may still do so as part of their End of Year giving.
Context
In responding to the new urgent calling launched by headmasters of secondary schools, IPB/HROC continued to conduct workshops and follow up sessions to implement a peace club in Musaga secondary schools.
HROC basic workshop
One (1) HROC basic workshop was conducted (i) to help students recognize and understand trauma, (ii) help them know how to deal with trauma, (iii) help them to know that life continues after a traumatic event, and (iv) help them to reconnect themselves to their communities and rebuild society. Eighteen (18) students, 11 females and 7 males, were present.
Testimonies from workshop
Huguette:
I was wounded by my father's car accident. Before the accident occurred, we had a good daily life. I was 8 years old. After a year in the hospital he recovered and came back home. Without taking much time, he fell down in the washroom and broke his leg and went back to the hospital. During this second period in the hospital my mother and his children were refused to visit him. My father's family members said that my mother was a curse. It's because of her that our father was meeting many accidents. Whenever we tried to visit him or know about his situation, they showed us his photo lying in the hospital's bed. He was finally healed and came back home. Our uncles did all what they could to chasse out my mother and to abandon us. All this created in us a strong trauma and its after-effects.
He came very angry against my mother accusing her of having refused to visit him in the hospital. When my mother tried to explain how our uncles refused her to visit him, my father refused to listen to her and started to beat her each night. My mother was and still being accused unjustly by the whole father's family members. Today our father is misusing the family's belongings and is taking drugs and prohibits drinks. We live a very bad life today due to those behaviors and whenever I think about them, I start crying and isolating myself. We try our best to put our mother in positive mood in vain. She is overwhelmed by the situation. After attending this workshop, I realize why, my family members and I, are behaving negatively. It's because of trauma.
I'm thankful that IPB organized this workshop at our school. I came to understand why our community is always in trouble with fear, and violence and revenge every time. My body and my soul came to get a cure. I think that my crying is over and I assume that I'm going to fight against all things causing trauma to people in my community and schools I attend.
More thanks to IPB for providing teachings that restore youth morality and hope for a peaceful future
Honnête
Since a young age, my mother and I live as widow and myself as orphan even though my father still was alive. He works on sewing machine the whole day and earns enough money to care for our family. After work, the rest of his time is on the cabaret to drinking prohibited alcohol and drugs. When he reaches home late, he obligeseverybody to wake up sometimes to be beaten and insulted. He never eats at home and forbid us to claim for money for shopping. When we ask for that, he said each one must take care for himself or herself as he did.
I have one handicapped brother who needs a special care as he is very unhealthy. My father is always insulting him for nothing.
Our home is out of peace because of my father. I have made many tentative to deny his fatherhood at school and be legislated as an orphan but my heart didn't accept. We are very tired because of him.
I hate every boy and all husbands with a name similar to my father's one. I don't think I should afford to be married since I think that all men are like my father. I'm not able to pass nearby where my father is. I must run away. After the three-day workshop on trauma healing, I find myself and my whole family members holding strong trauma and their consequences are there too. I tried to analyze why and our father's behaviors are the source of it.
The question I still having is why my father is behaving like that? I assume that he is traumatized too.
I'm going to assist my family but I doubt about my father. I wish IPB/HROC should meet my father for assistance. From the teachings we come to gain, I assume that my wounds will be healed and those of my family too. I wish we should have more follow up sessions to learn more and extend our healing and ways of assisting others.
Jean Marie
I'm the first born and the second child came later. Due to that delay, my father's family obliged him to look for a second wife. My mother was mistreated and this act wounded her since she was innocent in what happened. Finally my mother gave birth to a third and a fourth child. This didn't change my father who finally left us and stayed with his second wife. Today we live under all kinds of problems. We are hated by everybody and my mother cries all the time and myself too. Our stepsisters and brothers are menancing us to leave our home and plot under our father's influence. We don't see what to do now since our father is denying us when we still were of a young age. I'm crying day and night. Today, I'm thankful for IPB for organizing this workshop on trauma healing where I come to learn that after or during a traumatic event, "life must continue". This is very important for me to know. I'm going to take courage and make the same advices to my mother, brothers and sisters to afford the daily life in these conditions.
I commit myself to use what I come to gain.
HROC follow-up session
After four HROC basic workshops, one (1) HROC follow up session was organized with the purpose of establishing a Peace Club within the school and develop an action plan to be followed from now till September 2019. 44 participants were there, among them 23 males and 21 females.
After going through what they have learnt during the HROC basic workshop, participants shared their ideas about forming a peace club to follow the effects of the trainings and make an action plan for a whole year on the way healing should be extended in the whole school and out of it.
The two following students: a female and a male were nominated Dauphin Alaine IRAKOZE and Alain Divin HAKIZIMANA to coordinate the peace club (see photos above).
Some tasks of the peace club are the following:
- Organizing needed workshops;
- organizing HROC follow up whenever it's needed;
- Connecting IPB/ HROC and the school officers,
- Sensitizing trauma, its consequences and the way to overcome from it at school and within the community around the school and each ones neighborhood;
- Organizing cultural events with dances, songs, sketches, drummers, testimonies and so on
Conclusion and recommendations
In conclusion, IPB met in November 62 students, among them 30 male and 32 females. Recognizing different forms of trauma that men and women face, such as coercion to violence or sexual assault, participants wished to have some sessions split up by sex. Since facilitation is made out of three and at least one male or female in each one, the provisory solution was that anyone who wishes a special listening session should meet one facilitator of the same sex to share his or her traumatic experience. It was also convened that during the follow up, some sessions will be split up by sex.
Both participants and the headmaster appreciated positively the peace work accomplished.