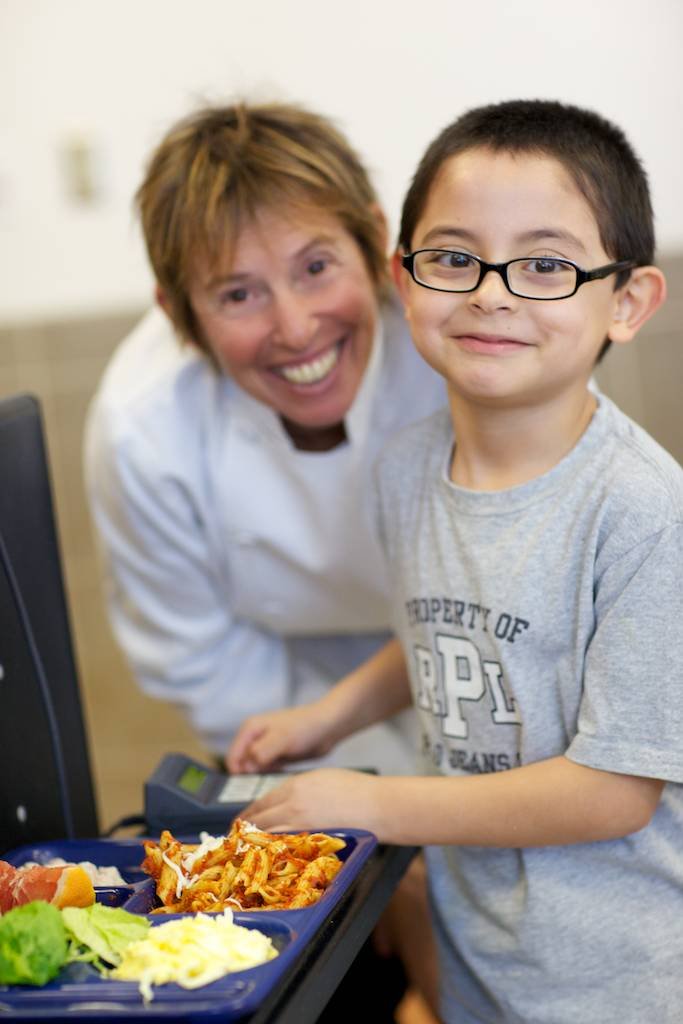 We're mere months away from launching the new updated and expanded Lunch Box, and in honor of this big step forward, we're taking a look back and what brought us to this point.
2000: Knowledge Sharing
Chef Ann Cooper andher school food colleagues begin sharing their experiences and knowledge about how to transform school lunch so that kids can grow up to be healthier and more productive adults.
2002: The Aha! Moment
Chef Ann envisions a system change initiative in the form of a physical "lunch box" that would include all of the tools necessary for schools to make lunch healthier for our kids.
2004: Taking Shape
The system change initiative is reimagined as a free web portal called "The Lunch Box." This digital tool would be an aggregator of content where best practices and hard-earned lessons would be shared.
2007: The Idea Takes Root
Chef Ann brings her idea to the W.K. Kellogg Foundation's Food and Society initiative. The Kellogg Foundation awards The Lunch Box Project a two-year planning grant.The Chez Panisse Foundation administers the grant.
2008: A Concept is Created
A small team of renegade lunch ladies (the chefs), educators, marketers, thinkers, and technologists begin feasibility planning and concept building.
2009: A Watershed Year
From Aha! to Ta-da! In 2009 The Lunch Box Project team moves at lightning speed to turn concept into reality, build a nonprofit foundation from scratch, generate funding for R&D, and engage in partnerships with tremendous potential for Americans to join the school food revolution.
Testing the Concept
A demonstration site is built for The Lunch Box Project. This demo site is used for focus group testing with key audiences: school food service, advocates,and funders. Thefeedback? "How soon can you build this? Because we really need it!"
Partners and Funders Join In
The Chez Panisse Foundation, Children's Health Foundation, The Colorado Health Foundation, Compton Foundation, Inc., Orfalea Foundations, W.K. Kellogg Foundation, and Whole Foods Market, Inc. show their support by providing funds to the build The Lunch Box site as a free,accessible,and functional tool.
Whole Foods Market brings the school food Revolution to all of its stores with team members and customers raising awareness and donations. The result is a historic achievement for Whole Foods Market, which raises more than $710,000 to help build The Lunch Box. Other funders pitch in and help the project's R&D team develop and test recipes.
2010: The Lunch Box 1.0 Launches
More than 100 scalable scratch-cook recipes are created, school-tested, and brought to the public. With nutrient analysis, preparation tips, and great flavors, schools can download them and use them for free. Other essential tools debuted on The Lunch Box include: financial modeling tools, budget templates, downloadable,customizable calendars,and training videos.
More Advocates Step Up
New sponsors join in supporting The Lunch Box including Barbara'sBakery, The Johnson Ohana Charitable Foundation,Google Grants, and Chipotle Mexican Grill.
2011: Video Assistance Added
The Lunch Box adds over 20 new tutorial videos throughout the website for food service directors and staff.
2012: Making the News
The Lunch Box is featured by Rachael Ray's Yumo! Foundation and Forbes Magazine online.
2013: Support Grows
The Colorado Health Foundation and Newman's Own Foundation donate $505,000 to expand and update The Lunch Box website.
A Whole Kids Foundation Recipe Grant funds the development of 50 kid-tested recipes for The Lunch Box; recipes will be compliant with the most current USDA nutrition standards.
2014: The Lunch Box 2.0 To Launch!
For five years, the first iteration of The Lunch Box served as an important resource for thousands of schools and advocates working toward school food change. In 2014, F3 will release an updated and expanded version to further help schools with school food transformation.
Thank you to old and new supporters who have traveled with us on this incredible journey. We can't wait to celebrate the new site with you later this summer!