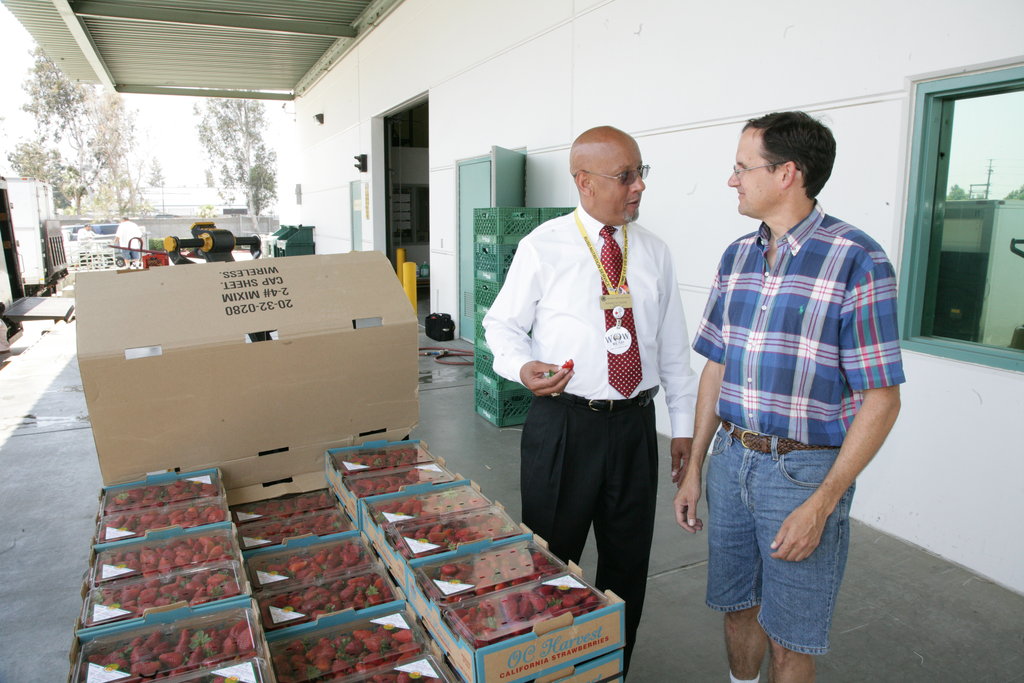 Rodney Taylor knows a few things about feeding children healthy and delicious food. He and his staff serve over 35,000 students a day in the 47 schools that make up Riverside Unified School District (RUSD) in California. Of those students, 68% qualify for free and reduced student meals. Rodney is the Food Services Director of the RUSD and a Farm–to-School pioneer. He's been connecting school children with fresh fruits and vegetables from local farms for over 15 years. He is also a big fan of The Lunch Box, saying that it contains, "tried and tested ideas that work; if utilized properly it will set you on the road to positive change in your meal program."
In 1997, while working at the Santa Monica-Malibu Unified School District (SMMUSD), Taylor first piloted his "Farmers' Market Salad Bar" program. The program not only provided fresh, local produce to the students; it also served as an alternative to the traditional school lunch, offering all five components necessary to be a reimbursable meal. When he came to RUSD, the district was facing a budget shortfall and low participation rates in their school lunch program. Thanks in large part to his Farmers' Market Salad Bar program, Taylor has been able to grow the program by approximately $1 million per year and to increase participation rates from 47% in 2002 to 70% today.
When Taylor left SMMUSD, he was eager to apply his salad bar model to a school district that was three times larger and far less affluent. He knew it was going to be a challenge, but a challenge was what he was looking for. He had a business model that worked, but convincing others, especially those who were unwilling to change, was an uphill battle.
"Undoubtedly one of the most rewarding times that I can think of was when we fully implemented salad bars in 29 of our 31 elementary schools in RUSD," said Taylor. "It felt great because we were one of the two districts in the country that fully institutionalized the program. The critics told me that it could not be replicated, that it was not sustainable, and that it would not modify students eating behaviors. I just love doing what others say cannot be done."
Using the Farmers' Market Salad Bar model, Taylor moved the nutrition services program from a district debt of $3.1 million in 2002 to a surplus of $5.1 million in 2012. But Taylor's salad bars had a far more important success than economic viability.
"Salad Bars have made the greatest impact on children's eating behaviors in RUSD, where our goal has been to teach children to become life-long healthy eaters," Taylor remarked. He encourages others to make whatever changes they can to help schoolchildren to learn to love to eat healthy. "The Lunch Box has excellent strategies for transforming school food service programs with healthier foods that kids will eat, and it provides those interested in transforming their meal programs with the tools to make it happen."
Taylor didn't rest on his laurels after the successful implementation of his salad bar program. In 2011, he instituted a summer feeding program in which he and his staff conduct daily bar-b-ques in 24 parks and schools. Since its inception, the summer program has served over 300,000 meals to students who may otherwise have gone hungry. The program, Taylor said, "quite simply provides a safety net for all concerned."
When asked what steps individuals can take to make positive changes in their school food service programs, Taylor responded, "There's really no short answer to this question," but he did emphasize outreach and communications to key stakeholders.
"We must change perceptions about what students, teachers, parents and the community have towards the food service program. This calls for innovative and creative ideas that will challenge preconceived notions. If one is to be successful, radical changes to the current programs are necessary. We must win the trust of all the previously mentioned stakeholders, and that means hard work, and marketing, marketing, marketing!"
You can read more about Rodney Taylor in an interview in the August issue of Childhood Obesity.
Links: