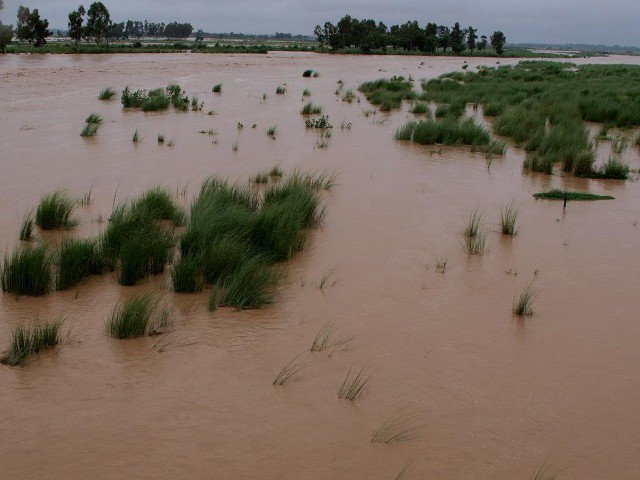 Pakistan saw its worst flooding in its living memory. Very heavy to extremely heavy rainfall was observed especially in some parts of Khyber Pakhtunkhwa and northern Punjab. A subtropical Jet Stream was too south than it's normal position over the northern areas as it trapped the rains over upper parts of the country. Following are the important features of the monsoon season;
Pre-monsoon season witnessed tropical cyclone 'Phet' in the coastal areas.
The Monsoon's performance was enhanced by La-Nina.
415 mm rain fell in Risalpur, Khyber Pakhtunkhwa during the period.
Extremely heavy rains unleashed massive flash floods that started from the northern areas and moved towards the southern areas that killed more than 1,700 people.
The country has suffered heavily due to floods in its 70-year history, primarily due to the absence of a disaster management mechanism, experts believe.
According to the Federal Flood Commission (FFC) report Pakistan has witnessed 20 major floods; in 1950, 1955, 1956, 1957, 1959, 1973, 1975, 1976, 1977, 1978, 1981, 1983, 1984, 1988, 1992, 1994, 1995, 2010, 2011 and 2012.
These floods have affected 599,459 square kilometers area, snatched 11,239 precious human lives and caused losses worth over Rs39 billion to the national economy. During last 63 years, floods have affected 180,234 villages.
The first catastrophe, which hit the country in 1950, was the deadliest in terms of human losses. It claimed 2,190 lives and flooded 10,000 villages, spreading over an area of 17,920 square kilometres.
During 2014 the death ratio was highest in Punjab with 286 casualties and 512 injuries. About 100,000 houses were also damaged in the province. AJK was the second in terms of damages as lives of 56 civilians were lost with 111 injured followed by 13 deaths in G-B and 12 in Khyber Pakhtunkhwa (K-P).
In 2015 deaths of about 238 people were recorded with 232 people injured and about 1.5 million affected with higher damages in K-P – 109 deaths and 148 injured.
About 11,390 houses were damaged and 4,113 villages affected with 17 deaths in AJK; 15 in Federally Administered Tribal Areas (Fata) and 12 in Balochistan.
Similarly, during the pre-monsoon rains of 2016 about 271 people were killed and 279 injured and this time again 157 deaths in the K-P, 38 in Fata. About 2,929 houses were damaged of which 1,927
Since the villages lost access to most of the facilities, Fatima Memorial Hospital took the initiative by establishing a school in the flood ravaged area of Dera Ghazi Khan in Habit Mastui, a small village in the district to do their bit by providing an education to the children who had been affected the most by the tragedy.
Even today, we are rebuilding the villages and continuously making efforts to re-establish the affected areas by providing education and basic necessities to the people. The primary motive of Fatima Memorial Hospital and NUR Foundation is to serve the community and we are committed to help the people who suffered during the floods.
Every year these floods affect a number of villages as a result of which it is difficult to continue the hard work without assistance from our donors. In order to continue our efforts, we are dependent on your generous support in helping us rebuild the nation that has gone through so many difficulties.
Your valuable and greater support is requested enabling us to continue the rebuilding process.
Thank you.