Project Report

| May 3, 2018
Educating the flood affected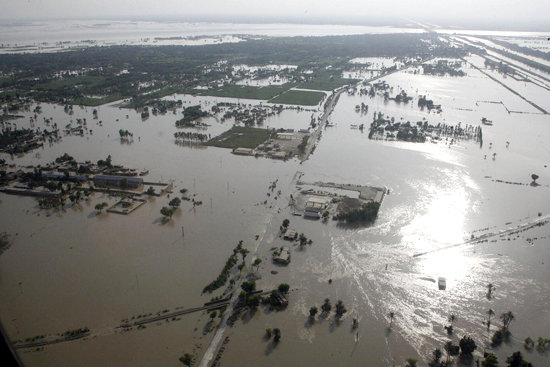 As many as 1,029 people have been killed by flash floods in monsoon seasons in the last three years across the country.
Around 1,297 people have been injured and 4.5 million affected in the flash floods in 2014, 2015 and 2016.
The highest number of deaths was recorded during 2014 when 367 people were killed and about 232 injured besides about 107,102 houses damaged and 4,065 villages affected.
The details shared the damages caused including deaths, injuries, homes, shops, villages, cattle and total population, and the measures taken by the government.
As per data, the monsoon impacted the lives of 2.53 million people in four provinces, including Azad Jammu and Kashmir (AJK) and Gilgit-Baltistan (G-B). The local disaster management authorities evacuated about 683,930 people and about 518,715 patients were treated.
During 2014 the death ratio was highest in Punjab with 286 casualties and 512 injuries. About 100,000 houses were also damaged in the province. AJK was the second in terms of damages as lives of 56 civilians were lost with 111 injured followed by 13 deaths in G-B and 12 in Khyber Pakhtunkhwa (K-P).
In 2015 deaths of about 238 people were recorded with 232 people injured and about 1.5 million affected with higher damages in K-P – 109 deaths and 148 injured.
About 11,390 houses were damaged and 4,113 villages affected with 17 deaths in AJK; 15 in Federally Administered Tribal Areas (Fata) and 12 in Balochistan.
Similarly, during the pre-monsoon rains of 2016 about 271 people were killed and 279 injured and this time again 157 deaths in the K-P, 38 in Fata. About 2,929 houses were damaged of which 1,927 were partially damaged and 1,002 completely destroyed.
Meanwhile, during the monsoon of 2016 about 153 deaths were reported and 113 injuries while about 1,456 houses were damaged. Again the K-P had the highest death toll of 69 followed by 29, 27 and 18 in Punjab, Fata and Balochistan, respectively.
Since the villages lost access to most of the facilities, Fatima Memorial Hospital took the initiative by establishing a school in the flood ravaged area of Dera Ghazi Khan in Habit Mastui, a small village in the district to do their bit by providing an education to the children who had been affected the most by the tragedy.
Till date, we are still rebuilding the villages and we are continuously making efforts to reestablish the affected areas by providing education and basic necessities to the people. The primary motive of Fatima Memorial Hospital and NUR Foundation is to serve the community and we are committed to help the people who suffered during the floods.
In order to continue our efforts, we are dependent on your generous support in helping us rebuild the nation that has gone through so many difficulties.
We once again request you to continue your support during this rebuilding process.
Thank you.