Dear Peace Winds America supporters:
PWA is very excited to let you know that since we kicked off the shed building program a year ago, PWA has completed 80 fishing sheds to fishing families in Minamisanriku.
With your support, PWA has been able to continue providing sheds to fishing families. THANK YOU. We have spent a lot of time in Minamisanriku and talked to many shed recipients. We listened to their stories about how their lives were changed by disaster in March 2011. We learned how much the fishing sheds meant to them and their livelihood. Spending time in a PWA fishing shed had becomes a large part of their lives, whether mending fishing nets, prepping tools for the next fishing season, or just taking a break from hard work at a sea. We couldn't be more proud when we drive through the area and see the sheds, full of fishing equipment. I am proud to have worked with you all to help many fishermen together. We played a small but important role in rebuilding the livelihood of the many fishermen and their families, helping them move forward.
Another district identified:
While members of our local partner were building sheds in Hadenya district, they were visited by a resident from the neighboring district, asking to see how they could apply for such a shed. Turned out a district called Tsunomiya, located just east of where PWA is building sheds, most of the houses were swept away by the tsunami, leaving the small fishing community there with almost nothing. It was apparent that this community really needed our help.
Timing is everything:
Sheds cannot be built when the ground is frozen so will need to complete construction by November. It is also important to complete the construction soon because sheds will be needed for many fishermen preparing for the upcoming harvesting season, especially seaweed and abalone which are very important income generation opportunities for the fishermen in the area.
Working together with a Tsunomiya district community, PWA will soon proceed with beneficiary selection and start building sheds to this district. We hope to finish all the construction before the land freezes.
Let's help Tsunomiya community!
Peace Winds America would like to ask everyone to spread the word to help the Tsunomiya district. We are planning on building 13 sheds but currently we need funds for ten sheds.
Fishing Industry Rebuilding:
On my recent trip to Minamisanriku, I met with Mr. Sasaki, the executive director at Shizugawa Fishing Cooperatives in Minamisanriku. Mr. Sasaki told me that the area fishery has recovered about 70-80% from pre-disaster time. I knew why the recovery has been going well -- because most fishermen in Minamisanriku city love the sea, love what they do, and many want to stay and continue working at sea, even though so many fishermen lost almost everything and had to start from scratch.
So let's help fishermen in Minamisanriku a little more!
Thank you for your understanding and support.
Mari Poorman, Project Officer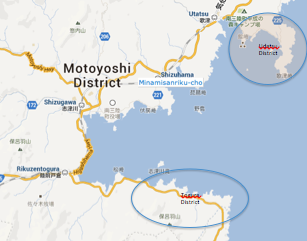 Links: