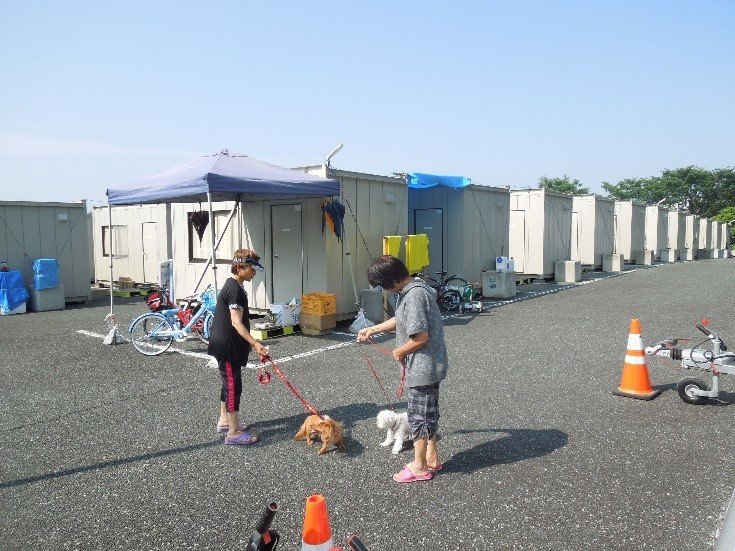 This April marks the two year anniversary of the 2016 Kumamoto Earthquakes. Many survivors and their pets call the temporary housing communities home, with no idea when they will be able to leave.
Peace Winds has built strong support activities within these temporary housing communities by hosting events and activities for residents. Peace Winds continues to build a sense of community between neighbors by providing activities and resources to residents, including training local township leaders to assist with concerns and problems.
For the township leaders at temporary housing complexes, Peace Winds organized a trip to Niigata Prefecture, where devastating earthquakes and disasters destroyed infrastructure and communities in 2004 and 2007. The leaders visited public developments, housing complexes, community centers, and disaster museums. This January study trip enabled township leaders to see the effective support programs other communities implemented for their residents following disaster, and to practice these techniques in their own temporary housing communities.
Peace Winds continues to support residents with pets. Peace Winds provides pet-friendly housing and shelters, allowing residents to keep their pets. Peace Winds has used recent funding to expand and improve the pet shelters, and to arrange frequent visits between owners and their pets. Through your support, Peace Winds has also hired additional staff and veterinarians to ensure the animals receive the attention and care they need.
Peace Winds--through building community, providing opportunities for engagement, training township leaders, and supporting pet owners--is aiding the Kumamoto survivors in their recovery.
We are only $3,771 dollars short of our goal; will you help us reach our goal and support the residents and pets in Kumamoto?
Our sincerest gratitude -- arigatou gozaimashita!