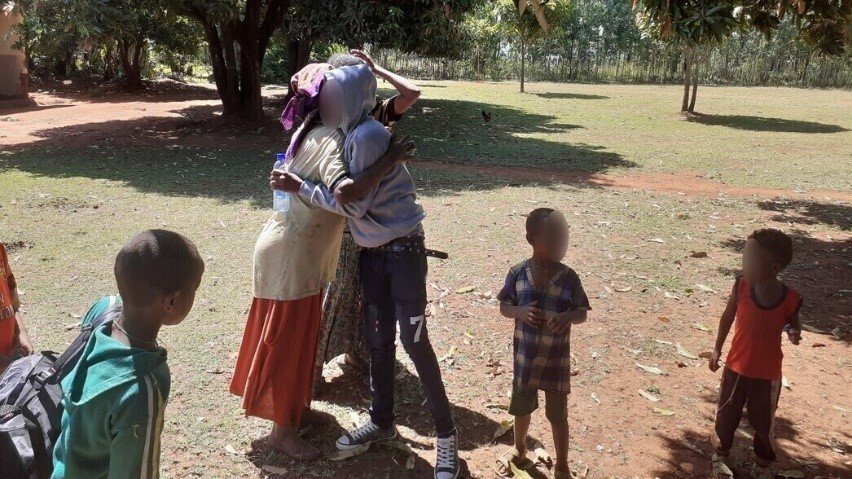 Retrak are working in Ethiopia to support some of the most vulnerable children to overcome exploitation and abuse. The COVID-19 pandemic has exacerbated already vulnerable communities and left many more children facing hardship; it has also challenged the work of NGOs by disrupting programs and making communities harder to reach.
Our Lighthouse aftercare centers continue to be accessed by children who have been removed from situations of exploitation and between January to May 2021 we had 366 new intakes to these. These centers offer vital care for children who have been trafficked and exploited on the streets and act as places of respite where children can access catch-up education, trauma informed pyschological care and medical treatment. Social workers continue to work with the families of children in our lighthouses to assess whether they will be safe and supported at home. In the first 5 months of 2021, 343 were placed in family based care, which, if safe, is extremely beneficial for a child's development.
The first half of 2021 has seen some loosening of restrictions in Ethiopia such as the opening of schools which has enabled us to carry out vital preventative work via Child Protection Clubs. In line with COVID-19 restrictions we have also facilitated Self Help Groups for women in smaller numbers. These groups allow women to save money to start a business and give them access to training on effective parenting to protect their children from street work and trafficking into domestic servitude, forced begging and sexual exploitation.
Below shows the impact of one of our lighthouse centers on a young boy who went through a traumatic trafficking experience:
Joyful reunion for family who thought their 9-year-old son was dead
A grieving mother, who had thought her son was lost forever, said of being reunited with her boy: "The joy is like giving birth again to my son. I will never forget this day."
9-year-old Abenezer* was trafficked into labor exploitation from rural Southern Ethiopia. One day, he was playing with his friends near the local market when a trafficker approached him, and promised him a better life in the city.
But when Abenezer arrived, he was forced to learn and carry out traditional weaving techniques in a harsh environment. He was given little food,and abused both physically and emotionally when he struggled to learn quickly or perform the work well.
After nine months of fear and exhaustion, Abenezer bravely took his chance to escape. He was then found on the street by the police, who referred him to Retrak Ethiopia's Lighthouse.
When Retrak took him in, Abenezer was depressed and traumatized. He felt that no-one would understand what he had been through. For two months, our expert team cared for him, providing counseling sessions and life skills training. He also benefited from the support of the other children at the Lighthouse, who had had similar experiences.
He began to visibly recover. He became more communicative, participated in activities more, and became keen to return to his family. Retrak worked hard to find and contact his family, who had been searching for Abenezer for months, and were delighted to hear that he was safe. The family were very emotional, and cried tears of joy, when we were able to finally reunite them for good.
Abenezer is now happily living at home and is back at school.The police are searching for the trafficker.
*Name has been changed to protect the identity of the survivor
Your continued donation to Retrak helps enable us to support victims become survivors in Ethiopia. Without your support we would not be able to carry out this life-changing family reunification work.