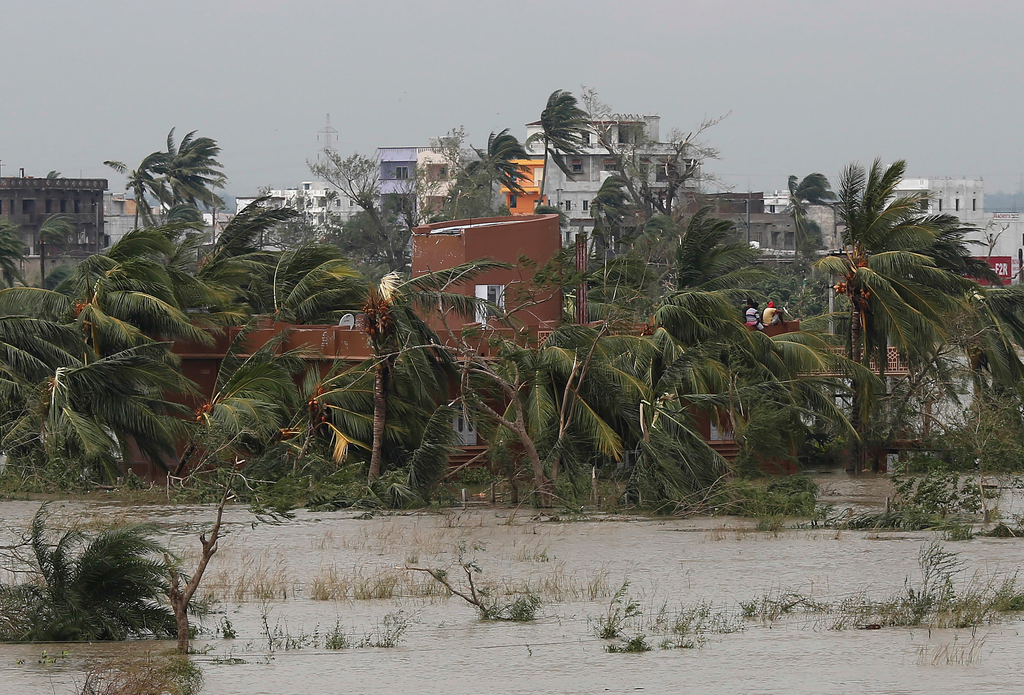 Emergency Response Summary:
International Medical Corps' Emergency Response Team responded within 24 hours to provide essential medical care to the hardest-hit areas in India following Cyclone Phailin, a catastrophic storm roughly the size of Hurricane Katrina, which struck the country's eastern coast on October 12, 2013. While authorities put the death toll from the massive storm at 30 - far fewer than anticipated - more than 12 million people were affected by the cyclone. In its wake, Cyclone Phailin left wide-scale crop destruction, contaminated water supplies, the threat of disease and a devastated infrastructure; hundreds of thousands of people returned to their homes to find them damaged or completely destroyed due to high winds and flooding. In addition to providing emergency services, International Medical Corps is working with local partners to provide training and rehabilitate water supplies, helping to thwart the spread of disease, support recovery efforts and rebuild self-reliance.
International Medical Corps Responded Quickly with Immediate Relief After Cyclone Phailin:
International Medical Corps Response: Cyclone Phailin struck India's eastern coast on October 12, 2013 with winds gusting at 125 miles per hour and storm surges of ten feet, inundating the districts of Balasore, Mayurbhanj, Bhadrak and Jajpur in Odisha State. The government evacuated nearly one million people across the two most affected states of Odisha (873,000) and Andhra Pradesh (100,000).
Within 24 hours of the storm making landfall, International Medical Corps was on the ground in Odisha where an estimated 200,000 people were stranded due to flooding in two of the hardest-hit districts: Balasore and Mayurbhanj. Many communities in Balasore were not prepared for the continuous rain that flooded 1,725 villages, affecting 348,778 people and over 260 square miles of crops. In Mayurbhanj, the destruction was similarly devastating, with floods affecting 737 villages, 342,260 people, and over 200 square miles of crops. In partnership with the Chief District Medical Officers and local health authorities, International Medical Corps' Emergency Response Team deployed mobile medical units to more than 38 villages marooned by the cyclone in Balasore and Mayurbhanj and provided more than 10,500 critically-needed primary healthcare consultations. Working through local partners, International Medical Corps also distributed hygiene kits that included sanitary and non-food items, such as soap, laundry detergent, mosquito nets and water containers, in local communities to thwart the spread of communicable disease.
True to its mission, International Medical Corps' teams also identified medium- and long-term needs to rebuild self-reliance, supporting communities' efforts to recover and providing them with the tools they need to be their own, best First Responders. These needs include training in water, sanitation and hygiene activities; capacity-building support to improve water purification techniques; and infrastructure improvements to water sources, such as raising platforms for hand pumps to prevent future contamination from flooding.
Supporting Local Programs: In support of the Government of Odisha's nutrition program that targets children and mothers, International Medical Corps provided information, education and communication materials to the Balasore District Welfare Office as much of their educational materials were damaged in the floods. International Medical Corps' Emergency Response team provided more than 500 informational posters on the importance of breastfeeding; information about providing vaccinations for newborns; and monitoring the weight and nutrition of children. These materials are being disseminated to government-supported nutrition centers all over the Balasore district.
International Medical Corps is Building Capacity for the Future in India:
Working with its local partner, Unnayan, International Medical Corps is currently focusing efforts on reducing future disaster risks, specifically related to the water supply and the links between hygiene and health. Using a comprehensive approach that includes rehabilitation of water sources, construction of hygiene facilities, stockpiling and dissemination of hygiene supplies, and hygiene education and promotion, International Medical Corps and Unnayan are working to ensure that families and communities are prepared to protect water sources and thwart the spread of communicable diseases before and after a disaster strikes.
Improving Infrastructure: A wide-spread challenge during the disaster in Odisha was the submersion of hand pumps. Due to flooding, water accessed through hand pumps was contaminated; in other areas, flood waters compromised access to clean water. To mitigate this issue, International Medical Corps and Unnayan is constructing elevated platforms to raise the height of hand pumps in eight villages, which will prevent the submersion of hand pumps in times of flooding in the future. Additionally, teams are helping families chlorinate water from private household hand pumps to ensure the safety of water being used.
Investing in the Future Through Education: International Medical Corps and Unnayan are also implementing an awareness campaign focused on safe water, sanitation and hygiene practices at the individual household level, community level, and in ten schools. International Medical Corps and Unnayan have already delivered these key messages to 140 children at two upper primary schools in Balasore district, and the awareness campaign will be provided to eight more schools, reaching children from primary to high school age. International Medical Corps is also providing professional development and training to community healthcare workers and hygiene promoters in India; training is focused on best practices in providing community-based education on women's personal hygiene; safety processes for drinking, storing, and handling water; use of latrines; and the hazards associated with unhygienic behavior such as not washing hands.
Improvements that Respect People and the Environment: Further, consultations with villagers that took place in November revealed the need for longer-term solutions to hygiene needs and challenges, especially for girls and women. In response to these concerns, International Medical Corps is supporting the construction of bathing cubicles in eight villages in Balasore District, which will be connected to the elevated platforms of hand pumps and will allow girls and women to have a private area to bathe, thereby preserving their dignity. The use of soaps and washing detergents will be localized within the cubicles, with little runoff, thus also reducing the environmental impact and protecting local rivers and other natural water sources from the effects of contaminants.
Conclusion:
In the weeks following Cyclone Phailin, International Medical Corps transitioned from emergency response primary health care services activities to restoring capacity and building self-reliance in storm-ravaged areas by developing solutions to mitigate destruction from future storms, helping local communities to become their own, best First Responders. While no area is immune to the damage that can be unleashed by a storm of Cyclone Phailin's magnitude, families and communities can be equipped with the tools and knowledge in areas such as water, sanitation and hygience to prepare for future emergencies and recover more quickly.