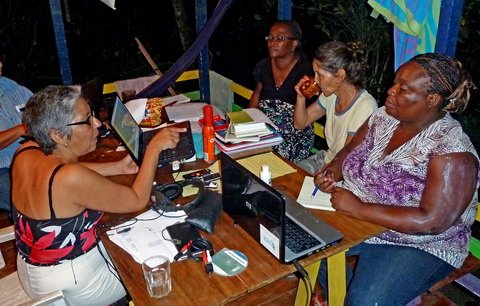 REFRAKA's work on behalf of equality for Haitian women has long being recognized as crucial to empowering and promoting their welfare. And not just for the women but for the whole of society. Haitian women have struggled for recognition, fairness, justice and equality throughout their history.
From as far back as 1792 when the struggle for independence from the French slave owners began, Haitian women have been seen as "Poto Mitan", a concept that represents women as the central pillar of Haitian society. And yet until the late 1950s women lacked any rights at all.
The marginalization and invisibility of by women in Haiti is precisely what REFRAKA has been fighting against since it was created in 2001. Since then, the group has worked to achieve progress in changing relations of power in the home, in social moments and in the nation. REFRAKA's 25 member radio stations in nine of Haiti's ten geographical departments aim to address a male culture that finds it hard to accept women's voices.
According to Marie Guyrleine Justin, director of REFRAKA, "Before, it was hard to find women speaking on the radio. Now it's not. Now women are advancing. More women are trained in reporting and production. There are more women on the radio, and there are more women's radio programs. Now we have women who are directors of radio stations, though there are still no women owners. Men are starting to understand, and gender issues are crossing over into other radio programs."
As for progress, Mary Guyrleine says "Relations between women and men are fragile today, especially with all the displacement since the earthquake. But we're taking small steps. Today on the radio, you hear less discrimination against women. This has to be reinforced so that we don't go backwards."
The dream of a future society with equality and justice for countless Haitian women and men will only be realized if people across the world help support their struggle. Please help that future come earlier by donating now!
Links: