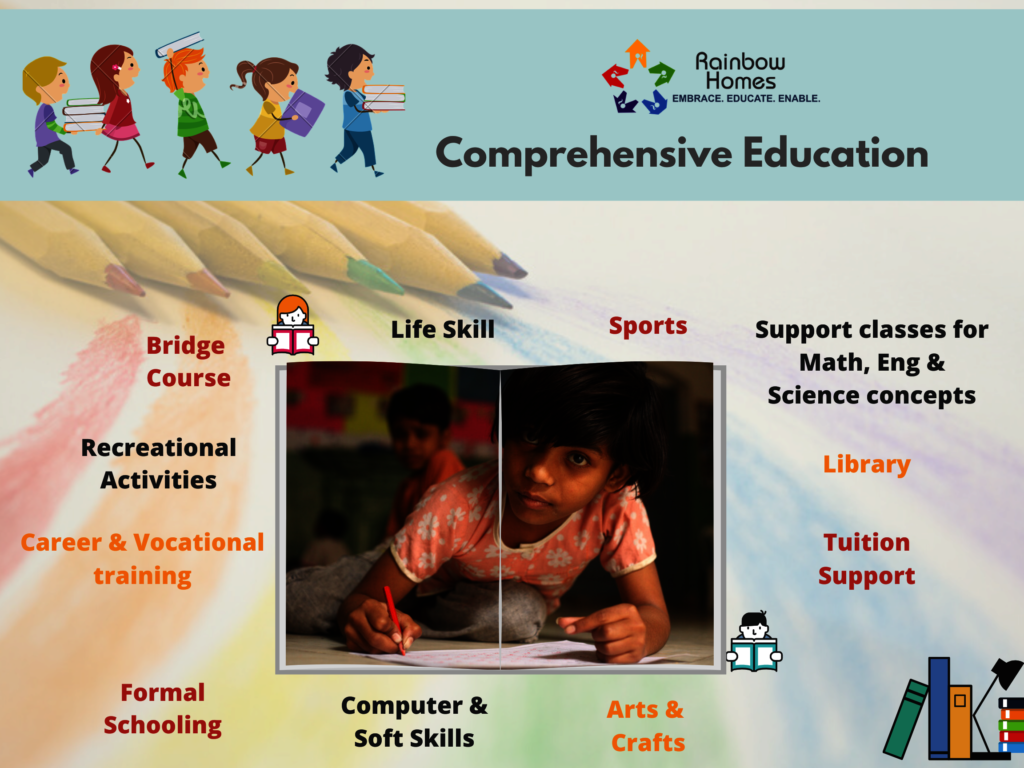 The importance of education for street children cannot be overstated. It is a catalyst out of poverty and a path to independence. The education plan is, therefore, a central facet of the Rainbow Homes Program. It is unique in its holistic approach as it overcomes gaps in education, supports children with personal and psychological demands as well as catering to unique learning difficulties. As such, Rainbow Homes cater to the unique needs of every child, supporting them through the most important years of education to lead happy, healthy, fulfilled lives.
Last year, all 4120 Rainbow Home's children were enrolled in age, grade-appropriate education. Children with a disability or learning difficultly were all provided with special interventions. This is an impressive achievement since 51% of our children had never enrolled in formal education prior to Rainbow Homes. Child-specific education plans and bridge courses taught by specialized teachers help our children begin their journey in education. Children then go on to access our vast support network that assists them through to completing their board exams. Last year, volunteers donated their time as role models and tutors, part-time teachers were appointed to offer remedial education support, in house Education Committees consisting of fellow children acted as stewards and confidants in times of need and finally, house mothers continued to create an environment of love and care that is vital for children when faced with the ups and downs of education.
We strive to make education more stimulating, exciting and effective. The following notable
initiatives were implemented last year:
1. The Delhi Rainbow Homes and Sneh Ghar has inducted dedicated, specialized English and
computer teachers. These teachers make use of the newly equipped computer lab and library to
ensure every child from 4th class is provided with basic computer and English skills. This has been
made possible with the help from institutes such as Inlingua, who provide child-centric English
lessons.
2. Bridge courses are central to the success of our education program. In this regard, homes in Patna
and Pune implemented training sessions with the help from Prayas in Patna and Sarva Shiksha
Abhiyan, MSCERT and Quest in Pune to teach participatory and interactive methods. These methods
have been actively implemented with noticeable increased participation and understanding from
children.
3. Hyderabad homes have implemented new education techniques with the help from Learning
Space. These new techniques promote equity and equal opportunities in the classroom through
democratic, secular values that incorporate inclusive, transparent and sustainable learning practices.
By engaging, the children in real-world issues children form a greater understanding and can relate to
the topics.
4. In an attempt to introduce more arts and crafts into our children's lives, homes in Patna have received help from retired volunteers from renowned art institutes to teach children local crafts and art. Furthermore, every Sunday, children from all Patna homes are attending "Kilkari Bihar Baal Bhawan", by the Dept. of Education, to take part in arts and crafts and various other activities. They are learning photography, skating, dance, singing and statue making among others.