In this year, DDing Dong counseled counseled 77 LGBTQ youths and their 191 cases. And we support 23 LGBTQ youths in crisis providing food, daily necessities, medical services, counsellings and so on.
And every Saturday we hosted 34 DDing Dong Lunch(Totobob) and Totobaob of 5th December was last one in this year. We will restart next year.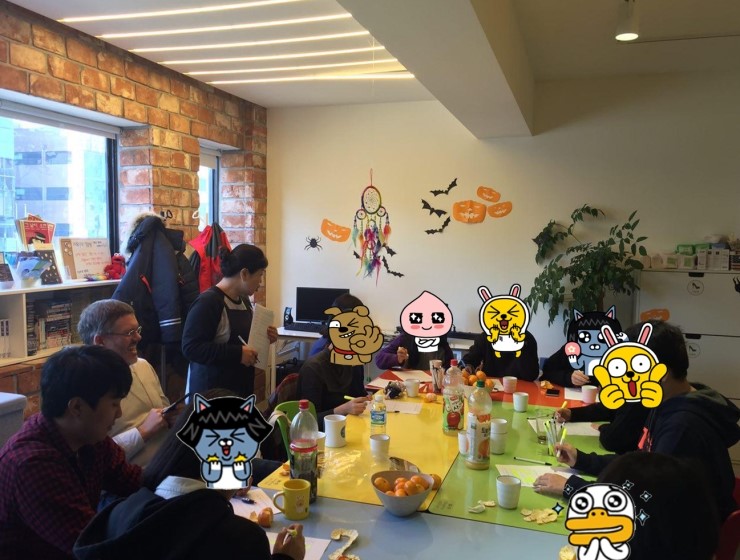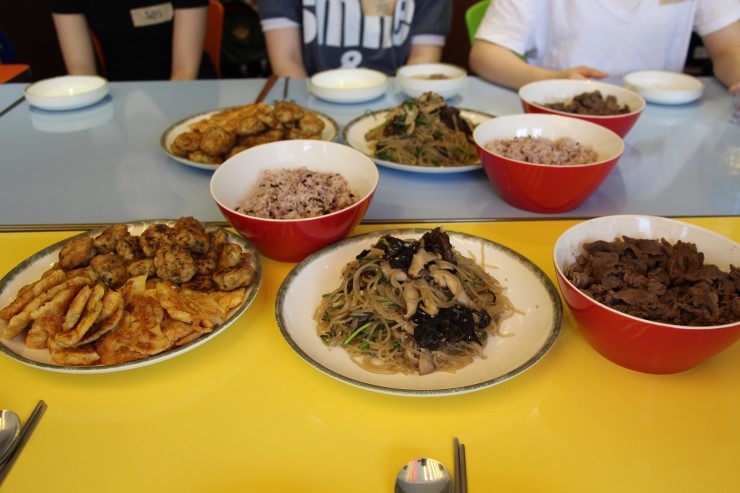 25th June
DDing Dong outreached in Sinrim Area with Moving Youth Center EXIT. DDing Dong Coordinators were used to just participate as volunteers usually but we co-hosted in 25th June with EXIT.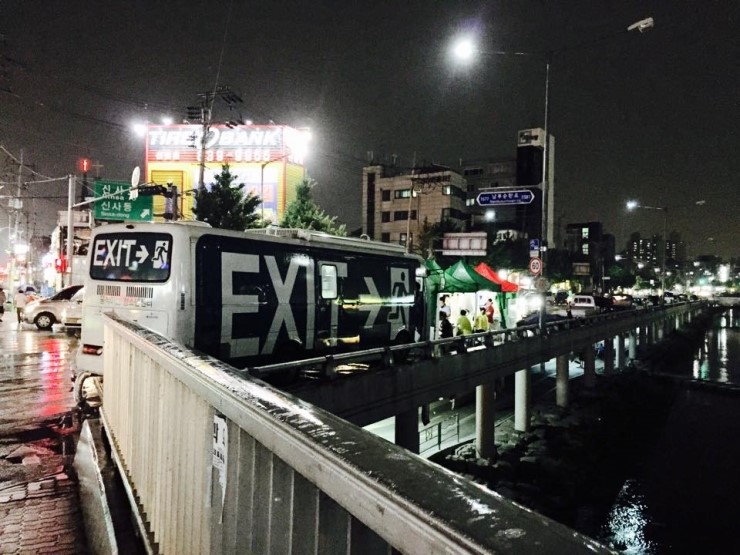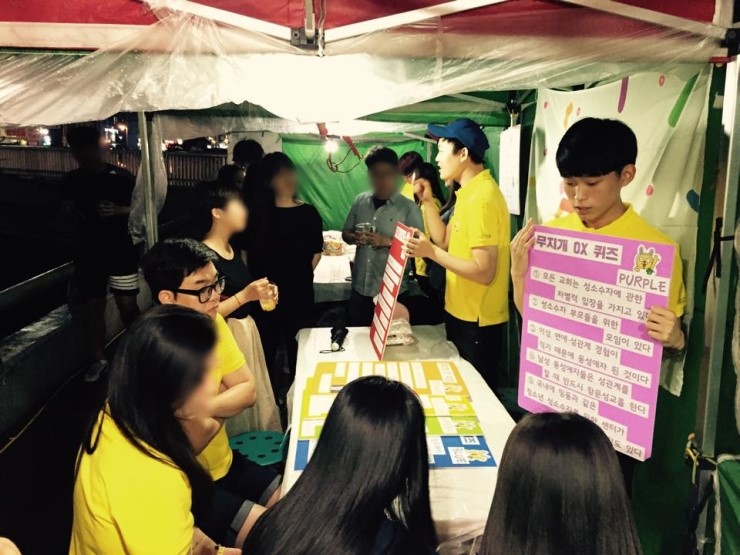 28th June
DDing Dong campaigned at the booth on Korea Queer Culture Festival. We sold some goods for fundraising, and asked visitors to donate. (Actually we sold up what we got) And we gave ice cream to every LGBTQ youth who visit us and add DDing Dong as a friend on SNS. We handed out more than 400 ice cream and more than 100 youths are became our SNS friends.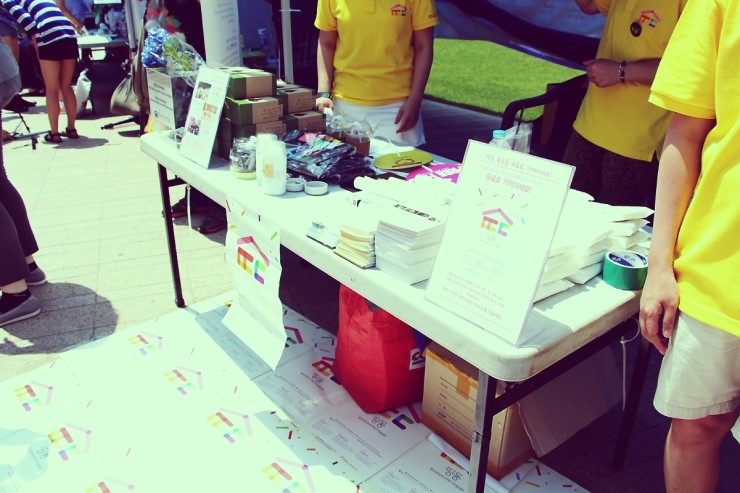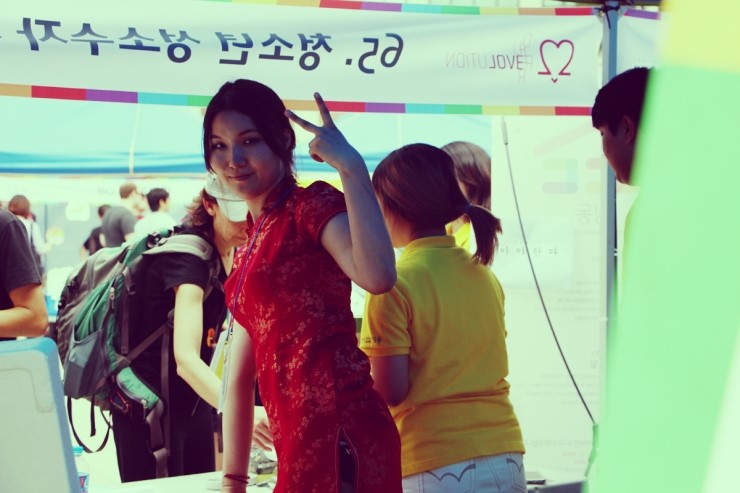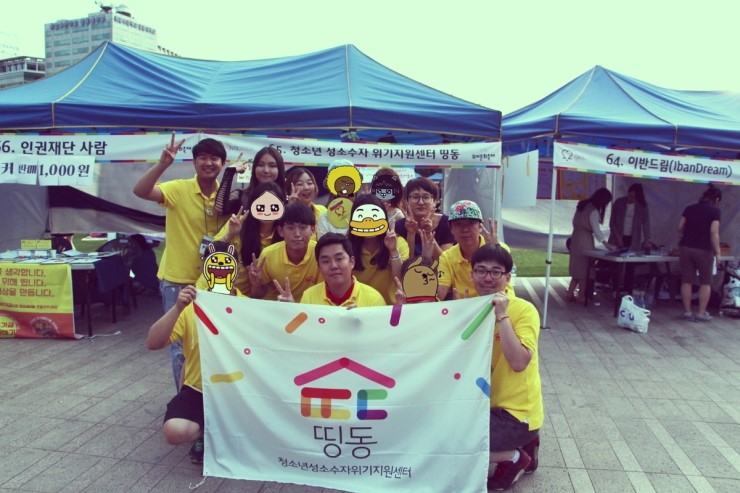 July
DDing Dong hosted a movie screening of "Misfits", a documentary in English that depicts a similar situation of what Korean LGBTQ+ teens go through in Korea. DDing Dong believed that this would be an opportunity to present to the views what South Korea is like nowadays. Moreover, the LGBTQ+ teen center that appeared in the movie did and went through the same things that of DDing Dong, LGBTQ+ Teen Crisis Support Center. Therefore, DDing Dong would like to host this public screening with the organizer, Seoul Pride Film Festival (the former "Seoul LGBT Film Festival), and promoted to the public of DDing Dong's involvement and necessity in South Korea.
- July 12th (Sun.) 5 P.M. / Myongdong Hyanglin Church / Total audience: 26
Interviewer: Bora Lim (Pastor, Sumdol Hyanglin Church)
Guest: Edhi Park (Coordinator, DDing Dong), Daniel Payne (Pastor, Open Door Metropolitan Community Church)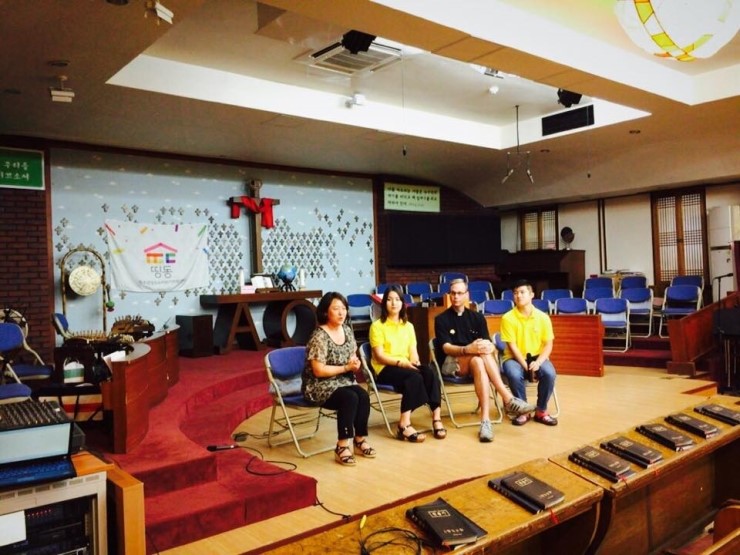 - July 18th (Sat.) 4 P.M. / Seoul Art Cinema (Seoul Theater) / Total audience: 86
Interviewer: Tari Nah (Researcher, The Korean Society of Law and Policy on Sexual Orientation and Gender Identity)
Guest: Inseop Lee (Coordinator, DDing Dong), Na Rang (Editor, Feminism Journal Ilda), Seunghwan Kim (Programmer, Seoul Pride Film Festival)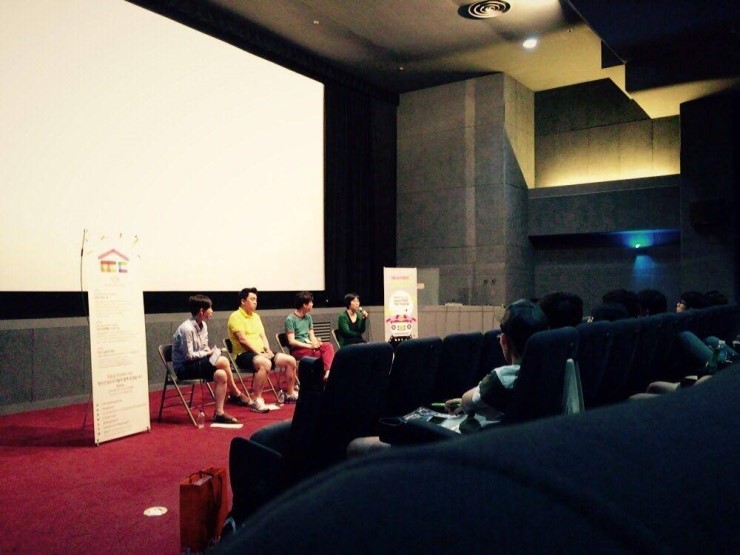 - July 28th (Tue.) 7 P.M. / Seongbuk Local Theater / Total audience: 57
Interviewer: Youngshin Ahn (Activist, Fun Education SangSang)
Guset: Eunchan Ryu (Coordinator, DDing Dong), Mihye Byun (Activist, Moving Youth Center EXIT)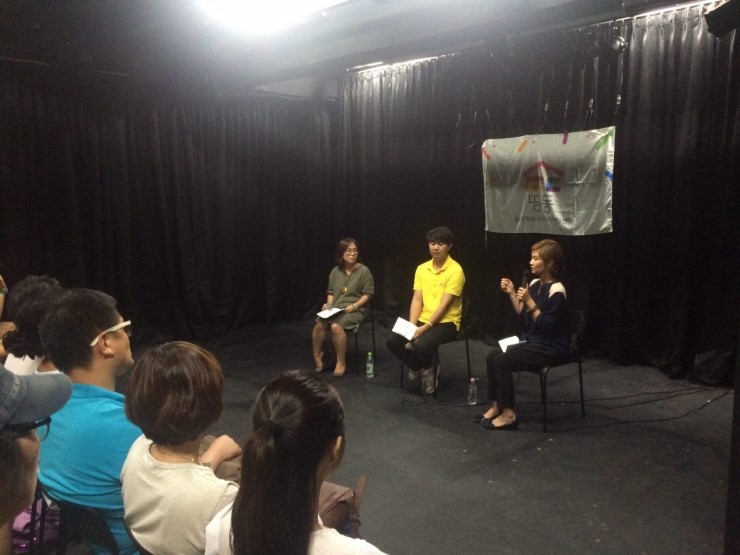 23rd August
DDing Dong went to Everland(Amusement Park) and had fun with LGBTQ youths. We provided time to relax and made a happy memory. 4 LGBTQ youths and 4 Coordinators shared many conversations.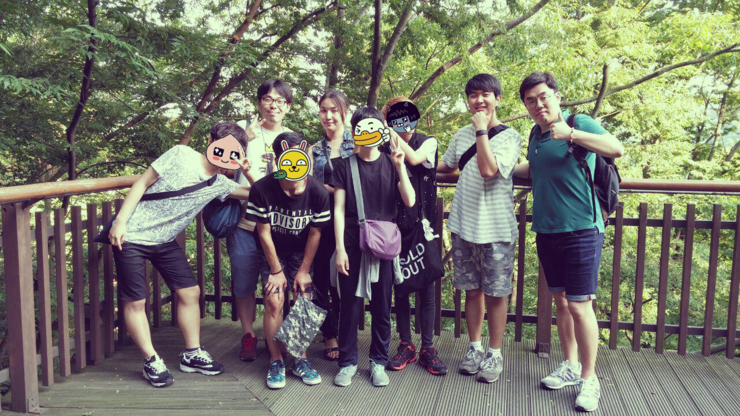 14th September
DDing Dong went to a theater to see a play "the Pride" with LGBTQ youths. "The Pride" is an award winning British drama by Alexi Kaye Campbell that counterpoints two parallel love stories. Theater Company "Yeongeuk Yeoljon" supported 10 tickets for LBGTQ youths and activists. After watching this play LGBTQ youth discuss about the contents of it and gave their thoughts.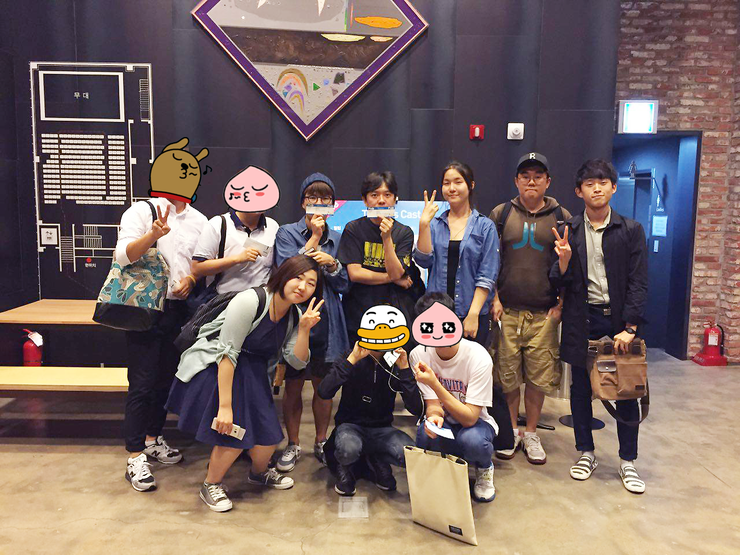 11th October
DDing Dong held a day camp. This day camp's main theme was 'Human Library'. We invited 8 'Human Books' who are a MTF transgender web designer, a lesbian car mechanic, a lesbian naval officer, a bisexual female counsellor, a FTM transgender activist, a gay teacher, a gay airline steward and a gay poet. 18 LGBTQ youth, 4 coordinators and 6 volunteers joined this camp. 8 Human Books told their stories about their adolescence and job career. We provided job information and how to be a happy LGBTQ people with pride.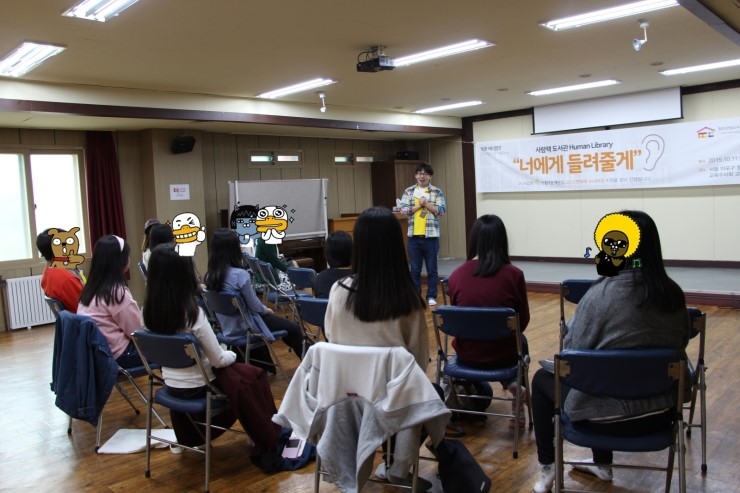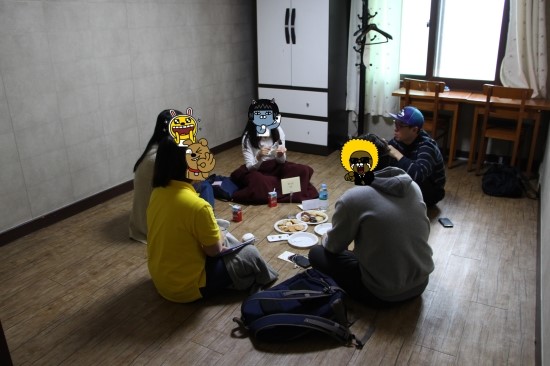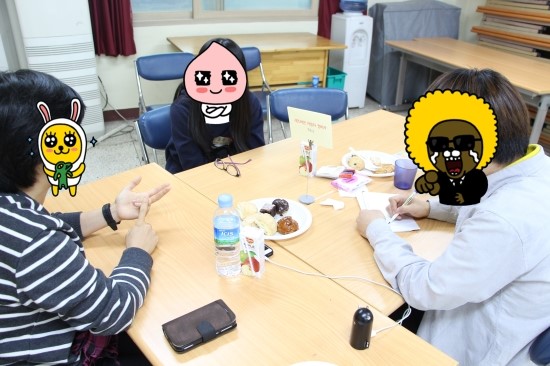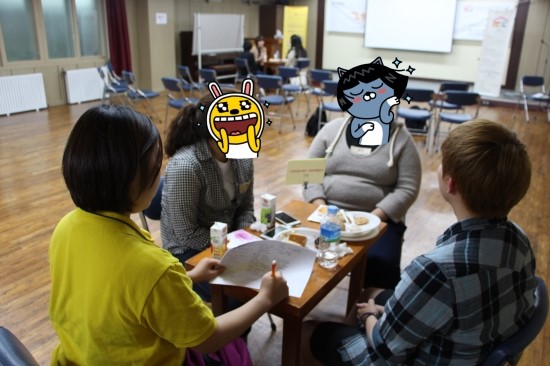 2nd November
DDing Dong Dream Project was launched. It is a project support a LGBTQ youth or a team who want to make a their own project like an exhibition, a class, an event and so on. Total 4 teams and individual were selected and DDing Dong sponsored certain amount of money.