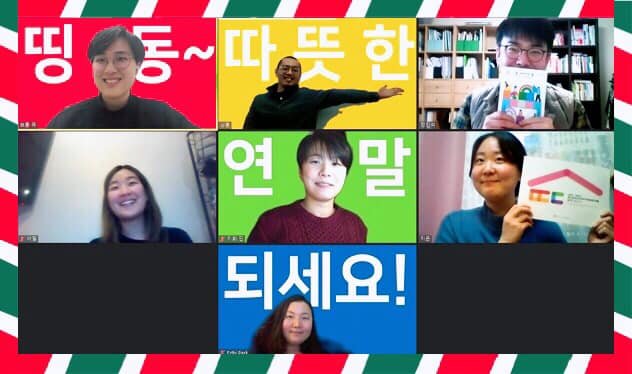 As the COVID-19 pandemic continues around the world, and social distancing measures increase in South Korea as well as other places, we are able to continue to support LGBTQIA+ youth in these difficult times thanks to the help of our supporters. From the bottom of our hearts, we are so thankful to you all.
We'd like to update you on some of DDing Dong's activities during the second half of 2020.
#T_GO!
Spaces where transgender queer youth can share their stories and experiences, as well as imagine and envision future opportunities and possibilities are rare. Because of this, DDing Dong saw the necessity of developing a special program to make this type of space possible, and in 2020 created a program called T_GO! Five transgender queer youth gathered on three consecutive Saturdays in October to meet and get to know each other. They also met one additional time together with a medical doctor, and had the opportunity to have any medical related questions they had answered. Through their four meetings, the youth were able to get to know each other and to begin to build and imagine their futures.
#DDing Dong Pocha
Following the spread of COVID-19 in 2020, DDing Dong has not been able to conduct our street outreach program DDing Dong Pocha. Prior to COVID-19, we met with youth every first Saturday of the month. After much consideration, DDing Dong Pocha decided to do outreach online instead. On Saturday, November 7 from 2 p.m. to 3 p.m., DDing Dong hosted an open chat for LGBTQIA teenage youth and was able to talk with seven teenage LGBTIA youth about their daily lives as LGBTQIA youth. In addition to chatting, participants also took part in an activity that DDing Dong prepared called "Queer Quiz Time," and received online coupons for participating.
#Challenge! HIV-ster!
In 2020, DDing Dong considered how we could better provide HIV/AIDS education to youth. Through funding received from the Northeastern NPO Center, we created and produced an educational card game named Challenge! HIV-ster! (HIV Master). On Thursday, November 12, we met with 13 staff members from youth-related organizations based in northeastern Seoul to conduct basic training and education about HIV/AIDS.
Through quizzes and matching exercises, participants were able to learn the information contained in our card game, and gain a better understanding of HIV/AIDS in an approachable and step-by-step manner. We will continue to spread human-rights information about HIV/AIDS through our game Challenge! HIV-ster! (HIV Master) in the future as well.