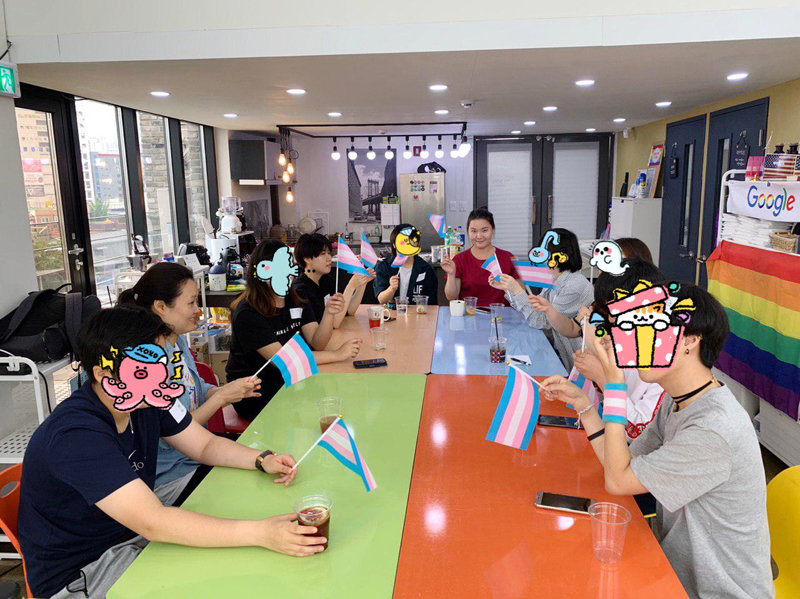 Greetings from Dding Dong!
From April to July, we kept ourselves busy with as well as reaching out to trans and genderqueer youths as well as organizing our regular programs. We also expanded our activities to regions other than Seoul; we set up booths at local queer cultural festivals and hosted the event called "Rainbow Flying Start" to meet with counselors, teachers, and social workers interested in connecting with queer youths.
"Rainbow Flying Start" is our special program developed to form a supportive community for queer youths in each region. LGBTQ teens who do not live in the Seoul Metropolitan Area tend to be more vulnerable to various crisis situations. Therefore, this program aims to create local communities that can support them as who they are.
"Dding Dong Kitchen", our regular community lunch program with approximately ten LGBTQ youths each time, was held four times during the months of May and June. This program is also a place where we can share with one another our experiences, difficulties, and inconveniences we face as sexual minorities. In particular, we were able to hear stories from trans and genderqueer teenagers.
We can never emphasize enough how little information for self-reliance and how few role models are out there for them. For that reason, we plan to launch multiple programs specifically catering to young trans and genderqueer people during the remaining portion of the year.
"Dding Dong Pocha," our monthly program has also been proceeding well. We provide counseling in the streets to directly meet with queer teenagers on the first Saturday of every month. We have recently had more vegan visitors, so we prepared vegan ddukbokki, fruits, and other snacks. We also provided counseling service, tarot card reading, and emergency supplies at "Dding Dong Pocha."
Lastly, for the empowerment of the Dding Dong office, we participated in the special workshop "2019 Activist Workshop: Nurturing Gender Equality to Empower the Queer Community" organized by the Rainbow Action Against Sexual-Minority Discrimination. We attended the wonderful lectures titled "What is sexuality to queer people?"; "It's okay between us?!: between difference and violence"; and "When you are a bystander."
The workshop was truly a gem containing extremely helpful contents, from thought-provoking lectures to interactive sessions to review our own organizational culture and internal power relations. We are going to make the most out of the education we received at this workshop and continue to monitor Dding Dong's organizational culture.