Project Report

| Apr 13, 2018
Dear SHINee fans around the globe,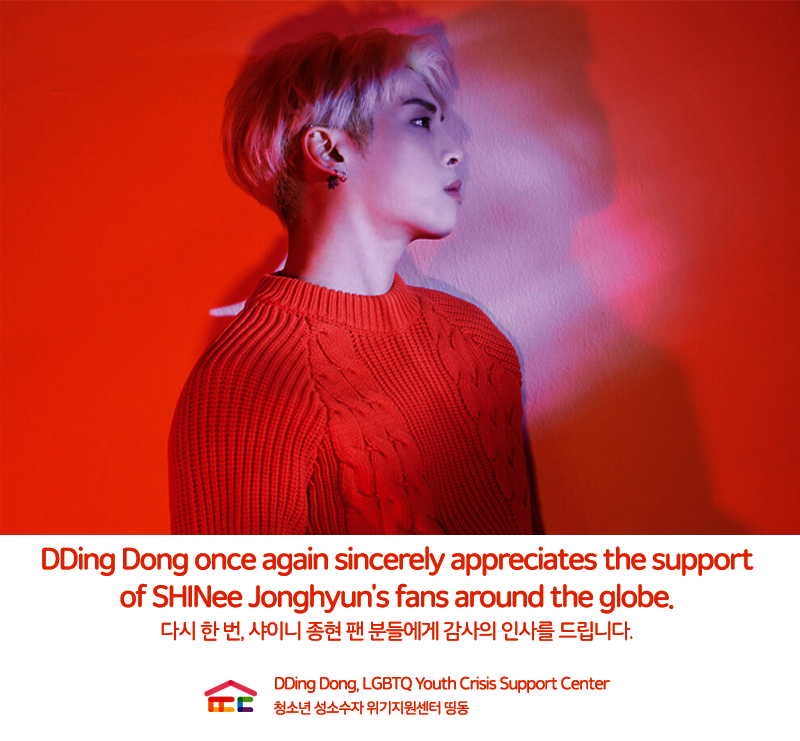 DDing Dong once again sincerely appreciates the support of SHINee Jonghyun's fans around the globe.
Last year December 18th, Jonghyun's fans around the world were deeply saddened by his sudden death and have voluntarily raised funds to donate to DDing Dong to commemorate him. These grateful donations are currently being used in Crisis Support programs in 2018 where we reach out to LGBTQ youths.
April 8th, to celebrate his birthday, fans once again made a huge donation through 'Jonghyun's B-day Project.' We would like to sincerely thank you for your donations in memory of Jonghyun. Starting two weeks before Jonghyun's birthday, DDing Dong has been able to raise more than $8,000 in total by the grateful contribution from 150+ fans around the world.
We find Jonghyun's supportive voice towards LGBTQ individuals very precious, for we are aware of the positive impacts he brought on those who are marginalized merely for being "different." His remarks, "Difference is not wrong, I do support you," will long be cherished. DDing Dong will always remember his courage and warm-heartedness with you.
The fund collected under the name of Jonghyun will be used for LGBTQ youths in need, especially who lost their shelter to live. Your support encourages our continued commitment to reaching our goal to protect LGBTQ youths from discrimination and hatred.
Happy birthday, Jonghyun.
Thank you.
DDing Dong, LGBTQ Youth Crisis Support Center