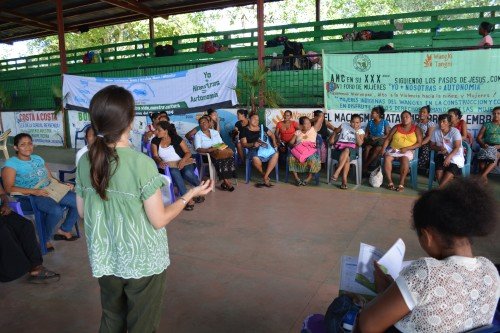 MADRE Program Director, Natalia Caruso, recently traveled to Nicaragua for the 6th Annual Indigenous Women's Forum. There, she led a workshop on the use of radio at the community level as a tool to end violence against women. Here is the blog post she wrote, reflecting on the workshop.
A central theme of the Indigenous Women's Forum was "I + We = Autonomy." This simple equation laid a strong foundation for the Conference. It reminded attendees of two essential forms of autonomy for all Indigenous Nicaraguan women. The first is that every woman deserves to have ownership and autonomy over her body and her rights. The second is the opportunities that Indigenous Peoples can seize if they respect and use the strength of all their people, women included.
This concept came to light during a two-hour workshop I facilitated on "Communications and Ending Violence: The Use of Radio at the Community Level." As part of our work together, MADRE and our sister organization Wangki Tangni are using solar-powered radios as a way to prevent violence against women.
Wangki Tangni produces radio segments in Spanish and Miskito, the local Indigenous language, to reach even the most remote communities. These segments are broadcast on local stations. MADRE is providing solar-powered radios to allow women to listen to the segments.
My workshop allowed us to hear firsthand the experiences of the women who benefit from the program.
We talked with a group of 35 women about how radio can promote women's rights. As in other rural communities worldwide where MADRE works, radio is the primary means of mass communication.
Many women told us that they listen to radio programs on women's rights to empower themselves to stand up and say "no" to violence. The workshop proved once again that the radio can do more than broadcast community events, entertainment or soccer game stats. It is also an educational and empowering tool for communication about women's rights and the right to live free of violence.
As one woman said: "I learned about my rights by listening to the radio."
The radio is also a way of educating and engaging with men and boys about violence. A middle-aged Miskita woman from Ulwas at the workshop told us a powerful story. She told us that her husband is abusive and has physically attacked her. One evening, she found herself listening to the radio with her husband, and a program about women's rights came on. After it ended, he turned to her and said, "I am afraid of you."
What did he mean by that? She understood that he was beginning to recognize the capacity that she had for leadership. He was beginning to understand that what he had done was a violation of her human rights.
Wangki Tangni knows that we must include men and boys in conversations about women's rights, and the radio is one powerful way to reach out to them.
During the session, I was seated next to a young woman from the Alto Bocay community who had traveled for two days, by boat, with a one-month-old newborn, to get to the Forum. She told me: "I came with my baby. I couldn't miss it."
It is exchanges like this that reflect the dedication and power that these women have to transform their communities. They will remake them into places where they have full autonomy over their bodies and their rights, and into places that are free of violence.