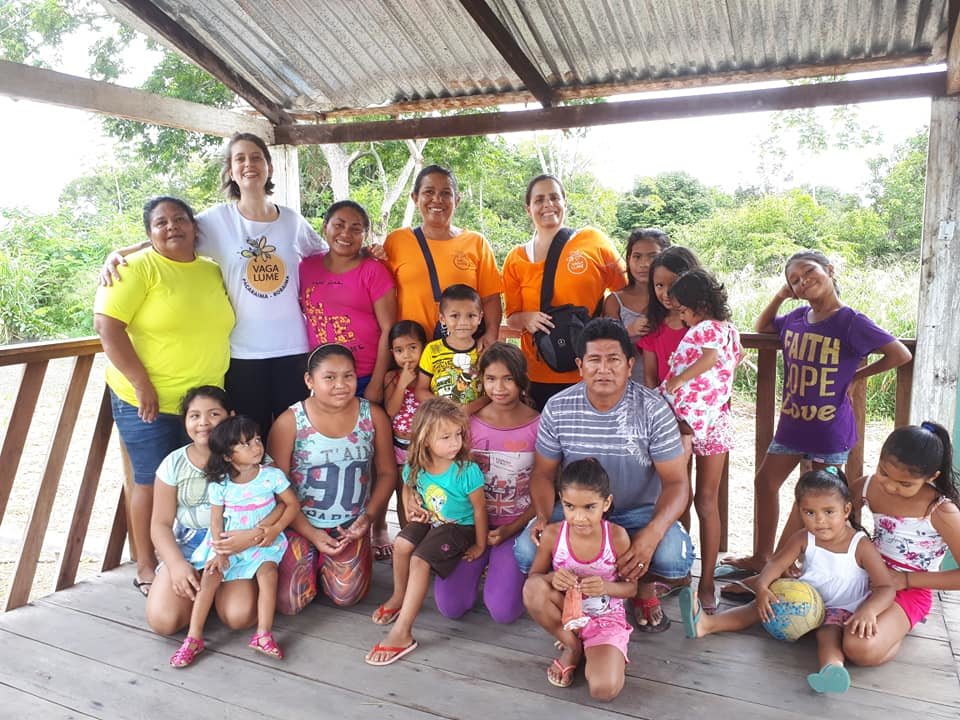 We set off for a 4-hour trip from São Paulo to Manaus, in the state of Amazonas, where we took a boat in Rio Negro toward Barcelos for thirteen more hours. In Barcelos, we got a recreio, a regional type of boat, hung our hammocks and waited for seven more hours until we got to the Carvoeiro community. After more than eight hours travelling, we finally arrived at our destination at dawn. Francidalva dos Santos and Rosinaldo Magalhães' family was waiting for us by the river's edge, it is in their home that the Vaga Lume's library is provisionally located.
In the past, the library was hosted in a house provided by the community. However, over the years, people who took care of the library were leaving the community to conquer other spaces. Toward this situation, Francidalva thought "We have an amazing collection of books and so many children. This library should get out of this place, otherwise the rain and the bugs in the region will deteriorate what we have conquered". That's how Mrs. França, as Francidalva is called, together with her husband, decided to take better care of the collection, having the library in the living room of her house provisionally.
A 33-year old indegenous woman, mother of two teenagers, student and aspiring teacher, Mrs. França was born in São Gabriel da Cachoeira, in the state of Amazonas, but lives in Carvoeiro for over 10 years. She saw in the library the opportunity to make children get in contact with books. From then on, every Saturday afternoon, together with her husband and daughters, Mrs. França take the books up to a stage in front of a football field and perform reading mediation to children. About 30 children attend the weekly mediations regularly on a community where thirty five families live in.
The community is renovating an abandoned house to host the new library's headquarter. They are planning to transform the room into a Community Center by making a garden behind the room, with crafts classes and a space for study hall, which is a habit of the children of this community.
Mrs. França believes that, as long as they have children, books and community mobilization, she will keep believing in a better world. And Vaga Lume believes in a better world as long we have around more Mrs. Franças, spreading hope, power and stimulating reading to Amazon youngsters.
Translator: Luana Santos
Links: