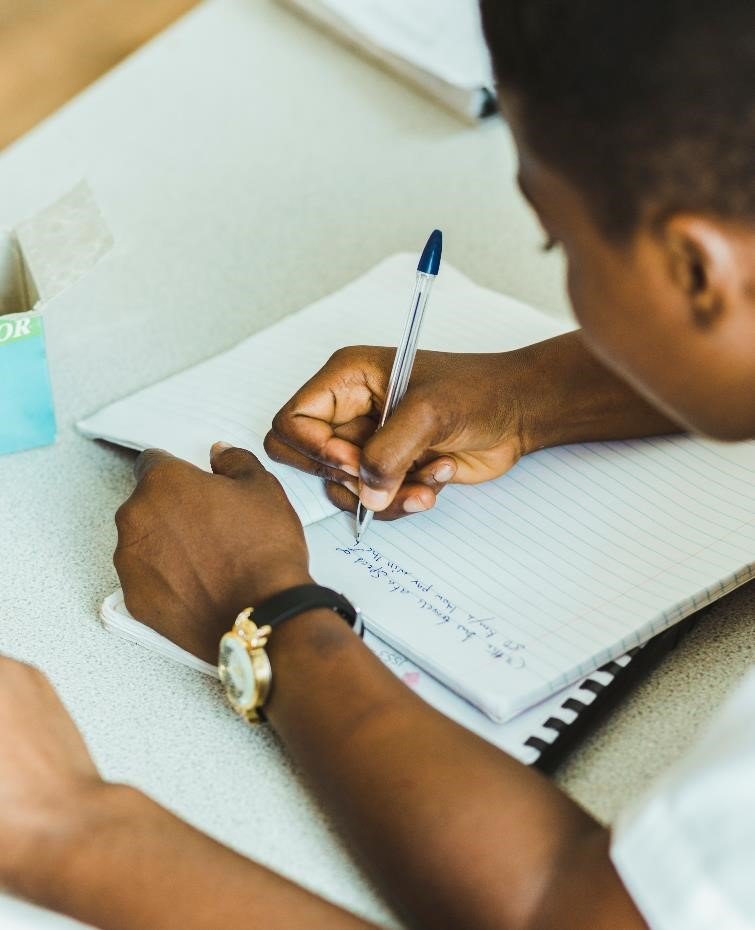 Ibrahim is an only child. Slight in stature, he cuts a mature, pragmatic figure; visibly proud and humbled by knowing what his mum, a hardworking petty trader, has sacrificed for him. Supported by guidance for parents from his school, Rising Academy Network, Ibrahim talks, through a wide grin, of how his mum now knows how to support him to prepare for the upcoming public exams, although she herself never attended school. He has promised to never let her down.
Talking me through his daily routine and experiences, it is difficult not to be inspired and personally challenged. Ibrahim wakes up at around 4am to learn formulas, read and study - and comes home from school to chores. His life is one of discipline and commitment. He says he does not have the pleasure of being able to watch movies at night to relax – or even the luxury of food every morning. Perhaps he will be able to get back to playing his beloved football after exam season.
Upon asking him if he has always been this disciplined, he chuckles and flashes a cheeky grin. Apparently (and to my surprise) he was once shy, lazy and uninspired at school. However, Ibrahim goes on to tell me that understanding the 4 H's of Rising - Happy, Hardworking, Honest and Helpful, has helped him to grow. Ibrahim's deep internal motivation and commitment to his mother is evident. These qualities along with the support of his teachers and scholarship will enable him to improve his chances in life. Without his scholarship, Ibrahim would not have access to an education that has focused on developing his character alongside achieving academic excellence.
Ibrahim is striving to achieve an aggregate of '9' on the public exams this July; all top grades of a '1' in his six best subjects, excluding Maths. Having initially failed his first two practice exams in Maths, Ibrahim most recently achieved a '4', which equates to a good pass; he is (unsurprisingly) working hard to improve. Ibrahim wants to be a journalist when he grows up, and it is hard to ignore the potential and resilience of this exceptional young man.
Upon thanking him for his time and shaking his hand, I close by asking him "What does Salone need?" After a short pause, Ibrahim says this: "My country needs a disciplined Government who will serve the people and not steal. Too many of the Honourables and others make money through corruption and this has to stop. We need a government who will punish corruption, only then can we move forwards."
It is brave, aspirational young people like Ibrahim who will determine the course of Sierra Leone's future. We believe in the hope he represents for his country, and we believe you should too.