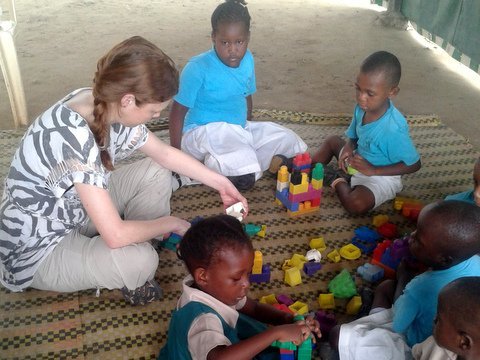 Normally when I write a report I am bursting with ideas, but health issues, now resolved, prevented us from making our Feb/March visit to the project so I thought I had nothing to tell. A lie of course. Such a lot of exciting things have happened.
Firstly the brickwork for the entire downstairs is now complete. Half of it still needs finishing of course, the toilets, kitchen, a classroom and the office but at least we can imagine what it will look like. We had a Skype call last week from the contractors. Two really nice guys who are incredibly honest and patient with us. Equally important is the quality of their workmanship.We feel really lucky to have found them. Herman has young children of his own and is very keen for them to come to our school. When I told him that he was too rich he said that I was being unfair to his children by not allowing them to have the quality of education the poor children were getting!
I think I mentioned in the last report that I was worried about financing the feeding programme for the next year, but that worry has now gone. A second charitable trust has met the shortfall and we now have the £12,000 we need for yet another year. It is always a worry but at least our children will get a healthy diet for another year.
Then there are the volunteers. Our teachers love to have volunteers from Europe in the school especially when we were unable to go out there ourselves. In April two young women from Germany went over for two weeks. I'm not sure who had most fun the children or the volunteers judging by the photographs. They did lots of creative stuff like making crowns and decorating them. Our children are getting a great education but craft resources cost the same in Kenya as they do in the UK and our money is generally spent on more basic things like books, salaries, food and water. Craft equipment would cost a much greater percentage of our running costs than it would in England.
And as I write, Alice is spending four weeks in Kenya. She has just finished training as a children's nurse and is doing her elective in our clinic. This was arranged several months ago but it was touch and go whether the clinic would be finished in time. Fortunately it was and so she is working with two experienced nurses and our children. So far one report has been sent back and she is clearly enjoying herself. She had worked in Ghana before which meant that it was not the culture shock it might have been otherwise. Normally our volunteers stay with Joyce who lives fairly close to Mgongeni but Alice chose to stay with Flora who is one of our nurses and really lovely. She actually lives much closer to the community. It will be interesting to see how it works out.
Recently, I was talking to my nephew about the need to complete another classroom for January for a new intake of children. We don't need to raise a huge amount of money because of course the structure already exists but we do need to raise it urgently. 'No problem,' he said 'I'll get it for you.' So, he is cycling around the highlands of Scotland this week and asking people to sponsor him. So far he has raised half the £2,500 needed which is pretty good. Just keeping my fingers crossed for the rest of the week.
I'm really excited about our October visit to Kenya as my children and their families are coming out too. Ostensibly it is to celebrate my 70th birthday but they will also be visiting the school and the community. My grandchildren will spend a day in the school and they are really looking forward to the experience.
Thanks to everyone for their support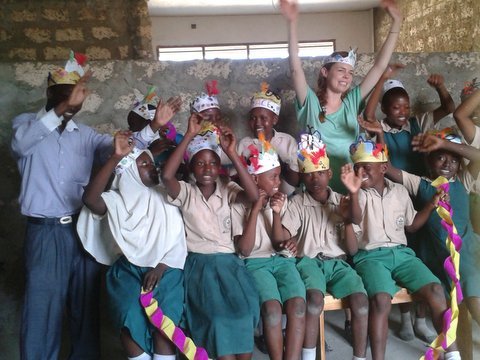 Links: