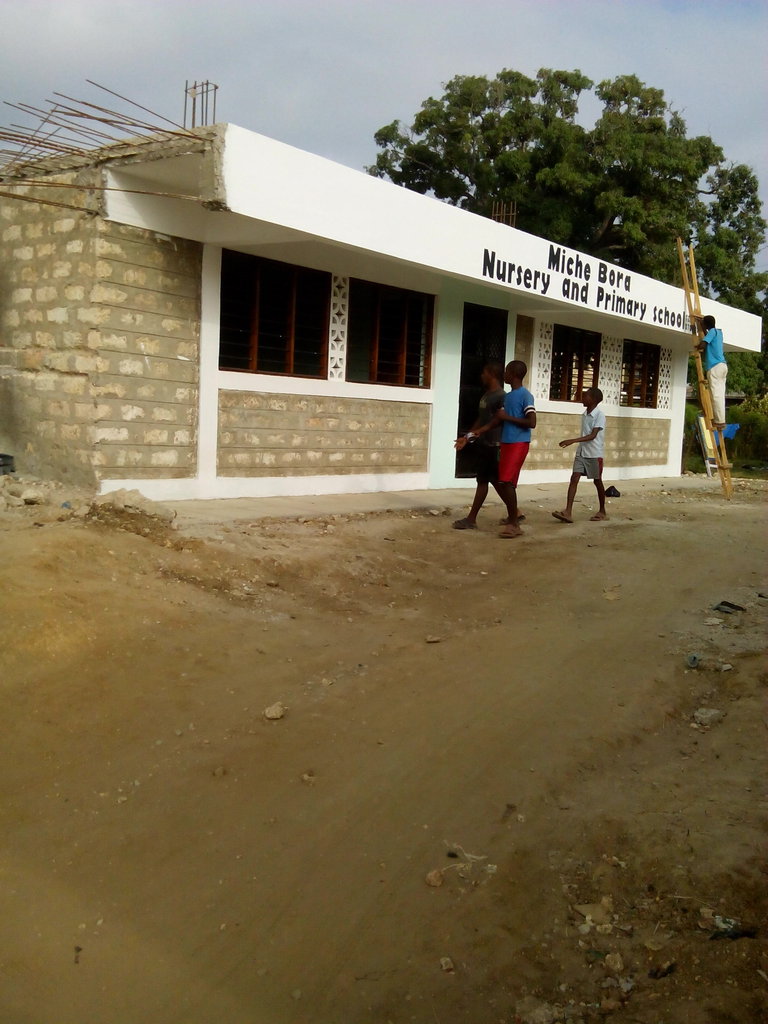 It was Christmas Day and I was happily surrounded by my children and excited grandchildren busily unwrapping the presents brought by Father Christmas during the night. My husband disappeared for a few minutes and then rushed back in to tell me he'd received an email from the builder in Mombasa.
'I'm having a day off. I don't want to hear anything about the building', I replied, but he persisted. The contractor had taken photographs of our very nearly completed building. The first four classrooms of our own school with three toilets. Tears filled my eyes and I knew that this was the very best Christmas present I would ever receive.
Building anywhere is fraught with problems and Kenya is no exception. On 5th January 2015 a new class of children joined our school and it was so important for this building to be completed as there really was no way we could accommodate them in our already impossibly full rented building, but time was running out. The contractor had promised that it would be completed and it was.
This also means that the furniture which was being made thanks to a UK donor had a home. It is so exciting and so wonderful. This is just the first phase of course but thanks to so many of you it really is happening.
Of course we now need to raise the money for the next phase of the building to ensure the projects sustainability. And of course there are text books to buy for the new class but at least they have a building.
When we went out to Kenya in November it had looked as though this would have a very different ending. A new government law meant that one and a half metres had been stolen from our ground slab for a road and two of the classrooms were going to be too small. Geoff, one of the founding trustees, spent many days sorting this out at the land's office but eventually they agreed that we could build up to our building line and restore the ground slab to its original dimensions.
Adding to the ground slab at a later stage was a huge expense that we could not have anticipated and as a result we have not been able to do a number of things we had planned. There is no glass in the windows and the floor which should have been terrazzo is just the concrete of the foundations. We need to raise funds for these urgently but at least the children could come in.
Next month we are going back to Kenya along with two volunteers and I can't wait. Thank you so much to all of you for your help and support. You are making such a difference to our school which now has 200 children.