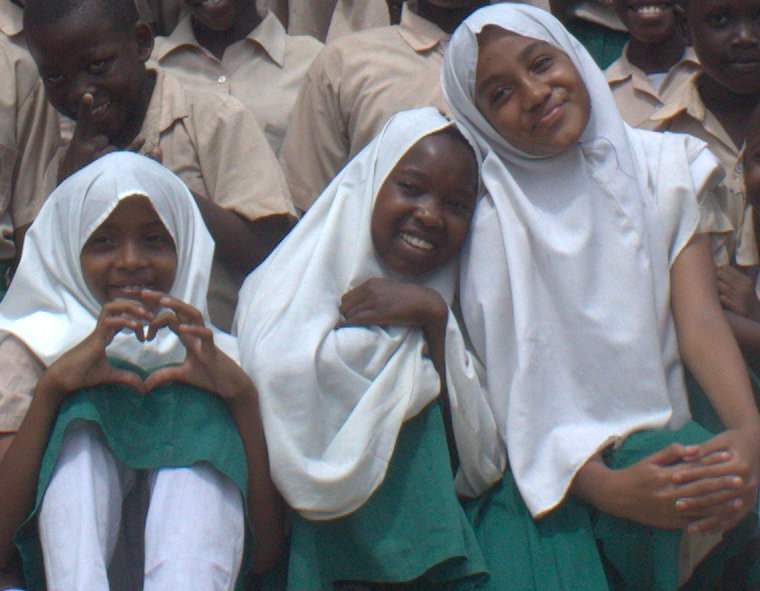 Such a lot to report after five weeks in Kenya. It was so great to see everyone enjoying the new facilities. The cooks with their lovely kitchen and the children continue to be thrilled with their new toilets! The teachers are still doing a fantastic job and this time we have our first set of candidates. This is the name given to the children who take their Kenyan Certificate of Primary Education (KCPE). We just have to hope that they do as well as we are hoping. I know for certain that they will all be offered a school, you need 40% for that, but it would be great if some of them got the marks to go to the highest level of secondary school which requires in excess of 75%. The government moves the goal post on that one as there are only so many places. Unfortunately, whatever their grades most of them will end up in the local secondary school because they will be not be able to afford the fees at the others. Such a pity. Irene, our headteacher and I went to visit that secondary school and there were 80+ in a class, not enough seats or desks and they taught to the highest achievers. Fortunately, our brightest girl, from a single parent family, has a donor to enable her to go to one of the better secondary schools.
As usual we have our gripe about the Kenyan government and this time it opened a whole can of worms. The government decreed that all primary schools, including private schools, (which ours is), to close on 26th October until 2nd January. A disaster academically but an even worse disaster nutritionally. We knew that many of our children only ate the food they received in our school and we knew that children lost weight during the holidays but we hadn't taken the further step of thinking that nine weeks holiday could spell disaster. Then, emaciated parents started coming to Irene (the head teacher) in desperation to see if we could help. A donor gave us £250 to help with this problem but once we started investigating we realised that those we had first seen were just the tip of the iceberg. I try not to get closely involved with individual families because we need to be focussed and build the school but I was there when one of the fathers came. An educated man speaking very good English whose business had collapsed. He was so grateful for the food we were giving, not in a gushing way, more a relieved way, but I just wanted to give him a hug. I could barely stop the tears.
But on a more positive note our family came out to Kenya for a couple of weeks in the middle the stay and all volunteered their services at the school including my young grandchildren. Some did creative activities whilst others helped improve the teacher's and children's Lego skills. Four teachers were taught how to follow a plan for one of the kits and found it quite challenging but ultimately rewarding. The young adults also had a great time playing with the children at playtime. There would be a photograph but the camera went missing!
The teachers then had a week with no children and no me. I had set homework for them and they did it brilliantly. The teachers of children from 3 - 9 years now have the new Kenyan curriculum. Very wordy and understandably they were hoping we would just pay for new curriculum text books to save them the effort of working it all out. However, they worked in pairs on one subject per pair and did a brilliant job and were very clear about what was needed. It would appear that the curriculum really is now very similar to the British curriculum at this level, which is what we thought. The exception being Swahili and not just for the obvious reason. They will definitely need curriculum books for Kiswahili because they now realise that the Swahili they had been teaching was a language cobbled together from English, Arabic, tribal languages and Swahili.
Then another problem arose. Apparently cooks cannot clean in Kenya. It does not matter if they wear separate aprons or do the work at a different time you simply cannot employ the same person to cook and clean. Our cooks were both cooks and cleaners so we have had to resolve the situation. When all the children are in the same building it will not be a problem but at present it is not possible for one cook to cook alone and so we need four cooks and two cleaners. Two new staff to pay for.
This all reinforced quite how desperately we need to build six classrooms on the upper storey to bring all the children under the same roof. It will save the salary of two cooks and a night-watchman plus rent, utilities etc and save us more than £4,000 a year! This will make us so much closer to sustainability. We have lots of fund-raising activities coming up as we so hope that next year, in our tenth anniversary, we shall be able to make this happen. Do keep an eye out for news of how you can help.
Thank you so much all of you who have helped us to reach this stage. We could not have done it without you.