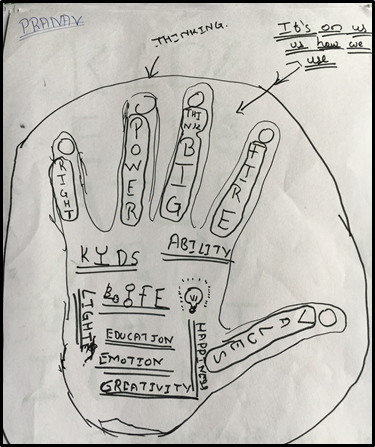 "Imagine a children's movement. Children sitting on school committees, traveling across the country to advocate for a holistic education, perhaps one day being a part of every important discussion at the national and state level. Imagine a Junior Education Minister. Imagine kids formulating policy for kids. Imagine kids teaching kids. And parents. And teachers.This is the Kids Education Revolution- a movement of kids who reimagine education." - Shaheen Mistry (CEO, Teach For India)
Kids Education Revolution (KER) is a bold and ambitious attempt at empowering our children to be leaders today. The underlying aim is to bring together partners to reimagine education for 100 million children. KER proposes to bring together kids from diverse backgrounds to revolutionize how they learn, and in the process find their light and spread their light.
"Why KER?", you wonder. "Because WE want to help redefine what we are in dire need of- Education," our kids assert. KER exists to fundamentally shift the purpose of education and to change the conversation from a rote-driven, individualistic, exam dominated education towards a holistic education for every child.
Before we take a glimpse at what our kids have to say about this initiative, let us gain a quick insight into its inception and functioning.
If you asked Shaheen when the seeds of KER were planted, she would tell you how they were planted when a young student in Hyderabad wrote a seven page essay on what he'd do if he were the education minister; or when the then City Director of TFI Chennai, Srini, laid out photographs of children on the table before starting meetings; or when the Maya Musical brought audiences to tears, and to their feet, in show after show.
These were only a few of the many instances when we were struck by the challenge of keeping kids at the center – literally – of all discussion. And thus came into being a movement that would allow these kids to raise their voices in order to reimagine education for us, and with us.The KER Summits will push our collective ability to reimagine education by enabling us to listen to and learn from our children's journey of leadership.
However, the most important step we took was to ask our students to visualize what a reimagined education looked like to them. Here's a peek into what one of them said!
"A reimagined education is like your handprint – you create your destiny. The thumb is the most important – your values. This is the thumbprint of your life." - Pranav
Thus, KER is an essential component of Teach For India's daunting vision and our Phase 3 approach of Collective Action. By listening to and learning from our children and youth to fulfill the individual potential of each child and the collective potential of our nation, we aim to influence the conversation towards reimagining an excellent education.
And it is this conversation, among many others, for which we would be obliged to have your unwavering support. We sincerely hope to find you by our side at every juncture in this challenging journey as we discover together, time and again, that lurking behind the dusty desks and weathered dusters in every TFI classroom are endless stories of inspiration and success, stories that bring to life the true meaning of the beautiful Latin phrase: "Provocans Ad Volandum" or "Provoked to Fly".