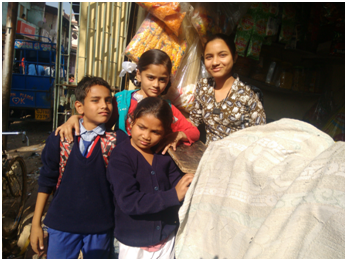 Khushboo is a Teach For India Fellow (2015-17) in Ahmedabad. She teaches in a low-income school in the midst of chawls where migrants from Uttar Pradesh, Madhya Pradesh, Bihar, and Rajasthan live and work as painters, factory workers, carpenters and other wage laborers. There are very tiny houses in chawls, where her students live on rent and they are very used to witnessing violence in their homes, seeing their fathers beating their mothers. They are also the witnesses of violence in their community where people who don't get jobs get involved in inhuman activities like stealing, eve teasing, threatening, hurting and killing other people.
Khushboo talks about her experience -
"I realized that there is a lack of leadership in the community. People feel hopeless and afraid to take any step towards a positive change in the community and people with whom I am in direct contact with are my tiny little hopes, my students. I signed up for MAYA - Ahmedabad, a Teach For India's initiative for Student Leadership. During this process they learned about their strengths, weaknesses, values and purposes and how can they connect all of these aspects in their daily lives through reflecting upon their behavior. They learned deeply about their community through numerous community walks, surveys and understanding the bright spots as well as problems of their community that they can understand the problems and can play the role of catalysts of change. Now, students are practicing rigorously to showcase the problems of the community through Forum Theatre in front of around 300 people. They want to show that even a small change matters and children can do anything. Along with these students are trying different small things to change their community."
Shalini, who used to be very shy to speak in class a year ago, now tries to resolve the fights in her community by entering in between and cracking a joke loudly.

Ranjani, who used to be very fierce, now teaches English to two grade 7 students in her community as she recognized that her strengths are grit and helping.
Annu, who started teaching values, feelings and importance of reflection to her parents which has decreased domestic violence in her house to a level where parents are more focused on investing in their children rather than making small issues bigger and arguing upon them. She has empowered her mother with her words of wisdom, now her mother is hopeful about her daughter's future despite her father's short temper.
Similarly, every child has incredible stories that they share with Khushboo on a daily basis where they changed something in the community using their values- courage, compassion, and wisdom.