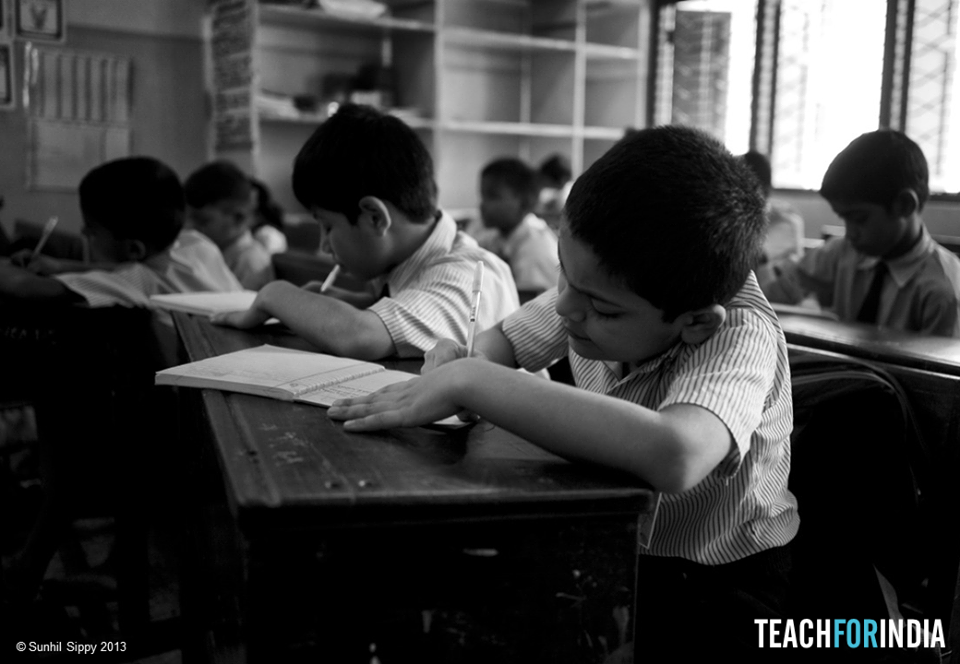 We would like to thank all of you for your support during the year-end campaign!
With each New Year, there come along new aspirations, new grails, new sources of motivation, and also new challenges.
One of our fellows, Amit Mishra, teaches 34 little curious 2nd graders in Brighton English School, a low income private school, in Chandola, Ahmedabad. His journey of setting the kids coming from deprived communities to a different life path might be a challenging one, but he still has hope, and is determined to make a change.
This is what Amit had to say about his experience:
"The community is a Muslim predominant and majorly became habitant after the unfortunate 2002 Gujarat riots. With a population of around 1 lakh, the community has people mainly from three states West Bengal, Uttar Pradesh and Bihar who moved here in search of livelihood. The lack of basic human necessities entangles the people in the community so brutally that it makes them live their life in utter misery. The huge garbage dump yard, which the kids here perceive as a hill, emitting pungent gas or the long queue of women with veils holding colorful buckets after red tanker bickering for few liters of clean water are some of the realities they face daily. In house, the scenario is no different. The tough stride to make a living, lack of education, diseases, always choked gutter lines and unclean surrounding with unhygienic social elements around the house are some of the things that can be pictured in all the houses of the community. In a world where education should be the birth right, there is no government school and no secondary English medium school in the community leading the future of kids completely into darkness. With no hospitals in and around community, the handful of enthusiastic kids going to school often have to miss school because of lack of immediate health care facilities. This sometimes even cause curable disease to be life threatening.
Rahul*, an eight year old boy, in my class is a hope amongst the above mentioned truth in the community. With just five months of Teach For India's intervention, where I took the challenge of setting the 2nd grade kids to a different life path, Rahul has shown tremendous growth in academics and his attitude towards himself and others in class. Inspite of all the daily challenges, he comes now in class with strong mindset to learn new things with the hope that one day he will become a doctor and help poor by treating them for free. Within such a brief period, he has internalized our class value of help to such an extent that he has started taking responsibility of helping peers with phonics, math and reading stories setting inspiration for not only peers but also for school staff."
At Teach for India, we hope this year proves to be the happiest new year, for everyone! Thank you for being a part of our journey to help students attain an excellent education.
*Names of beneficiaries changed to protect their identity
Links: