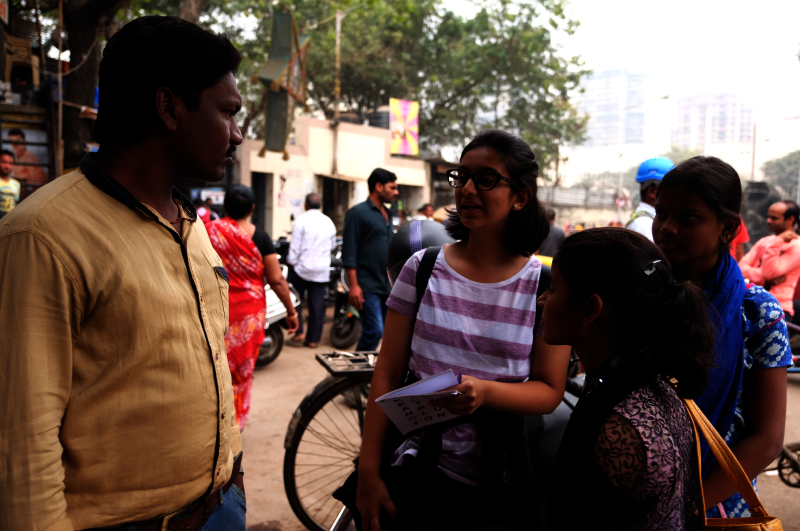 In the first week of February, 101 student leaders from seven cities across India (and three from other countries!) came together for the Kids Education Revolution(KER) Revolutionary Retreat. On the Indian Sea Cadet Corps' Training Ship Jawahar at the tip of Colaba, Mumbai, this diverse group of kids aged 8-18 spent three days listening to and learning from each other and sharing their visions for a reimagined education. Through immersive, creative and experiential workshops, they developed 21st century skills by sharing the successes and struggles of their leadership journeys, connecting deeply with each other, and gearing up to take charge of this weekend's National Summit. Here are some of the highlights from our action-packed Retreat…
Kids Speak- What KER means?
"Everyone's voice matters. Students can be leaders in many different ways." Before embarking on the KER journey, the young leaders shared their thoughts on the importance of student voice in the movement to reimagine education for all.
The Deisgn Thinking challenge
On Tuesday, the kids participated in a design thinking experience. After learning about the principles of design thinking - empathise, define, ideate, prototype, test - all 100 kids went out to a nearby community and interviewed residents about the problems they have faced within the education system. When they returned, they spent time defining the problems, and ideating and prototyping solutions. Here are some of the prototypes they came up with!
The need:The relationship between teachers and students should be stronger.
Our prototype: We've created a Student & Teacher Club so that they can build strong bonds with each other. Either students or teachers can lead the club—it's up to them to decide. The club will be held in a garden because it should be in a fun place that feels different from school where they work and study all day.
The need:People don't know the value of education.
Our prototype: To raise awareness about education, we're making a survey to find out what the community knows, and we're doing a social media campaign about why education is important.
The need:In some low-income families, the parents are busy at work when their children get home from school.
Our prototype: We're building a centre where kids can go to do fun things after school. The centre will be free for students, and will have sponsors to pay for the teachers and activities.
The need:A mother wants her kids to learn, but they're more interested sports than school.
Our prototype: The kids love football, so we've created a learning game that will keep them interested and help them study. Before the game starts, each team comes up with three challenge questions based on their studies. When you score a goal, you get to answer one of the challenge questions. If you foul, the other team answers a challenge question.
The Vision of 101 Revolutionaries
Inspired by their experiences throughout the retreat and informed by their own educational journeys, the students turned 101 cardboard boxes into their ideal schools.
Aarthi, Hyderabad, 12
Most schools have no libraries so I've made a library all students can use. Libraries are important so we can know many things. Children should have time to read their own favorite stories. Instead of only listening to others' stories it's important to read to ourselves to learn. Most schools also don't have playgrounds so I made one in front of the library.
Irfan, Pune, 14
My school is about Freedom, Love, Compassion, and Peace. If you have freedom, you can freely express your talent. If everyone shows love, there will be no war or fighting. If everyone has compassion, it will bring out the best in them because they are doing it with all their heart. Peace brings everyone together with no fighting.
Muskan, Delhi, 14
In the Dreamer United School, everyone is allowed to come, no matter their income, background, caste, or religion. People used to treat people who are dark-skinned unequally. In this school they won't be treated unequally because you can learn a lot from them. Everyone has the freedom to come, and there will be no fees. Each child should dream and aim high.
Pooja, Chennai, 10
Most schools don't give us freedom or our choice, so I've made a school that does. Everyone wants to learn, but some people have to work, so there is a morning group and an afternoon group. Children and older people can come to the school—everyone who wants to learn can learn. Inside the school there are plants and outside are smiling students.
Magical Moments….
Sea Cadet Performance
We're so thankful to the Indian Sea Cadet Corps for inviting us to host our retreat in their incredible Training Ship Jawahar. The location provided an inspiring backdrop for our time together, and the cadets both entertained and enlightened us with a brilliant performance.
Power of 101 Dreams
On Thursday afternoon, we witnessed the power of our 101 revolutionaries as they shared their stories and dreams. With vulnerability and trust, they spoke, listened, and felt the potential of their own leadership and of the growing movement they are building together.