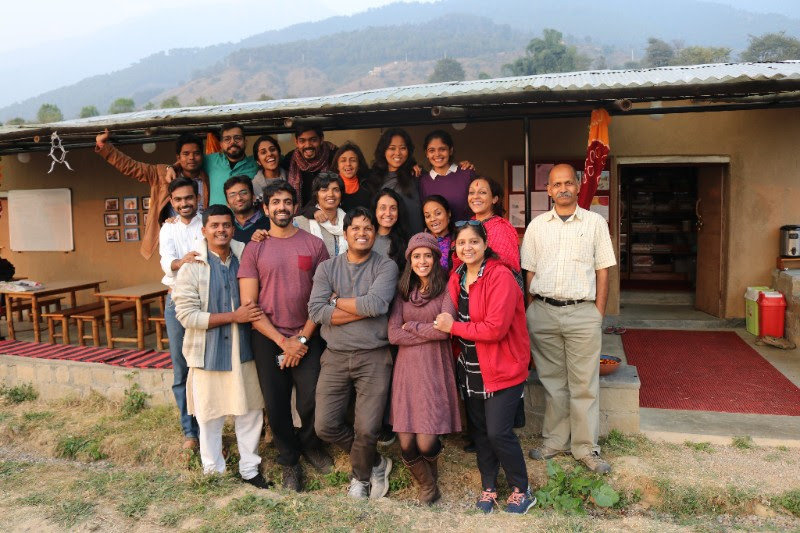 TFIx is an extraordinary initiative of Teach for India that aims to empower passionate and driven entrepreneurs who wish to eliminate educational inequity in our country through their ambitious entrepreneurial idea! TFIx is a year-long incubation program and lifelong Learning circle for entrepreneurs in the education space. Last year, TFIx selected its first 8 entrepreneurs. Over five years, TFIx aims to incubate 25 entrepreneurs to set up Fellowship programs across the country.
"We're looking for entrepreneurs who have a strong sense of purpose, demonstrated leadership experience, risk-taking abilities and a desire to be a lifelong champion of the movement for equity in education," says Shaheen Mistri, CEO of TFI.
The programs under TFIx allows each entrepreneur to craft his/her own vision and unique organization model and ultimately share a two-fold theory of change: the commitment to teaching children from marginalized backgrounds and simultaneously building a movement of leaders to achieve educational equity. With the successful launch of our first fellowship at Kshamatalaya, we aim to launch 8 such fellowships in the next 6 months!
Here's How We Do It:TFIx runs a year-long incubation programme to help entrepreneurs adapt the Teach For India model to their context and launch their Fellowships by providing the required skills, experience and support.
Selected candidates come together for a weeklong induction to begin customising a plan for their personal learning and support. Mentorship and on ground or virtual coaching support in creating a strong ecosystem and access to resources are provided, and need-based scholarships are available. The entrepreneurs meet four times a year to share their challenges and knowledge as well as provide mutual support.
By being a part of the TFIx Incubation Program, you develop an understanding of Teach for India's culture and values that we hold very dearly and at the same time get access to the following opportunities:
Learning Circles: where the entrepreneurs come together to support each other's' ideas; develop technical skills such as recruitment, budgeting, program design etc; and learn how to build the capacity of their organization
One-on-one: on the ground coaching from TFIx coaches
Mentorship: from leaders and external educators
Courses and webinars: developed from Teach For India training resources
Need-based financial assistance
Our Journey so Far: TFIx Model and Operations
It's no surprise that an entrepreneur's journey is not an easy one. Similar to the Fellowship, the ride is bumpy with curvy and broken paths. One would see that sometimes, the goals are met and sometimes, they are not. Have a look at what our entrepreneurs and their passionate teams have been up to since the past 6 months into the TFIx incubation. This will give you an insight regarding how the difficult yet satisfyingly rewardable journey of our entrepreneurs is coming alive.
The model puts forward three goals that are aimed to be achieved over the course of the incubation period. This provides the entrepreneurs with courage, support and more importantly prepares them to face the reality and unleash their ideas successfully.
Goal 1: Our entrepreneurs will start their Fellowship based on their context
In the past 6 months, our entrepreneurs have gone through rigorous training, on various topics like selection, institute design, finance policies, budgeting, HR policies, fundraising, staff recruitment and much more. We've successfully completed 1 institute and 2 learning circles with 100% attendance from all of our entrepreneurs.
Here are some of the highlights and achievements from the past six months:
After continuously working and reworking on the recruitment and selection strategies:
of our entrepreneurs have finalized their plan
Within just 6 months, 50% of our cohort has already implemented their FIRST Recruitment and Selection cycle successfully.
In addition to recruitment and selection for Fellows, our entrepreneurs also spent a lot of time, building a strong staff team, which is core to starting a strong and sustainable Fellowship.
On an average, all eight organizations are 70% staffed.
The Fellowship Program Plan:
Our entrepreneurs have finalized 80% of their institute plan (including design, logistics, session objectives based on desired fellow outcomes, etc) and almost 70% of their program and support plan for their Fellows.
One of the biggest problems an entrepreneur faces is regarding funding. In order to deliver a quality program and run operations successfully, funds are crucial. After rigorous rounds of fundraising pitches, support from the fundraising mentors and unexpected meeting requirements from possible donors, we see that:
6/ 8 entrepreneurs have raised 100% of the funds for the current year (2017-18) i.e; 89% of the total funds as a cohort;
but only 25% of the total funds for the year (2018-19) i.e; the fellowship year.
Even Though our entrepreneurs have spent most of their time in fundraising, it still remains the biggest challenge for them. We welcome ideas, help and any kind of connections from the TFI family and otherwise open heartedly.
Goal 2: Build a sense of community amongst entrepreneurs so that they can be a support to each other for- life
The second learning circle was conducted at Aavishkar campus in Palampur. Hosted by Sandhya and Sarith from Aavishkar, the whole experience made everyone push their understanding of Math and Science education. Our coaches, TFIx staff team were well prepared and did everything by leveraging each other's strength and our entrepreneurs shared resources, help and supported each other. Every activity, be it the morning treks, evening bonfires or washing dishes stood out and build a powerful sense of family and belonging even though they had met only thrice as a group.
Goal 3: Access to resources and network of Teach for India and it's partner organizations
Our third goal is an ongoing process, and we are grateful to everyone who has come forward to support TFIx, for the larger vision of reaching out to more children. Right from our Teach for India cities, to national teams, ex-staff members, Fellows, and Alumni; everyone had stepped forward to support.
Some of the people have been constantly supporting us directly through the TFIx team (like our fundraising mentors like our Alumni Santosh, Kavitha from Villgro, Mridvika, our staff member Jimit, Saahil Sood, our very own Shaheen Mistri and many others) and some indirectly- when our entrepreneurs reach out to our city teams.
These partnerships and collaboration are happening both ways! Our very own entrepreneur Sandhya from Aaviskar has been leading technical training for some of our Fellows in Delhi through the Delhi staff team.
"We are trying to work with children, who are our future, via youth, who are our present. We are developing the future through our present," - Rajshree Doshi, head of TFIx
TFIx is indeed an important component of Teach for India's daunting vision and our Phase 3 approach of Collective Action. We intend on reimagining an excellent education system by discovering passionate education entrepreneurs wanting to drive long-term systematic change across India.
Join us in putting the X factor into the future of India's education sector with TFIx!