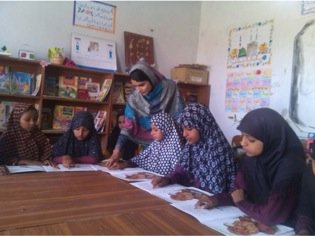 Thanks to your donations directed towards teacher training, many young women are facing a brighter future than they could previously envision. DIL Trust UK has managed to raise the standard of education through teacher training, an enhanced curriculum and by ensures that students stay in school and matriculate.
Riaz is one such student. She attained her education at a DIL Trust UK school in the village Abdul Hakeem Mungia, and was an active participant in all group activities and excelled in all her classes. After noting her enthusiasm, DIL Trust UK provided additional support to her through after school tuition in 9th and 10th grade. After graduating Riaz Bano took the teacher entry test at her school, and qualified! She is now employed by DIL as a nursery teacher at the school. DIL Trust UK is extremely proud of her achievement.
DIL Trust UK is also proud to announce that, this year the DIL School in village Kot Denal Shah will start welcoming 6th graders. 5th graders from the year below will no longer have to leave and look for admission in expensive private schools or poor performing government schools.
Sadaf – a brilliant student at DIL and her parents are most delighted about the news. Sadaf stopped attending school after 5th grade because her father thought it was a waste of time to put her through a government school. As a night duty watchman he could not afford to pay the fees at a private school.
Fortunately Sadaf will get back to learning at the DIL Kot Denal Shah School after taking a gap year.
These success stories are the reason for DIL's existence. This is why we reach out to our donors, because a little bit of charity can go a long way.
Thank you for all your support, Riaz would not be the breadwinner of her family and Sadaf would have never gone back to school without your support!