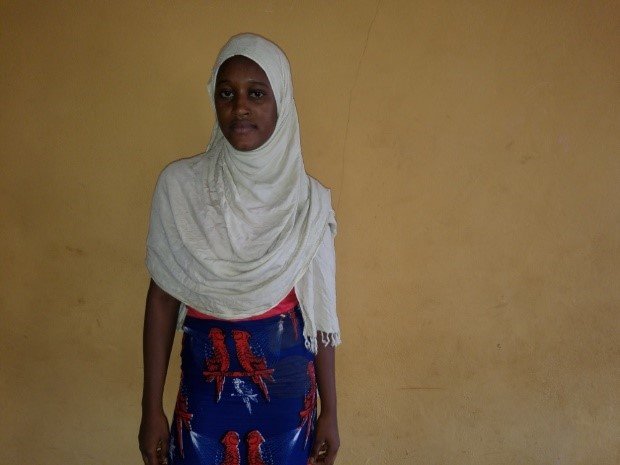 MEET THE FREETOWN FIRST RESPONDERS
The Freetown First Responders is a group of 30 young people from communities affected by last year's mudslides in Sierra Leone, which claimed the lives of hundreds in August 2017. The floods came just as Sierra Leone was beginning to recover from the 2014-2016 Ebola Virus Disease outbreak. Now, these 30 leaders undergo training with IsraAID staff on Disaster Risk Reduction and Psychosocial support, to bolster resilience and lead their communities should a disaster occur in the future.
Mariama has lived in Kaningo for over 11 years, where she worked with the medical personnel in the camp. "The sanitary situation was terrible at the camp, and that made me scared." She takes pride in her service to the community, and one day hopes to become a nurse. "Training with the Freetown First Responders has built my confidence and my self-worth," says Mariama. "The information we've acquired is both for personal use and also for the benefit of the community. I look forward to greater opportunities to serve my country."
Mohamed hopes to one day become a social worker. "Social work is about caring for the welfare of clients, creating links and access to services; this program sets the platform," says Mohamed about Freetown First Responders. Mohamed adds that the program gave him a feeling of satisfaction by imparting young people with skills in psychosocial support, emergency response, and their individual roles, responsibilities, and limitations in serving their community. "IsraAID has provided me with the needed platform to realize and fulfill my true potential."
During the mudslides, Joe headed the mobilization, rescue, and evacuation teams. "Working during the mudslides was the most horrifying experience of my life," says Joe. "The good thing was that youth from the community volunteered and gave their time, energy, and resources to the cause." After the mudslides, Joe worked with the government and NGOs to establish a camp for survivors. Following the initial panic, Joe began to struggle with his mental health and turned to alcohol. Today, he credits community service with helping him overcome this dependency. "I have learnt that it is good to help, but also to create links with other service providers and connect people with any expertise they need."
Thank you for your ongoing support, which helps us amplify our reach through these inspiring community leaders!