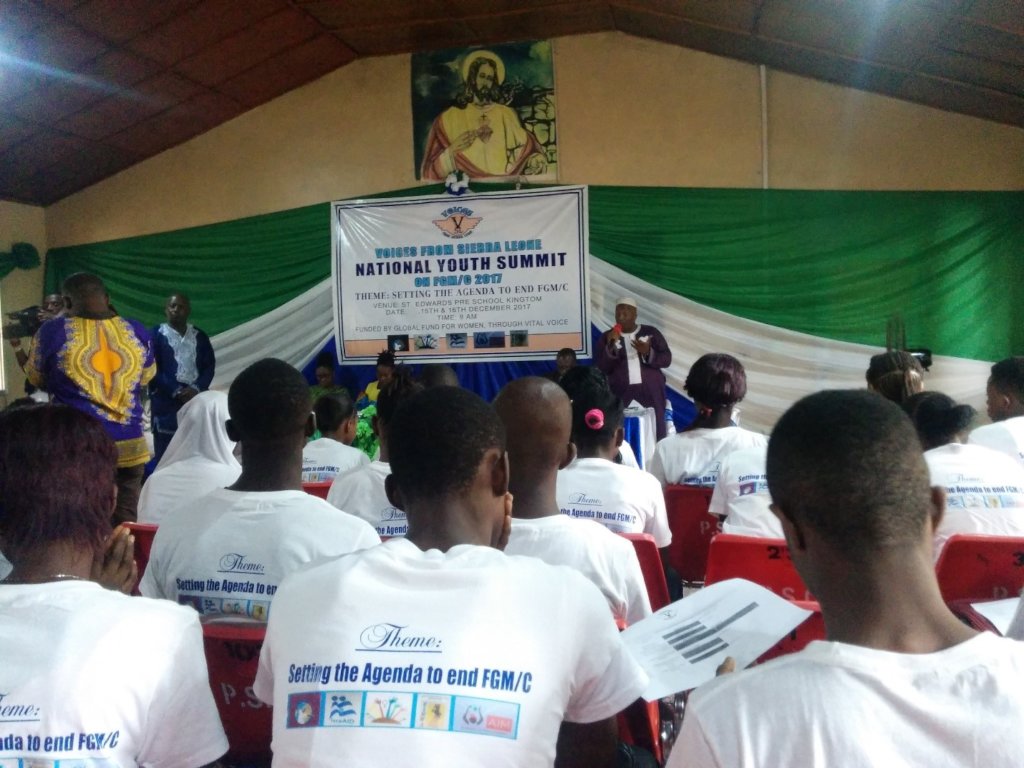 Sexual Gender Based Violence (SGBV) is a prevalent issue in Sierra Leone, in the form of transactional sex, early marriage, domestic abuse, and Female Genital Mutilation (FGM) (UNDP 2012). In the post-conflict and post-Ebola context, women and girls who suffer from SGBV, also face severe stigmatization that is often condoned and perpetuated by their communities. Current data indicates a huge gap in the provision of emotional support to adolescent girls and boys - vulnerable to depression, anxiety, malnutrition and substance abuse.
Over the years Sierra Leone has made serious strides in breaking the silence surrounding FGM, including training on its dangers, and engaging practitioners, religious and traditional leaders, Members of Parliament, youth (especially those at risk) in various forums to educate on the consequences of FGM/C and to map the way forward to end the practice.
In December 2017, IsraAID, as part of the Voices of Sierra Leone consortium, organized a two-day national Youth Summit to raise awareness, advocate, and disseminate positive messages against FGM/C. The summit was funded by The Global Fund for Women.
The Voices of Sierra Leone consortium is a group that includes civil society groups and NGOs working to prevent sexual and gender-based violence in Sierra Leone. It includes the following local organizations; Program for Children - Sierra Leone; Girl Child Network Sierra Leone; Women Activities and Safe Hands for Girls; Amazonian Initiative Movement; and IsraAID.
The Youth Summit brought together over 100 young people and key stakeholders – including health sector, local government, youth-led CSOs, government ministers, religious and traditional leaders - to discuss, learn, share experiences, and advocate for ending the practice of FGM/C in Sierra Leone. By supporting the future leaders of Sierra Leone, who want to see constructive change, the consortium aims to bring about positive change.
The summit included testimonies from survivors, stories of change and hope, and how to address misconceptions and myths that are hindering the advocacy of prevention of FGM. For example, one session was jointly led by an Imam and a Pastor, who discussed from a religious perspective why FGM is not part of the Muslim or Christian faith beliefs. Another was led by a doctor who discussed the health implications of FGM, and the consortium presented their mapping results about the prevelance of cases across the regions.
The sessions featured the use of drama, song and presentations by youth leaders, religious leaders, FGM/C advocates, women leaders, traditional leaders, medical practitioners, school-going and non-school-going youth, and statements by government ministries/departmental representatives and the media, all aiming to create a catalyst for social change.
The summit's objectives were to:
Spark a conversation about FGM/C and engage youth in the dialogue.
Create a national debate on issues of FGM/C, and young people's involvement to end the practice.
Look at the effective enforcement of laws developed by the government to eliminate FGM/C.
Form a national youth movement to end FGM/C.
After the summit, the youth were grouped by regions, and each region decided on a strategy to approach the issue. Some decided to focus on social media, some on printed media, and others on running school events. Just last week, some of the youth organized a radio debate on the issue with various stakeholder representatives in Freetown!
More updates to follow! Thank you for your support!