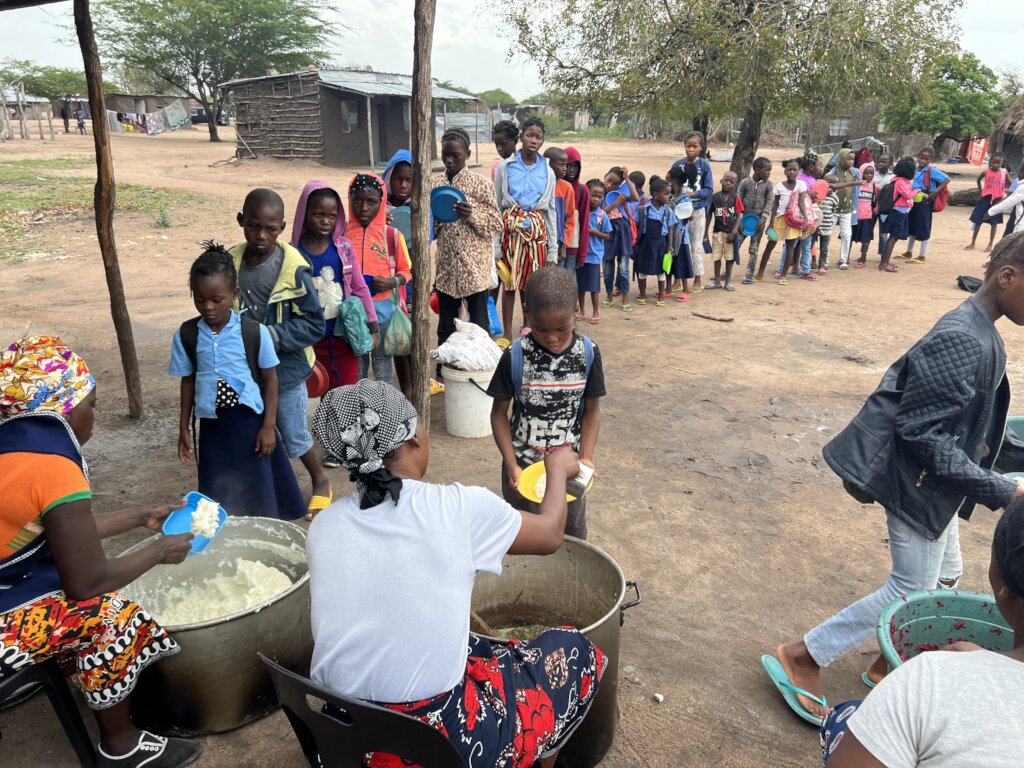 The 2022 school year has come to a close in Mozambique, and once again we have seen just how much the school lunch program makes a difference in keeping kids in school and helping them learn.
This year, the Mozambique School Lunch Initiative served 336,800 nutritious lunches across seven primary schools in rural communities. Each of these meals was prepared from scratch and served hot to each student during lunch time. Most of the beans and vegetables in the school lunch were grown directly in the local communities, generating income for small-scale farmers, most of them women. For each child, the school lunch was the biggest and most nutritious meal they eat each day. Importantly, it was also consistent, something they can count on each day. Given that these children live in very vulnerable situations and often don't know what they'll have to eat at home, providing a reliable source of good food at school is an anchor in an otherwise unpredictable environment. Sometimes, when we're visiting the schools, we'll ask the kids what their favorite meal is at school. Top of the list is usually beans and rice, and chicken stew. But the kids also love the orange sweet potatoes and beets that are served as side dishes, packing extra nutrition into the meal.
One of the things we love to see is the energy and joy of the kids at school. The teachers ensure that they are organized and calm in the lunch line, but after eating they are usually running all over the school yard, playing games with their friends. The visible happiness of the kids at school is truly a joy to see.
For us, ensuring kids have the nutrition they need to grow and learn is a critical basic need, and provides the foundation for that child to grow up and live a more healthy and productive life.
For example, one of our students, Paula, at Duvane Primary School, always shows up to school with a grin on her face, carrying her plate in hand, and ready for lunch. She lives close to school, in a small house with her grandmother, who depends on a small farm to get by. She started school in 2019, and has been able to count on a delicious school lunch every year for the last four years. This has made a big difference for her school journey, and has provided a safety net when her grandmother's farm didn't quite produce enough to make it through the lean season.
We also have to give an important acknowledgement to our school cooks, who go above and beyond to make sure that the school lunch is ready on time every day. This starts with hauling gallons of water, lighting a fire, chopping vegetables, and boiling huge bots of rice and beans. These women are very dedicated to the school lunch program, and we celebrate them at the end of the year with a special Christmas basket of foods for their holiday festivities.
Thank you for making all of this work happen in Mozambique. With the generous donations of our supporters, we are able to provide this dependable source of good food for schoolchildren in rural Mozambique. Each meal makes a difference, so thank you for being part of our journey!
Happy Holidays!