Project Report

| Dec 4, 2023
Investing in children's futures in Mozambique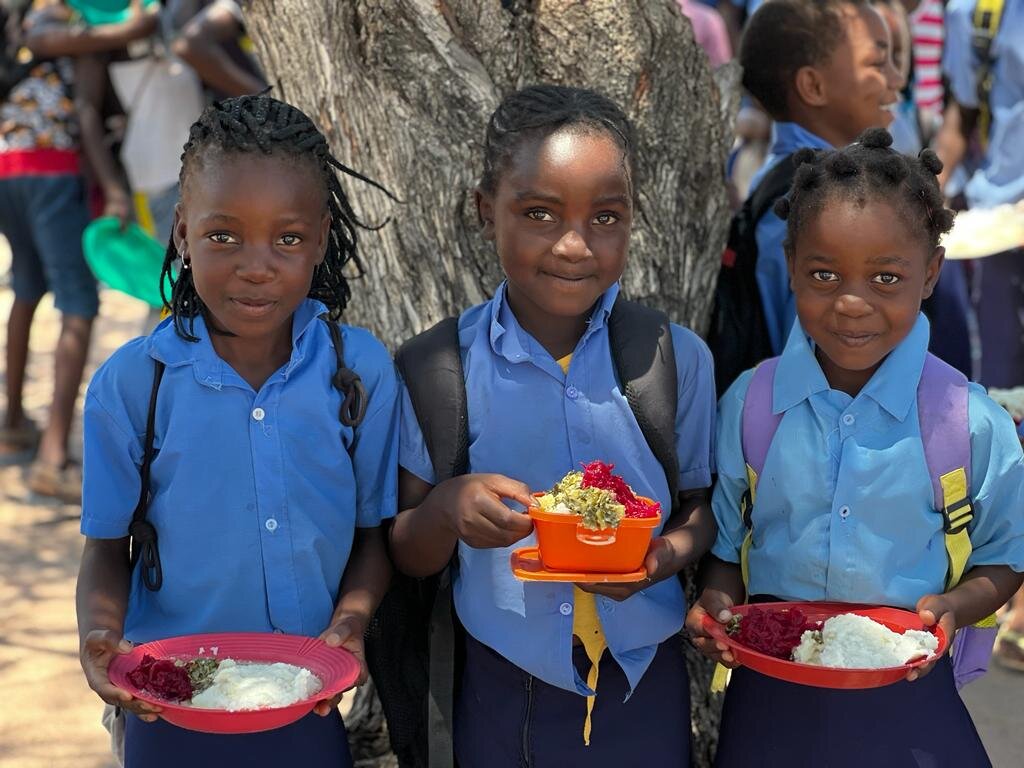 Every school lunch makes a difference
At a rural primary school in Mozambique, students go running from the classroom to the lunch line when the bell rings. Being able to count on a hot, delicious lunch at school is especially important for kids who don't always know where their next meal is coming from at home.
Giving thanks for good food, especially for kids Mozambique!

We are now at the end of the 2023 school year in Mozambique and have much to be thankful for. We served school lunches to more students than ever this year - 150 preschoolers, 1,729 primary school students, and 304 secondary school students. No matter the age, hungry children cannot learn, and we're changing that one meal at a time.
Compounding benefits – how MSLI thinks about transformational impact
At MSLI, we believe that an integrated package of interventions produces positive benefits that are far greater than the sum of each intervention on its own.

For example, if a child, Amelia, begins by attending 2-3 years of preschool with MSLI, she will get the quality nutrition she needs at a critical age for growth and development. Combined with early learning instruction, Amelia's cognitive abilities and socio-emotional skills will strengthen – which has lifetime impacts as evidenced by studies from around the world. Furthermore, she will have gained some proficiency in Portuguese, which will give her a huge head start when she gets to primary school compared to students who don't know any Portuguese.

With this foundation, it is easy to see how Amelia has much greater chances of succeeding in primary school. She's less likely to repeat grades and is more likely to master the material. However, if Amelia is hungry, even with this great start, she might not be able to realize this potential. Amelia comes from a vulnerable family who can usually only provide one, sometimes two meals a day. The family survives on subsistence agriculture, so times can be especially hard in between seasons. If Amelia couldn't count on the school lunch program each day at her primary school, she might miss school more frequently. As she gets older, she might drop out all together to help her family earn an income by selling tomatoes door to door, earning barely pennies. In fact, over two-thirds of Mozambican children drop out of school by grade 5. This is why MSLI's school lunch program provides an essential safety net – ensuring students like Amelia can stay in school all the way through the end of primary school, grade 6.

But after grade 6, if Amelia has no access to a secondary school, she still has a high chance of dropping out school, getting married while still a teenage, and not having the chance to get a job to support her family. Her own children are likely to repeat the same cycle. For this reason, MSLI has extended our program to connect students attending the primary schools where we work to the nearest secondary school, typically 20-25 kilometers away. We provide a school bus so that Amelia can go to school safely each day, arriving on time and ready to study. She still has access to the school lunch program, ensuring she has energy to learn and focus on her classes. And twice a week she attends MSLI's mentorship program where she works with her peers on goal-setting activities, learning about adolescent health, and the rights of the girl child. With these capabilities and support, Amelia has a high chance of completing the 12th grade, after which she will have the skills and opportunities to pursue a better life, breaking the cycle of poverty. This is our vision, and we appreciate the support from everyone who makes it possible!