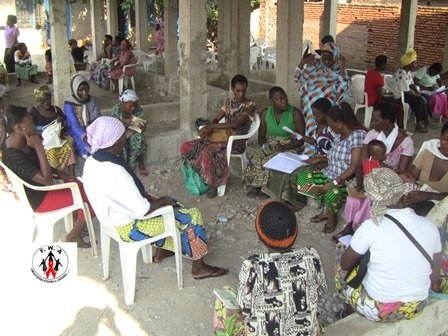 This report summarizes the work done during the month of June 2019.
ACTIVITIES
Rape Survivors' Support (RSS)
A three-day trauma healing workshop was done on Gender Based Violence Victims.
Testimony
My name is Chantal. In our family, we are three sisters and one brother. When I grew up, I got married. However, after I had my first born, my husband left me and married another wife. I have been struggling a lot in order to survive with my kid. I could not go back to my family because my two sisters and brother refused to receive me with my kid. Then I went to live together with my grandmother. Unfortunately, she died. As I was suffering a lot, my neighbors and friends advised me to a run small business. I had an uncle who loved me so much and he gave me a capital to start with. Now I am selling tomatoes, fruits and other small things. This workshop has helped me to understand the great importance to find someone you trust and tell him/her your sad story.
At the end of June 2019, 47 self-help groups for a total of 1105 women were functioning.
Two self-help groups, Mugisha and Ntusigarinyuma, shared what they were able to save for one whole year. Ntusigarinyuma started on June 19, 2018. They had now a capital of 2,952,000 francs ($1582). Mugisha group started on June 28, 2018. The day they shared their savings they had a capital of 5,524,700 francs ($2960). This group is doing very well because they are among the Street Business School recent graduates.
Caring for HIV Positive People (CHIVPP)
During this month of June 2019, medical follow up and home visits were done for our HIV positive people.
Maternity Ward Building
In the month of June 2019, through the Global Giving Platform, we were able to raise $2,500 to inclose the ground floor. Meanwhile, the site has been very useful: hosting the weekly self-help groups meetings, Street Business School graduation and small groups during the workshops we run at FWA.
Improving Women's Reproductive Health (IWRH)
FWA community health workers and FWA staff have continued to mobilize people for HIV voluntary test and family planning.
Action on Gender-Based Violence (AGBV)
Under the support of the Canadian Friends Service Committee, two basic workshops on GBV were done for both religious leaders and community elected leaders on June 10-15, 2019. Every three-day workshop was attended by 20 participants. The venue was Commune Nyabiraba in Bujumbura province.
Under the support of Quakers Service Norway, two workshops on human rights, women's rights and children's rights were done for 41 GBV accompanists on June 24-29, 2019 at FWA. Paricipants were coming from three provinces: Gitega (Giheta), Mwaro (Ndava), and Muramvya (Rutegama). FWA had hired an expert in the field "Maitre Alphonsine Bigirimana" to facilitate the two workshops.
MEDICAL TEAM CONSULTATIONS
169 cases were consulted by our medical doctors, including 39 children, 79 adults and 51 HIV positive people (24 under ARVs treatment came for medical consultation for various pathologies, one case was found HIV positive and was put under ARVs treatment, one case for retesting and 25 cases for biological follow up/viral load). The nurse received 284 patients including 194 adults and 90 children.
June 25-28, 2019 was a mother-child week. Ntaseka clinic was one of the vaccination centers as usual. We had a total of 3174 children (1703 girls and 1471 boys) and 171 pregnant women. Among the 3174, 114 children aged between 6 and 11 motnhs were given Vitamin A, 1750 aged between 12 months and 59 months were given both Vitamin A and Albendazole, and 1310 aged between 5 years and 14 years were given Albendazole.
LABORATORY
In the month of June 2019, apart from HIV voluntary testing, there were a total of 219 tests.
Test Test completed Positive Negative
G.E. - Malaria test 0 0 0
Quick malaria test 113 50 63
ECBU - Urine test 11 11 0
Selles - Stool test 17 17 0
Pregnancy 23 7 16
Sero-widal - Typhoïd fever 25 18 7
Glycémie - Diabetes 18 11 7
RPR VDRL - Syphillis 12 2 10
Complete Blood Count 0 0 0
Total Tests: 219
FAMILY PLANNING
377 people received contraceptives from FWA's nurse, including 247 old cases and 130 new ones. 313 received the contraceptive injection, 36 were given pills, 7 received implants, one received UID and 20 were given male condoms.
PRENATAL CONSULTATION (PNC)
In the month of June 2019, 32 women came for prenatal consultation (PNC), including 11 who came for PNC 1, 16 for PNC 2 and 4 for PNC 3 and 1 for PNC 4
ANTI-RETROVIRAL SITE
At the end of June 2019, we had 312 patients under retro drugs followed at NTASEKA clinic, including 251 women and 61 men.
PHARMACY
Regarding medications, FWA had all necessary medicines for the month of June 2019.
PSYCHOSOCIAL TEAM
In the month of June 2019, a total of 23 people received pre and post HIV test counseling and were tested for HIV.
Total Number of People Tested: 23
Total Number of Women Tested: 18
% of People Tested Who Are Women: 78%
Average Age: 26
Median Age: 26
Total HIV+ : 2
Total HIV- : 21
Number of Women HIV+ : 1
Total % Seropositivity: 9%
% of Women Tested Who Are HIV+: 6%