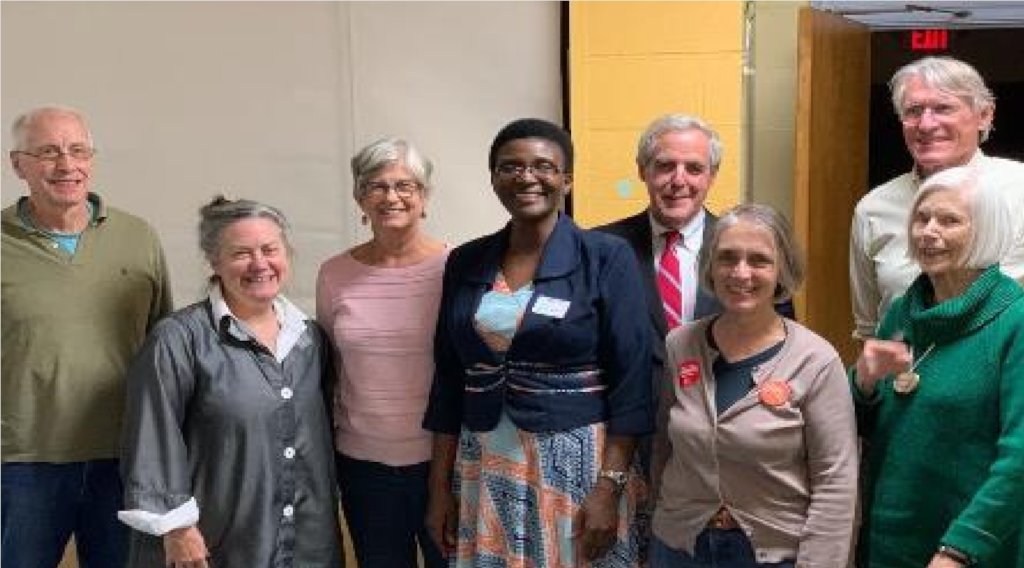 HEADS UP: December 3 is Giving Tuesday and GlobalGiving will be matching all donations on that day at 25% to 50% depending upon the total amount donated. GlobalGiving has a total of $500,000 in matching funds to distribute so it would be beneficial that FWA receive some of these funds.
Please remember to make your year-end donation to the Friends Women's Associaiton on Giving Tuesday!
The section below summarizes the work done during the month of October 2019.
SPEAKING TOURS IN THE UNITED STATES
Under the support of the African Great Lakes Initiatives (AGLI) of the Friends Peace Teams, the national coordinator of Friends Women's Association (FWA), NTAHUBA Parfaite has continued to do speaking tours in the United States both in schools and in Friends meetings.
ACTIVITIES Caring for HIV Positive People (CHIVPP)
During this month of October 2019, medical follow up and home visits were done for our HIV positive people.
Maternity Ward Building
We are now finished with bricking the first floor of the maternity ward building. Now,with the support from the African Great Lakes Initiatives of the Friends Peace teams, we have started building the walls of the second floor.
The estimated costs of the next steps are as follows:
To complete the walls of the second floor, we still need $2600
frame for roof: $4,000
120 Iron Sheets: $2760 (23$/sheet)
Improving Women's Reproductive Health (IWRH)
FWA community health workers and FWA staff have continued to educate men, women and young people on the importance of family planning.
Rape Survivors' Support (RSS)
At the end of October 2019, we had a total of 54 self-help groups for a total of 1280 women
One self-help group is called EJO NI HEZA (TORRORROW LOOKS GOOD). They started with a capital of BIF13,000 (US$17). After one year on October 29, 2019, their capital was BIF3,185,800 (US$4138).
Action on Gender-Based Violence (AGBV)
During the month of October 2019, a preparation of November 2019 activities was done. MEDICAL TEAM CONSULTATIONS
120 cases were consulted by our medical doctors, including 85 adults (45 women and 40 men), 23 children (14 girls and 9 boys) and 12 HIV positive people. The nurse received 215patients including 154 adults and 61 children.
LABORATORY
In the month of October 2019, apart from HIV voluntary testing, there were a total of 147 tests.
Test Test completed Positive Negative
G.E. Malaria test 53 20 33
Quick malaria test 7 1 6
ECBU Urine test 12 9 3
Selles Stool test 13 13 0
Pregnancy 17 12 5
Sero-widal Typhoïd fever 27 21 6
Glycémie Diabetes 6 3 5
RPR VDRL (Syphillis) 10 0 10
Complete Blood Count 2 2 0
Total Tests: 147
FAMILY PLANNING
368 people received contraceptives from FWA's nurse, including 254 old cases and 114 new ones. 301 received the contraceptive injection, 30 were given pills, 36 received male condoms, and 1 received implant.
PRENATAL CONSULTATION (PNC)
In the month of October 2019, 33 women came for prenatal consultation (PNC), including 10 who came for PNC 1, 11 for PNC 2 and 6 for PNC 3 and 6 for PNC 4
ANTI-RETROVIRAL SITE
At the end of October 2019, we had 327 patients under retro drugs followed at NTASEKA clinic, including 264 women and 63 men.
PHARMACY
Regarding medications, FWA was able to purchase the minimum needed medicine.
PSYCHOSOCIAL TEAM
In the month of October 2019, a total of 79 people received pre and post HIV test counseling and were tested for HIV. Out of the total number, 71% were women and all the three people detected HIV positive were women, with 4% of seropositivity.
Total Number of People Tested: 79
Total Number of Women Tested: 56
% of People Tested Who Are Women: 71%
Average Age: 27
Median Age: 26
Total HIV+ : 3
Total HIV- : 76
Number of Women HIV+ : 3
Total % Seropositivity: 4%
% of Women Tested Who Are HIV+: 5%