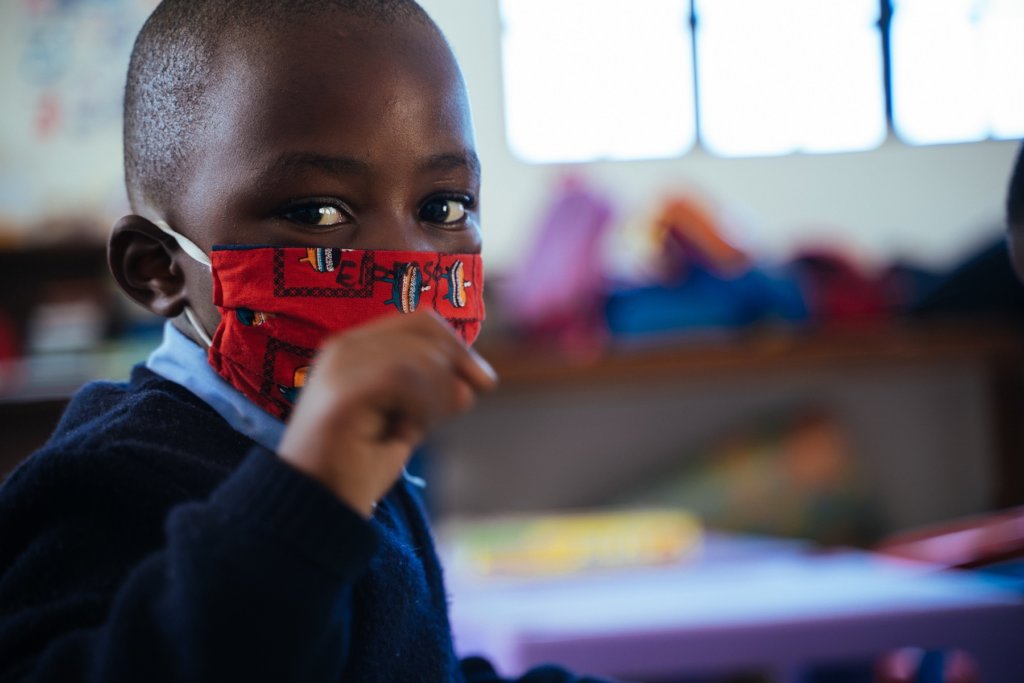 Contents
Early Childhood Development
After-School Enrichment
Scholarship program
Early Childhood Development
Mdumbi Preschool is one of the sustainable projects of TransCape. Mdumbi pre-school moved from Mdbumi Backpackers to a permanent location situated at Mtyubeni location in Mankosi A/A. It was officially opened in 2019 under the supervision of our local head-man. It aims to provide good quality education to the young children of the community, as well as to provide a well-balanced diet to the children.
The school was initially supposed to open on the 25th January 2021 but due to the current COVID-19 pandemic, the Minister of Education only allowed schools to open on the 15th of February. This year we admitted 55 children aged 2-6 years old with 35 children in Grade N and 20 in Grade R. Due to the pre-school being closed for a large portion of 2020, we have a challenge in that many of last year's students still cannot write numbers or letters, let alone their names. We are trying our best to educate them so that they can catch up with the school program and we are already seeing improvements.
Mdumbi pre-school is also assisting a nearby pre-school, Nonkqubela. The school supports 27 children including 14 boys and 13 girls. It is running very well with the teacher, Ntombovuyo. In May there was a volunteer called Liam who helped the Nonkqubela preschool by building a play ground.
The children are happy and are enjoying school. They are working hard but are also having fun with their friends. We have been doing arts and crafts with the assistance of our volunteers. The children have made different things including their own puppets. We are also lucky to have had a new jungle gym donated and the children enjoy playing on it. The children thoroughly enjoyed the Easter egg hunt we organized for Easter. We look forward to the rest of the term.
First-term ended on the 23rd of April 2021.
The second term started on the 03rd of May 2021. The progress of the children was very impressive in this term. They can count, read through pictures, write numbers as well as name the alphabet. According to the school calendar we were supposed to close schools on the 9th of July 2021 but our government insisted the schools be closed on the 30th of June for the winter holidays because of the spike in coronavirus infection.

Afterschool Enrichment program
The afterschool program started in the year 2008. The purpose of this program is to help the children of Mankosi villages to improve in school. We are helping students to improve in English and Mathematics. Also, Art and Crafts is part of our program as we believe that this has a great effect on the child's creative and expressive development. We also give the children access to the laptops and our volunteers teach them about Microsoft office and the Internet. We also help our scholars with their homework. Moreover, we are playing educational games with them, with these games children are developing thinking skills and problem-solving. These games also help students who are shy to feel comfortable and they come out of their shell.
This year we opened the school on the 15th of February. We have 45 students attending the after-school program. Children are very motivated this year and their parents are being part of this program as well. We also have students who come from Ngcobo village and Luqolweni village, these villages are far from our centre. We organized transport for these two villages that are far, to bring the children to the education centre and then take them home later that day. Unfortunately, the taxi driver was unreliable and the costs were too high. We decided that we will have Andisiwe our Afterschool teacher teach at the far villages twice a week. This way we don't neglect the students who really want to put in the extra bit for their education.
This year Transcape had 1 volunteer who is helping Andisiwe with the after-school program. He is helping Andisiwe a lot with computer lessons.
Because of the Covid pandemic that is still in our country, Andisiwe divides the students into smaller groups for social distancing, and she is teaching them according to their curriculum from their formal school.
We closed the schools on the 30 of June due to increasing Covid infection in the country. We will open again when President Ramaphosa announces it.
All in all, the afterschool program is doing well despite the pandemic. I would like to thank our donors for their support to keep this project sustainable.
Afterschool children eating snacks before their class start.
Here are some of the afterschool children doing computer lessons with our volunteers.
Scholarship Program
This program started in 2008 with three students. Ever since then the scholarship program is doing well. This year we supported 4 students, Masithembe, Gcinakazi, Nolutho and Abonga, they are all from the Mankosi area.
The learners who get the scholarship are chosen by Transcape from our afterschool program. We are looking for those who are active and doing well in their former school. We are selecting according to their background and respectful students. After selecting we look for the best possible school and organize their registrations.
They opened the schools on the 15th of February. Masithembe is doing grade 11, Gcinakazi also grade 11, Nolutho grade 10 and Abonga passed his grade 12 and was supposed to go into tertiary education.
Abonga applied for many different colleges and varsities to further his education but was declined in all of them. He did not pass Math in his last exams and that is one of the reasons he struggles so much to find a placement. He decided to better his results by attending a bridging course in Port Alfred or Mthatha. Unfortunately, both schools were fully booked already. Abonga had to take a gap year because even the second round of intake in June did not go well for him. He spends the year at home at his mother's house. There he helps in his mother's shebeen and plays a lot of soccer. We encouraged him to attend the education centre and study online.
Gcinakazi did well in her midterm exam. She managed to pass all her subjects. She takes extra lessons on the weekend for business studies. This is not compulsory but rather a passion of hers. We encourage her to continue with her hard work and make her dreams come true.
Masithembe failed his midterm exams. That came as a surprise because he used to do very well in school. It turned out that he got bullied by older scholars in his hostel. When he finally confessed we talked to the hostel mother about this and then removed him immediately from the house. He is now in another hostel that belongs to a different school. So far he is feeling better and we are hoping he will be able to catch up. Andisiwe organized a teacher who is going to help him in mathematics during the June holidays.
Nolutho got her first term results and she failed. I think the reason she failed is because of the subjects which are different from the former school. She is struggling with math as well like so many others. Also, the level of English is very different in the new school. We are confident that she will adapt soon to the new environment and we support her with extra math lessons.
Yours faithfully,
Astrid Gifford