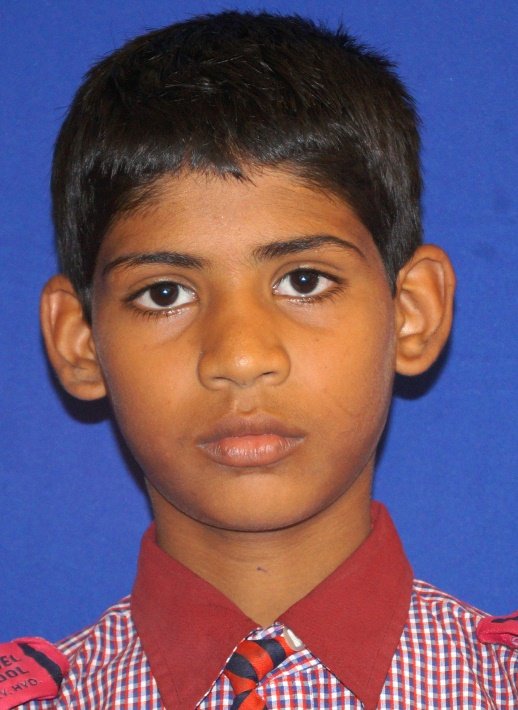 Dear friends,
With the help of your donations, we have been able to provide shoes to more than 300 children in the last academic year in the Government High School, Gowdavally. The school's stature has increased in the eyes of the Provincial Education Department as well as the local community. The school has witnessed a lot of change in terms of the attendance of the children, their participation in classroom activities and discipline.
We take this opportunity to share with you a story of change.
If a child is robbed off basic needs like food, shelter and education in his / her childhood, adolescence becomes traumatic. To top it, if there are domestic disturbances, a child's growth is stunted. Tharun's parents are so poor that they had to stop studies of one of their elder children. This case study is about Th who was born into a very poor family.
Th's (14) family hails from a Tribal Tanda from a district in Telangana. Being from tribal background, the family is very poor and most of the family members have never been to school ever. Tharun is the first generation school goer in his community. Th's parents are causal labourers with measly salaries to support their wards. They have three children in all – two boys and one girl. The elder boy had to stop studies after STD X while the girl is in high school. Th is the youngest in the household.
Th is 14 years old and in STD X.
With the help of your support, there have been visible changes in the lives of students in the Government High School, Gowdavally.
Th's relatives somehow helped him scrape through until STD X but further support was beyond their means It would be a tragedy if Tharun dropped out of school without completing STD X. He would miss out on so many career opportunities. Realizing this, his parents approached us for sponsorship of his studies in STD X.
Through your support, we are able to send him to school for this year. Th has been able to concentrate on his studies without the fear of his schooling getting a hit. He has been going to school regularly, scoring more than 7.5/10.0 GPA on his tests as well as participating in various co-curricular activities like Karate, Football. He also participated in his school's Annual Day celebrations.. His parents are now relieved that Th can pursue higher studies.
Th wants to be an IPS officer when he grows up. Th is among the brightest children in the current STD X batch.
Support from our benefactors like you has saved a student's career from getting destroyed before taking-off. Given the environment Th belongs to, it's possible that he might have ended as a highly irresponsible child and a menace to society. We also thank GlobalGiving for giving us this Global Platform.
Over the last seven years, the collaboration of our donors, well-wishers and other stake-holders has helped us provide a safe and secure childhood with facilities children rightly deserve. Through your support, we can help more children like Th to participate in nation-building.