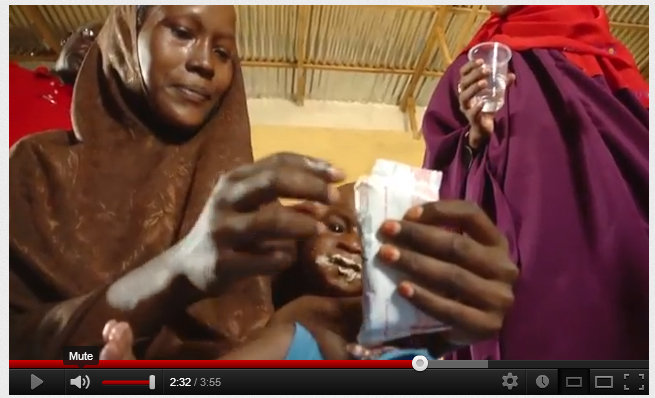 "The situation was very bad ... If these children did not get immediate help, they would have died. We are thankful and appreciate the assistance that came through to help the children. Although there is need of continuous support so that these children do not get sick again." Aden Mahdi, Program Manager for SAACID.
As mainstream media updates from the Horn of Africa become more scarce, I wanted to share with you a new UNICEF video (see link below) about the situation in Somalia. It shows how Plumpy'Nut is still playing a vital role in saving the lives of children in this poor and struggling country - and how Plumpy'Nut is part of a larger solution to reduce childhood malnutrition. At the community health center, children receive Plumpy'Nut, vaccinations, antibiotics, and mothers are educated about breastfeeding and keeping a healthy home. This integrated approach is the key to lowering childhood malnutrition rates.
The video also highlights that last year during the height of the famine crisis, 30% of children in Somalia were severely malnourished, in danger of losing their lives. Now, that percentage has dropped by half to 16%. This is great progress, but that is still a very high number as compared to global standards. And, as we can all imagine, behind that percentage number, there remain thousands of children with infinite promise who need Plumpy'Nut to survive.
When I walk around our warehouse in Providence, Rhode Island, I do not see boxes of Plumpy'Nut stacked on pallets ready for shipment, but the possibility of miracles and chances at life waiting to happen. It is awe-inspiring and humbling all at once.
Your generosity to this project has inspired all of us at Edesia, which is why I wanted to also take this moment to thank you again for your continued support of our work.
Links: