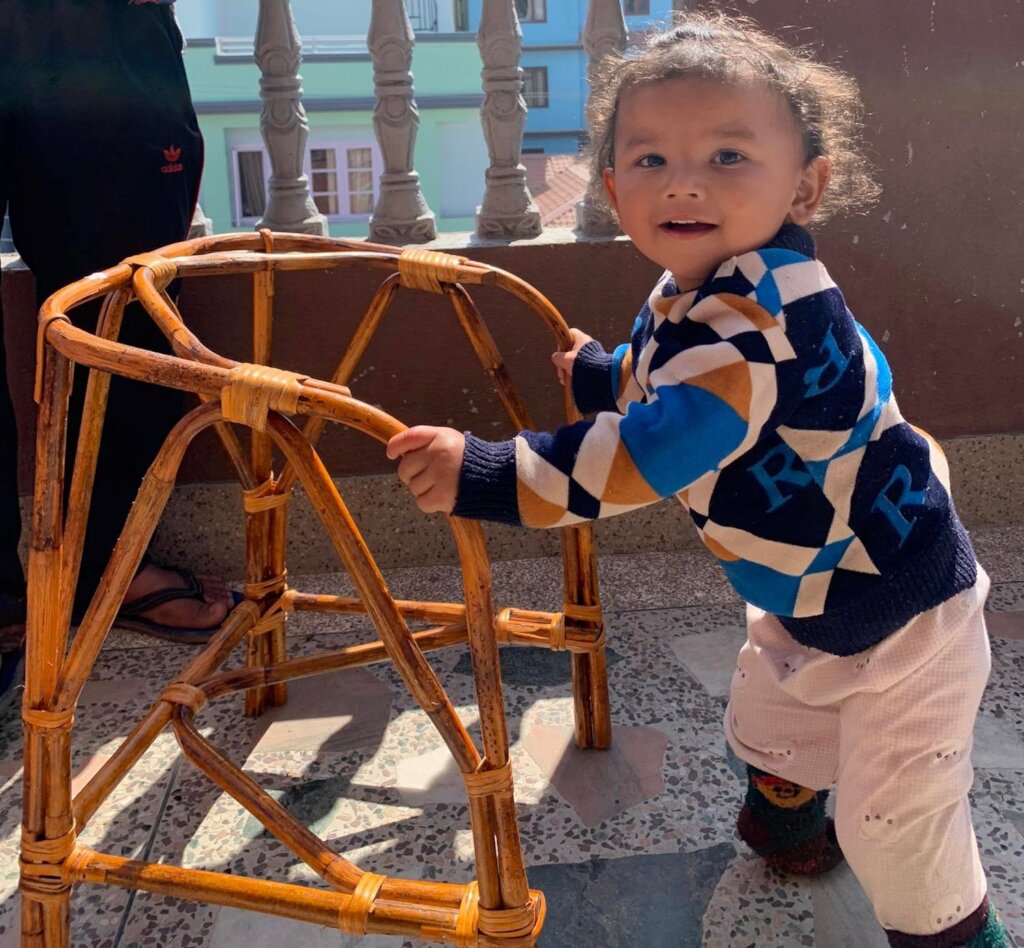 Namaste to our amazing GlobalGiving community,
First things first.... We cannot thank you enough for your incredible support during our 'Love Our Work on Valentine's Day' campaign. Thanks to you, we reached our goal of US$10,000 and were absolutely blown away by the incredible generosity of our donors. This will start the medical journey for the next 100 patients admitted to MeRO's Shelter.
MeRO's Shelter is full of children at the moment. Dipshika had skin grafts for burns contractures of her lower limbs and has been fitted with splints so can walk on her feet instead of her knees.
Two-year-old Arya, who was very good at letting Dipshika have a turn of her walker, is making great progress after her hip replacement for congenital hip dysplasia and loving walking…and running.. not too sure about stairs yet though...
Five-year-old Saugat has had the first of three surgeries for a facial hemangioma.
15-month-old Sandeep has been discharged after cardiac surgery; and 4-year-old Gautam has just had cardiac surgery after being treated for pneumonia.
There are a few adults around too, though Sushma was discharged after having her badly damaged hip replaced. She never thought she would walk again and thought staff at both the hospital and the Shelter were lying to her when they told her she would; Dipak has also been discharged having been fitted with a prosthesis, along with several other patients, who had amputations last year, Krishna-hari is unchanged; and 39 year old Suparna was admitted with sudden onset blindness and a burned hand requiring debridement and a skin graft.
Samrat. MeRO's Director, wanted to share the following with you: "Today Dipshika may think we are her biggest enemy. She cries when she sees us because we do things to her that she does not like, like wound dressings which are painful for her, but one day, she will see videos and photos of how, thanks to people like you, she can stand on her own feet and walk like normal people, instead of on her knees. She will remember us, and remember you, even though she does not know you, and she will thank us all. On behalf of everyone at MeRO we want to thank you all for joining with us to create memorable moments like these. We are so proud of what we do, and we hope you feel proud to support us. MeRO also wants to thank you from the bottom of our hearts for your amazing support during Roads to Rehab Nepal's Valentine's Day fundraiser."
With best wishes and grateful thanks from all of us, everyone at MeRO and all their patients and their loved ones whose lives you have changed forever.
Virginia Dixon
President, Roads to Rehab Nepal