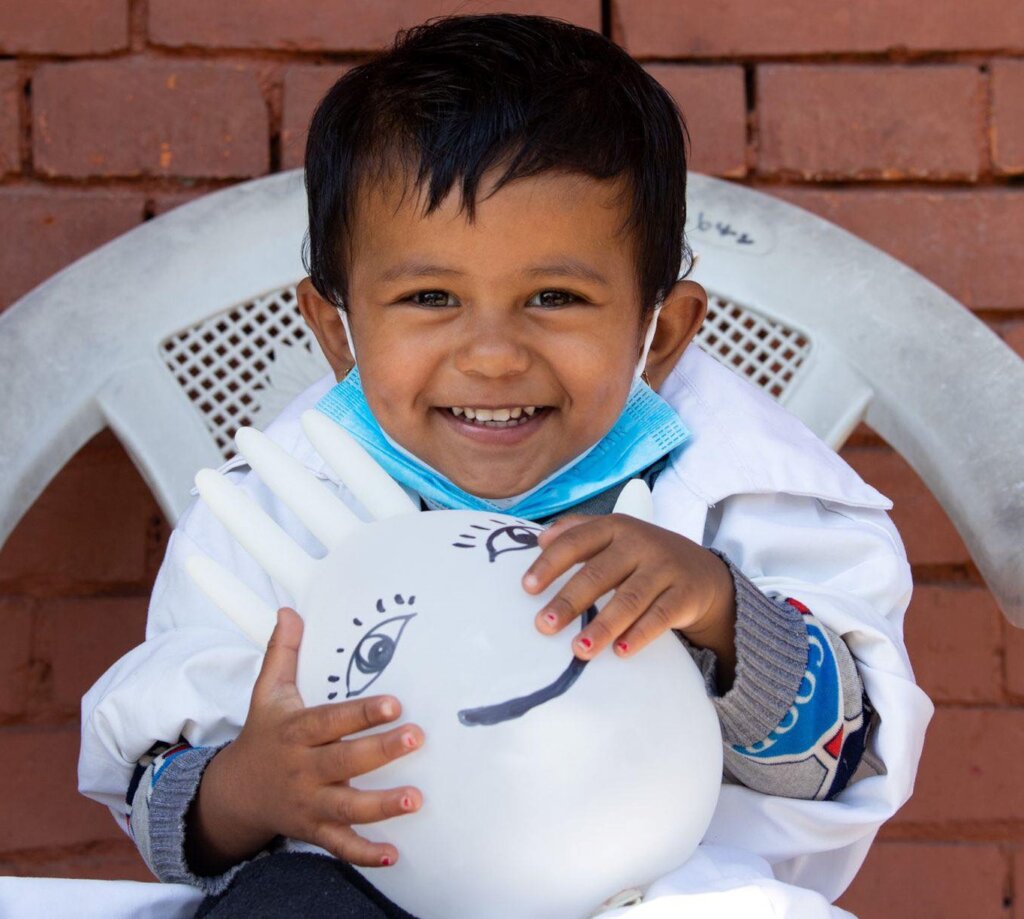 Namaste and we hope you all had a wonderful Christmas and happy new year.
This quarter, as always, things have been busy despite a slow down for MeRO over the festival season over Dassein and Tihar. MeRO's Board and clinical staff continue to do an amazing job, and patients come and go. To give you a sense of the lives your generosity changes, instead of telling you about one patient, we thought we would give you a snapshot of all the patients who were treated at MeRO's Shelter since our last project report.
Sandeep is 13 months old and requires urgent cardiac surgery. He weighs only 7kg and is on an intensive feeding program until he is strong enough to undergo heart surgery for a large hole in the heart. The surgery carries a heavy 30% mortality rate but everyone is keeping fingers crossed.
Amisara is 15 and had corrective orthopaedic surgery for a disability. She is back at the Shelter and is receiving ongoing wound management and physiotherapy.
13 year old Laxmi was readmitted as her nerve graft became infected resulting in her previously healed wound breaking down. She was operated on at the end of December. The infected graft was removed and replaced with a new one and everything is healing up nicely. She is also back at the Shelter for nursing care and physiotherapy.
Bahadur is a nice easy case! He needs oxygen therapy for a severe lung infection. When MeRO can find a spare oxygen concentrator he can take home, they will lend it to him. He will return it when it is no longer needed.
Bal was admitted for investigations into abdominal pain. He was found to have advanced stomach cancer and rather than endure treatment, he returned home to his family.
Ram was admitted for wound management of her wound in her left arm. Thanks to MeRO's nurses, it healed beautifully, and she was discharged home.
25-year-old Susma was hit by a vehicle 3 years ago and had to accept a life-time of disability because her family was unable to afford the cost of the surgery she required. Three years later, she heard of MeRO and got in touch. She was operated on in early January and Roads to Rehab Nepal funded her very costly surgery. She is doing amazingly well and is so motivated which is wonderful to see. She is enjoying walking again!
Lila was a patient under our fistula project. She re-presented with ongoing incontinence following a fistula repair. She was diagnosed with uterine prolapse but it was deemed not severe enough to warrant surgery. She required intensive physiotherapy to help strengthen her pelvic floor. Sadly, her husband has now left her – he had taken a second wife when she developed the fistula but she still lived at home. Now she is homeless.
Lakshike had a non-malignant tumour and only stayed for ten days before discharging himself and declining treatment. Staying in Kathmandu for a long period of time is often hard for patients who come from far away and have never been to a big city before.
22-year-old Deepak had major surgery in early December for osteosarcoma of his knee. He is having ongoing nursing care, wound management and physiotherapy. He has one of those all-too-familiar stories because he inherited a huge medical debt prior to coming to the Shelter.
Pahuna burned his leg whilst working in India. He was given basic first aid and sent home. His burn progressed to severe infection as the months went by and although his family took him to Kathmandu, they could not afford treatment. He later presented to a local hospital again, and fortunately for him, the clinical supervisor had heard of MeRO and referred him straight away. He had an amputation and will soon receive a prosthesis.
Karan also had an infected wound on his leg and another on his arm. He had also had a right above-knee amputation several years previously. His story is so sad, as again, gangrene had set in and he required an above knee amputation of his other leg. He is now a double amputee. MeRO's nurses are working wonders with his arm. It always amazes us that they manage to treat the most complex wounds successfully despite none of our fancy dressing products.
16-year-old Sujan slipped and fell off the roof fracturing both legs and an arm. He was sent home with bandages only. No plaster, no surgery, as again, the family could not afford hospital treatment. MeRO had him re-assessed and no surgery was required. His limbs were plastered, he was discharged home with regular reviews, and he has made a great recovery.
18-month-old Arya was admitted to the Shelter in late June. All conservative efforts to treat her congenital hip dysplasia failed. After a number of delays, she had her surgery in late December and remains an in-patient at the paediatric hospital where she was operated on until she is out of plaster. The doctors are very happy with her progress. Thanks to your wonderful generosity, Roads to Rehab Nepal funded her expensive surgery too. She will require lots of physiotherapy when she returns to the Shelter.
Krishnahari, MeRO's longest staying patient, remains stable. His father has been by his bedside since he was injured in the earthquake in 2015 and Krishna continues to defy all odds of survival.
Whether you are a regular donor, a nurse or physio sponsor, or just make an occasional donation, we hope you get a sense of the difference your incredible generosity makes to all those patients at MeRO's Shelter and how your support changes their lives.
With grateful thanks, as always.
Virginia Dixon,
President, Roads to Rehab Nepal