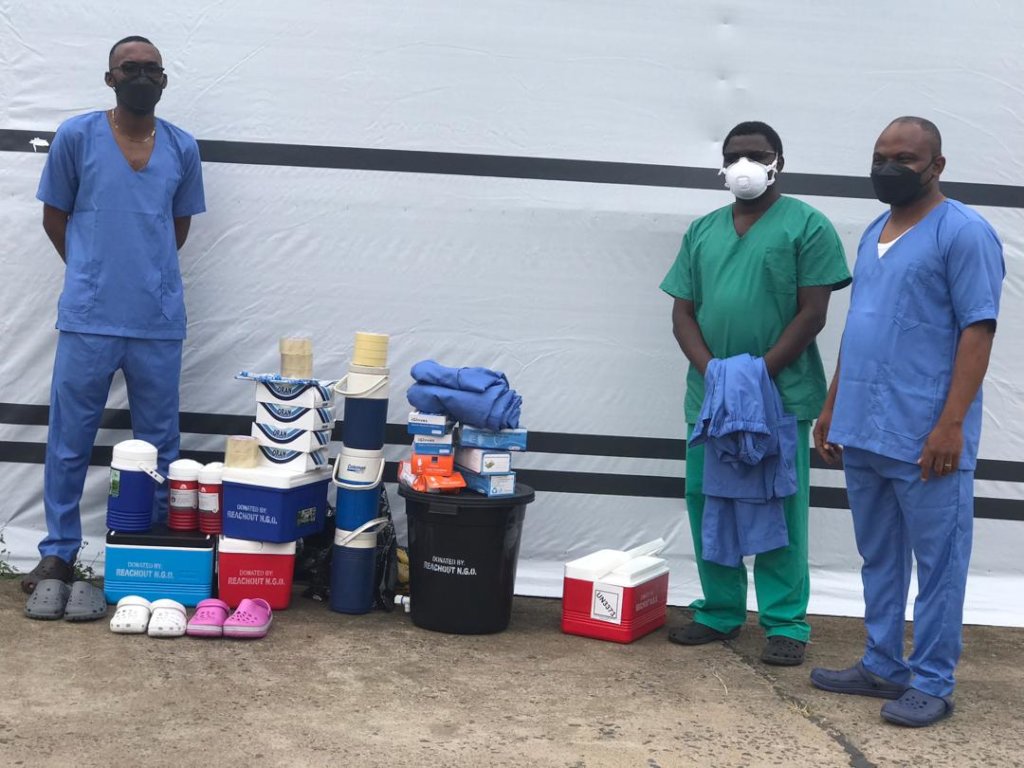 Dear donors,
Cameroon has 12,000 confirmed cases, and the South-West 503, and 29 deaths, mostly concentrated in two cities, Buea and Limbe. Although the virus has evolved more slowly than in other places, its growth is accelerating, and there are very little resources to face this crisis. We asked ourselves what could we do to support with the little we have, and we got feedback from the treatment center responsible for caring for most of the identified cases.
The problem is that we can only test 25 samples at once, it is an expensive procedure and we can't test less than that. So sometimes we wait for some time until we have the 25 samples. But we only have 2 carriers. So we take time from one place to the other carrying samples before we put 25 together and it delays the whole process.
And often they won't even isolate until they get those results, so this small thing is slowing the response and putting everyone at risk. So we need more flasks... just plastic boxes, like food flasks, that would do.
Another problem: we don't have enough clothes. So we have our scrubs to move around the treatment unit, and these are not supposed to leave the center. Now if I want to go to collect a sample I have to go to a different aisle of the hospital. I can go with my own clothes, exposing myself and my family to infection, or with my scrubs, exposing everyone else to infection. So we actually need more scrubs, to change them when we go to collect samples or do any other interaction in the hospital.
Two weeks ago, Reach Out donated 300 gloves, 150 surgical masks, 5 pairs of scrubs, 5 pairs of rubber shoes, 1 hand-washing station, 5 coolers and 8 flasks to the treatment center. We thank you for your support.
"If I don't have the right thing. I refuse to work. I won't put my staff at risk. I have to collect samples right from the persons' throat, I can't gamble. If I get sick who will take my place? We have very limited stuff. If I don't have I will stop working until I get it.
How is it to fight COVID-19 in South-West Cameroon, in the middle of a civil war, and with so much disinformation?
There is so much stigma, even in the hospital, there are doctors and nurses that avoid me. That's not very clever because my wife works at pediatrics, they should also be afraid of her. We have better protection than anybody else, and we follow strict measures, unlike everyone else in the hospital.
And there are so many rumours! People think that we have money because of corona, that the government is paying us per case. So far, my salary has not changed since this thing started.
What worries me the most is that people are avoiding all hospitals, and second, they are avoiding the government hospitals. The corridors are now empty. That is extremely dangerous. People are neglecting their diseases because of the fear of forced quarantine, which is a myth. I have not seen any case of tuberculosis in a couple of months. We used to always have at least some, we have not eradicated it. Someone is there, not treating a potentially mortal disease, because of fear of corona.
We need to continue fighting stigma. I was so honoured to be invited to talk at a church last Sunday, we need more churches that engage in the COVID-19 sensitization. When people cannot trust information from the government they will turn to their church, and some churches are trying to help but are making it worse. I was so happy seeing that a church can invite a doctor to give their congregation the facts.
This comment spurred the idea for our next activity - engaging 30 faith leaders with COVID-19 training, starting next week.
Thank you for supporting this project.
Other activities carried out on COVID:
Contact Tracing in 4 districts
Training of 40 humanitarian organizations
Support to 7 rural health centers with PPE
Awareness campaigns touching more than 100,000 persons so far
Other activities planned:
Donation of more PPE for health facilities
Direct Support to COVID-19 affected families
Capacity building for faith leaders, school principles, and journalists on COVID-19