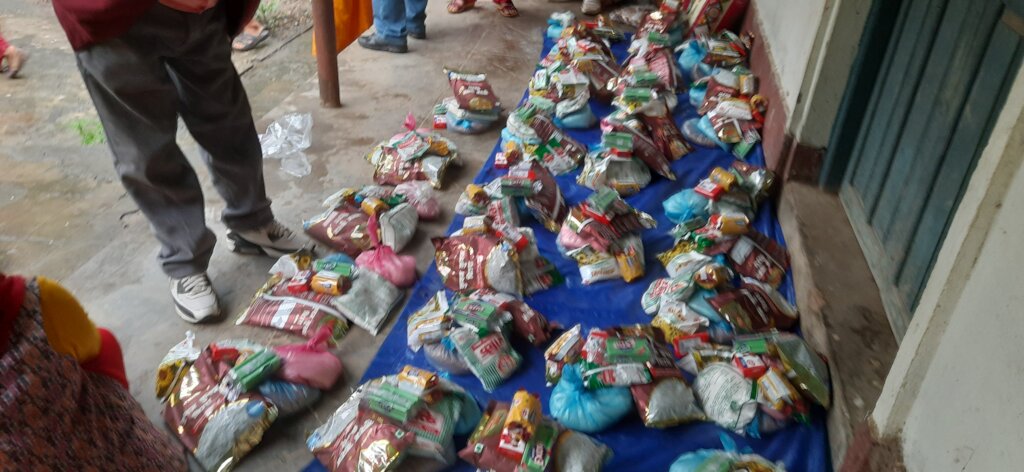 Dear friends,
Good morning and lots of Namaste to you all.
Today once again I am very much pleased to share a new report of our organization program among you all. I hope this report will find you all having a very good time there.
Till now all the people living there are fine. They are living there are happily having a good time there by praying to God for peace and prosperity and long life among all human being.
I am very happy to inform you that we are almost free from the Corona virus now. All old age people living at the home have already covid vaccinated. So they feel asure no corona virus will infect them. They gather at the prayer hall and pray to god without mantinaing distance. Now –a-days we see people walking without wearing mask along the street freely. After the corona came under control, people have been able to have fresh air without mask.
Our food distributin program to the elderly peole is going on from time to time. Recently, we distributed food materials to 30 people living there. They have been very much pleased to receive food materials like rice, pulse, salt, sugar, beaten rice, spices, tea dust, bath soap, washing soaps etc. All the people were happy to receive the materialsand expressed their gratitude to us. We will continue distributing the materials to them from time to time in the future too.
Our food materials distribution program will not be successful without your kind support. We have high hope to receive your continuous support in the coming days as you did in the past.

we request you to continue supporting our program in the coming days. and You can also support us by
Requesting your family and friends to donate for our project.
Sharing our fund raising program among your network, family and friends
Once again I would also like to extend our sincere thanks and gratitude to you and your family for your valuavle donation and cooperation.

Warm regards

Tejanath Pokharel
Secretary treasure
SESF Khadbari:
Mobile number: 9842084078