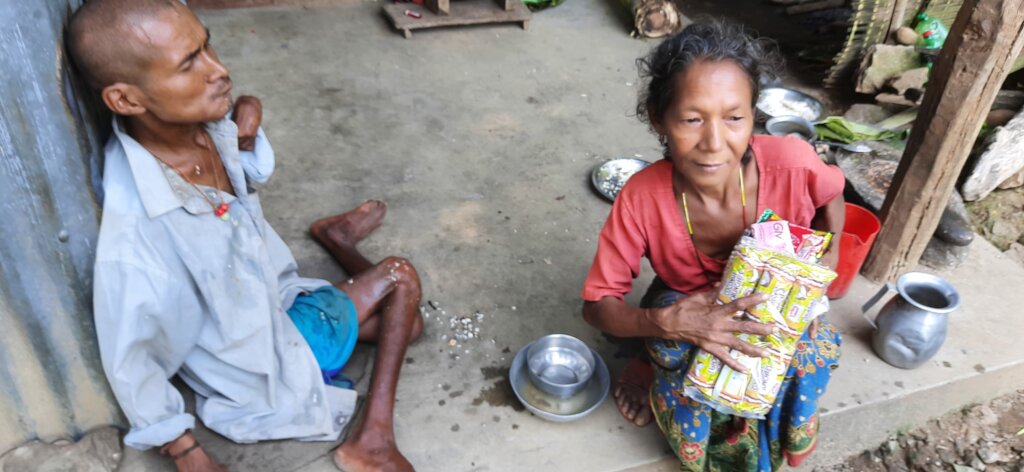 Dear donors
Good morning and lots of Namaste to you your all your family members and friends.
Today again I am going to present another report of our project to you all.
I am very much pleased to tell you that here we are all fine and everything is ok here. Because of Covid pandemic has come into control to some extent , the problem of lockdown has been removed by the government of Nepal throughout the country. So the movement of people has been resumed as before. We can see vehicles running as before along the road.
During last three months two biggest festivals were celebrated through our Nepal. There were Dashain and Deepawali. The Dashain was celebrated from October 12,13,14, and 15, Deepawali on November 4,51nd 6.
n order to support the elderly people to celebrate the festivals we distributed good materials to them. There were very much please to receive the materials for the festival celebration.
On November 14 a big fare also took place at Makamana temple area. The fare which is called Ekadashi Fare ( Mela) is very popular among the youths as well as elderly people. People enjoy the fare by singing and dancing throughout the whole night. Next day people have a bath in the nearby Koshi river and perform pooja rituals at the Manakamana temple. They receive Tika (red color) on the forehead from the priest and go back home in a happy mood.
Now a days almost 34-36 people have been living there. They have been receiving food materials from us as well as from other pilgrims and have been living there happily.
We hope your generous support and cooperation will be continuing in the coming days to achieve our fund raising goal. You can also support us by
Requesting your family and friends to donate for our project.
Sharing our fund raising program among your network, family and friends

Once again I would also like to extend our sincere thanks and gratitude to you and your family.

Warm regards

Tejanath Pokharel
Secretary treasure
SESF Khadbari:
Mobile number: 9842084078