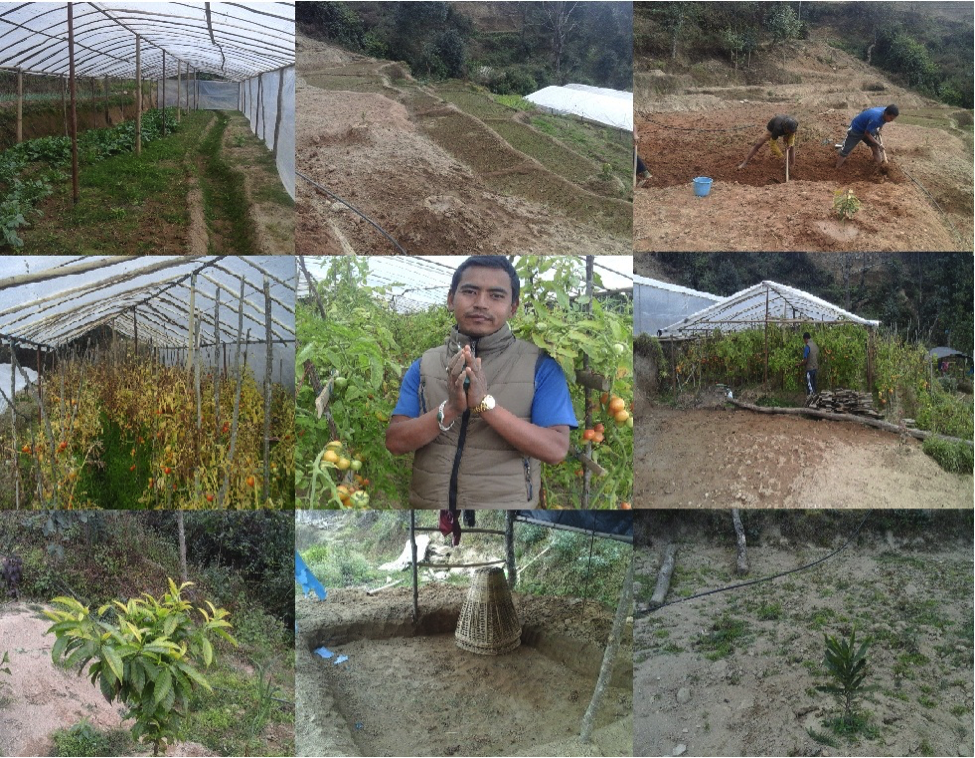 Kshetra has a vision. His vision is to work hard to improve the lives of his family and his country. He wants others to do the same so together they can improve their livelihoods and recover from the devastating earthquake that took so much away from their communities. Below is his story and what he hopes to achieve:
"GROWING HOPES IN NAWALPUR VDC – Kshetra "
BENEFICIARY DETAILS:
Name :Kshetra
Address :Nawalpur VDC , Ward No 6
Family Member: 10
Age: 35 Years
Occupation: Agriculture, Business
35 year old Kshetra of Sindhupalchowk district was born in Nawalpur VDC Ward No. 6 and gained his education from the local school of Nawalpur. Kshetra had to discontinue his studies due to his family's poor economic condition. In order, to uplift his family status; time and again Kshetra had to go abroad to make a saving for himself and his family's secure future. Kshetra returned back from abroad having a planned mindset that he shall do something in his own homeland.1 year ago, Kshetra started to engage himself in the agricultural sector by cultivating various vegetables, plants, fruits in his own 30 Ropani land. Kshetra is a good example of motivated youth who expresses his views "If we try hard and put our all effort than we can make a living in our own country we don't have to go abroad for employment".
Kshetra is an energetic, motivated youth who aims to do something and make a difference by staying in his own country. Kshetra has cultivated vegetables, fruits and other cash crops such as Lemons, Oranges, Tangerines, Coffee, Cardamom, Pauluniya, Buddhachite, Rudrakshya and other important plants. Kshetra says "If we use appropriate technology and the modern method of agriculture we can upgrade our daily lifestyle and society can also get a source of income from agriculture activities and peoples don't have to fly abroad to make a living".
Before the massive earthquake Kshetra was actively involved in agricultural activities. After the earthquake Kshetra house was fully damaged. But still he did not give up and continued his work to support his daily lifestyle. Kshetra wasn't expecting any support from any organizations but still had planned to work in coordination with District Agriculture Office (DAO). Kshetra was very thankful and happy to get support in the form of agricultural inputs (Seeds, Plastic Tunnel, Spray Machine, Pesticides) and appropriate technology (Sprinkle, Pipes, Watering Jug, Scissor) from Nepal Trust (NT) to continue his agricultural activities. Kshetra adds "I have felt the difference in the working method because earlier I was unaware of the new appropriate technology which ease up the work with less time". He wishes to work in proper coordination with NGO's and government organization.
Kshetra advice all the skilled and educated youths to do all that they can do in their own country rather than going abroad. Likewise, he mentioned they can engage themselves in agricultural sector and promote organic vegetables.
After facing a lot of hardship in abroad, Kshetra mentions if every individuals have interest and the will power to do something than with the undying spirit a youth can make a change in the society.In order to stop youths from going abroad, there should be a definite reason that motivates them to stay back and engage themselves in the income generating activities. Due to youths going abroad and only the old people being left behind there is no hope for the development in the society. Finally, people like Kshetra and other farmers must be supported by different NGOs and Nepal government in order to motivate them to move forward in their sector.
Kshetra knows that there is no substitute for hard work but he needs the support and help to move his vision forward. He is taking advantage of the support provided by the Nepal Trust and other organisations and encouraging others to do the same.
The Nepal Trust has moved on from its emergency relief work and is now concentrating on an earthquake recovery programme and livelihood support. The work involves on-farm support to provide training in improved agricultural and horticultural techniques; improved tools and equipment; better access to agro-vets and trade information and the support for the development of farming cooperatives. The Trust is providing revolving funds for marginalised (Dalit and landless) people to establish alternative livelihoods. Socio-economic infrastructures are being developed to provide small scale irrigation projects, a market collection centre and a seed storage centre. Links with agricultural and livestock services are being improved along with exposure of cooperatives and farmer groups to the regional and national market. Disaster risk reduction (DRR) is looking at awareness training and vulnerability mapping and the formation of local groups to provide safety and evacuation drills.
Our bricklayer/stonemason training is now completed and a number of newly skilled masons are now helping to rebuild their communities. They now have useful skills and an income that will benefit not only themselves but the wider community for a brighter future.
However, problems continue and the current monsoon has created fresh landslides on the fragile mountain slopes blocking roads and trails and disturbing water supplies. A recently completed water/irrigation system in Syaule village has had to be relocated because the water source suddenly dried up. A new source has been identified and the pipes are being moved from the old site.
Our school building programme is about to start after long delays due to government administration (7 months). Tarkeyang school will start very shortly and allow the children to move from their temporary learning centres (TLC).
Good progress is being made but there is much to do. Of course, nothing could happen without the support of GlobalGiving and our many donors and we and the people of Sindalpalchowk are most grateful. We hope you can continue to help. Let us all support Kshetra's vision!