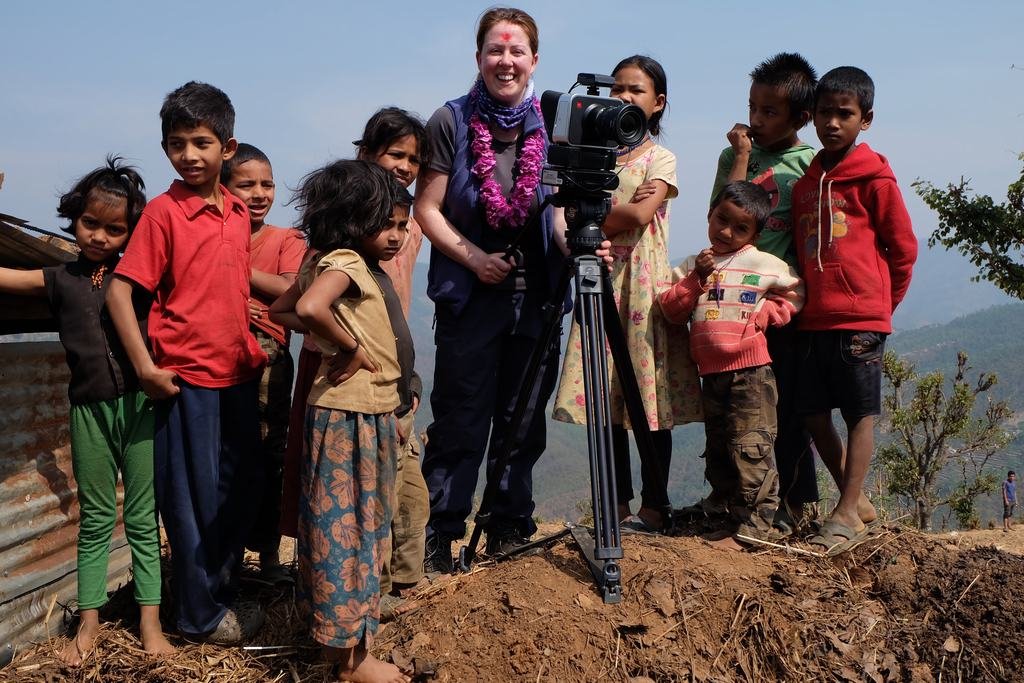 Nepal Trust director and award winning film maker (Recite Films), Anna McPherson, recently travelled to our earthquake relief area to see for herself the devastation and the efforts being made to improve the lives of these remote, but very proud, people. Anna returned just a few days a go and is preparing to put together short films and documentaries of what she has witnessed. These will published on our GlobalGiving page in due course. Here is a short report of her initial observations.
'Since the earthquake in Nepal, almost a year ago, much of the indigenous mountain people in the hard hit area of Sindhupalchowk are still living in temporary housing made up of clay mud and corrugated iron sheets.
The NT are now engaged in recovery projects, including income generation initiatives, in support of those affected by the earthquake. Realising the rebuilding effort may take years, the NT recognised a need to support people in creating a sustainable way to make a living. These initiatives include; the distribution of seeds such as: cauliflower, cabbage, tomatoes and long beans to farmers; many livestock were killed or injured during the earthquake and the NT organised for veterinary services in very remote areas. The vets will educate the agricultural farmers in tending to their livestock and looking out for health problems and identifying treatments.
Another initiative has been support for irrigation to farmers and providing water tanks for drinking and washing water to remote communities as their water source had either dried up or moved since the earthquake. One community recently visited stated that prior to receiving the water tank provided by the NT, they had to walk 4 hours to source water.
The NT have provided metal electricity poles to communities, bringing electricity to their temporary homes, as many of the wooden poles had collapsed. The distribution of GI sheets (corrugated iron sheets) has been well received, including a school in the district of Syaule, which has built a Temporary Learning Centre where their school had collapsed.
Another initiative was the distribution of sewing machines to the Dalit caste. Many had lost their sewing machines in the earthquake, or they have been damaged. One seamstress that we visited, said that many people in her community didn't have money and so they would rely on a bartering system. She would sew and mend clothes in return for rice and other food stuffs.
After the recent field visit, it's still quite shocking to see the devastation of rubble laying around and still not having been tended to. Ruins of once busy tea houses for trekkers. Whilst visiting Tarkeyghyang a once very busy guest house had been shaken to the ground. The owners have built a temporary accommodation and stated that prior to the
earthquake they would receive between 500 - 600 tourists in season. Now, they are lucky if they receive between 16 - 20. These people are highly dependent on tourism and the more support we can provide, the quicker they can get back on their feet and carry on providing a much needed service for tourism in this still beautiful country.'
Anna's brief report clearly demonstrates the huge task ahead for the relief agencies but the problems are not insurmountable and the hill people are very resillient. We need your support to continue the work started. Your help in the past has been brilliant and we could have done nothing without it. So we hope you can continue to support us. An excellent opportunity is about to arise when GlobalGiving will be matching donations to our appeal page, to the tune of 100%! Your donation will double! The campaign starts on April 25th at 0900hrs EDT or 1400hrs BST. It is advisable to get in quickly as matching funds can also go quickly.
Thank you for all your help and support and I hope you can help again this one time.