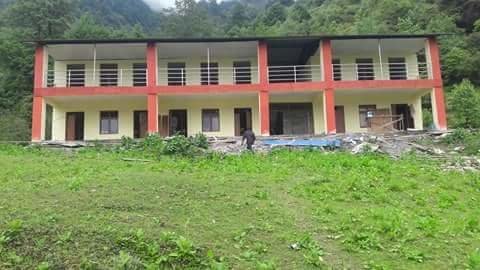 Dear friends and supporters.
Tarkegyang village in Helambu was totally destroyed in the 2015 earthquake that devastated the homes and lives of so many people in this part of Nepal. From being a busy and successful community, much loved by trekkers and tourists, it was reduced in seconds to a pile of stones and timbers. Contact with the outside world was limited and people had to survive with very limited resources. Always resourceful they rallied round and began to salvage what they could for the rebuilding phase. All stones and timbers were carefully sorted and stacked for future re-use.
The Nepal Trust was the first agency to arrive in the village and quickly began a recovery programme. Emergency support and temporary housing materials were quickly supplied to protect the villagers from the vagaries of the impending monsoon and the cold winters at these high elevations. The villagers themselves quickly re-established the community trekking lodge to provide a steady flow of income to help with the rebuilding of their village.
It was decided from the outset that the children should not suffer more disruption to their young lives than was absolutely necessary. Schooling was of the utmost importance for their futures and being able to continue with their lessons would help them to overcome the terrible trauma of the earthquake. The Trust provided a Temporary Learning Centre (TLC) that allowed their education to continue.
Plans were quickly drawn up to replace the damaged school with an earthquake resistant building to meet government regulations. This was a drawn out procedure and took much longer than expected due to the overwhelming demands place on the government. Work started in late 2016 and was well underway during my visit in Spring 2017. All materials; stone, timber, gravel, cement, etc, had to be physically carried to the site from the nearest roadhead - a tremendous task but not out of the question for these hardy mountain people.
I am happy to report that the school is almost ready for use. The final touches are being made and it should be ready in a matter of weeks.
Of course none of this would have happened without your help and support. There is still much to do and requests and demands for our help are a constant. Schools, infrastructure and livelihood projects are our focal areas. It is so important to get back working and to provide incomes and future prosperity.
I hope you will continue to give your support and please encourage friends and colleagues to help also. It is now 3 years since the earthquake and many are still living under desperate circumstances. Recovery will take a long time and we will remain there until there is a semblance of normality.
Namaste