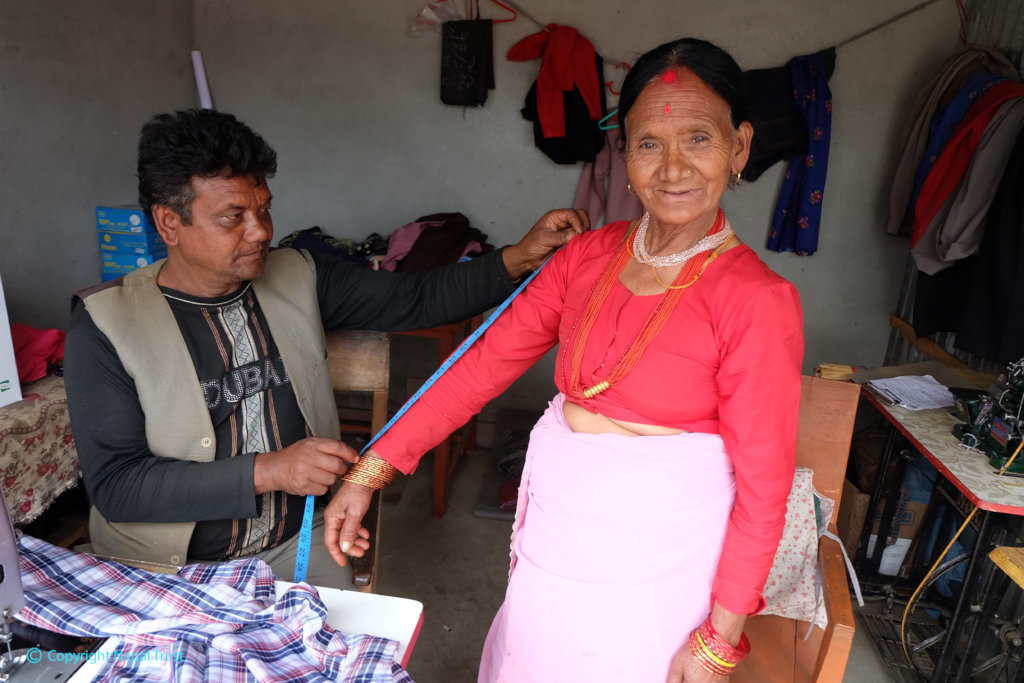 Dear Friends and Supporters
Winter at the high elevations of Sindupalchowk are cold and the heavy snow falls can make moving around difficult. Living in these conditions is problematic at the best of times but much more so having to survive in temporary homes after a devastating earthquake. The priority is to get livelihood support systems functioning again to provide food and financial support. The following report was prepared by our Communications officer, Anu Lama, and describes the work we are doing to get the local villagers working again. Anu comes from one of the villages in the area. Her village was entirely destroyed by the earthquake.
In May 2016 the Nepal Trust started the 'Sindupalchowk Livelihood Support project SLSP (2nd Phase)', a continuation of our 1st Phase project. In this 2nd phase we have developed activities that include on and off-farm, socio-economic infrastructure, market restoration and disaster risk reduction activities. The overall goal of the project is to improve the income generation capacity of marginalized households.
Over 90% of the people of Nepal are engaged in agriculture activities. Under SLSP we have supported 140 farmers from the Helambu, Kunchok, Nawalpur, Sipapokhare, and Syaule VDCs. The farmers took part in training such as Integrated Pest Management (IPM), including pest control by natural mechanisms, and Farm Yard Manure (FYM) which is preparing orgainic fertiliser by using animal dung, urine, waste straw and other dairy wastes to improve soil fertility.
The support for farmers included 140 greenhouses and plastic drums for organic fertiliser. Additionally, we provided seasonal seeds like tomato, green chilli, cucumber, cauliflower and green peas. Linked with local Agro-Vets as well as the District Agriculture Office (DADO) farmers were trained in harvest and post-harvest practices for vegetable preservation and marketing.
In this project we have also a seperate component where agro-vets, agriculture cooperatives, traders, and farmers are trained on building their capacity so that they can complement each other for a common goal. We also supported a number of Dalits, landless, and marginalised people by providing revolving funds via local women's / agriculture cooperatives at a 5% interest rate so the can 'build back better' and engage in alternative livelhoods like farming, goat rearing, local retail shops, bricket making, etc.
To save time and ease the work load of local farmers we have supported the cooperatives with 4 mini-tillers and 4 threshing machines that will benefit over 500 households. The farmers can hire and pay a minimum fee for their usage; the fees are used for repairs and maintenance.
We have constructed 5 water schemes for drinking as well as irrigation purposes that benefits 500 households. We have also constructed 2 Market Collection and Seed Storage centres in Sipapokhare and Kunchok VDCs by co-funding with other local NGOs, rural municipalities and women's cooperatives. The aim here is to help farmers sell their produce by eliminating the fear of loss due to storage by intermediaries and also to give a direct link to the markets.
An exposure visit was organised where 31 participants including farmers, cooperatives and agriculture technicians visited different commercial and private agricultural farm and research stations in Kathmandu. It was an interactive, participative approach to demonstrate farming by observing different farms and facilitating farmers to learn new techniques, observe different crops and compare their own practices with others.
Another new initiative supported by the Nepal Trust was the Disaster Risk Reduction (DRR) programme under which we trained many local communities on strategies to reduce the damage caused by natural hazards like earthquakes, floods, droughts and landslides, by invoking an ethic of prevention. The activities included DRR group formation, vulnerability mapping, awareness training on first aid, search and rescue, early warning, and linking with district DRR forums and safety and evacuation drills.
In coordination with the District livestock Office (DLO) we provided door to door Veterinary services to 497 households in the 5 VDCs where we work.
I would also like to report that our school building programme is on target. The new primary school at Tarkegyang should be completed in about 3 months. Local children have endured the hardships of our Temporary Learning Centres but will soon have the luxuries of a new earthquake resistant building with magnificent views to the snow peaks of Langtang.
Thank you all for your continued support and we hope you will continue to help in what ever way you can. It will take years of recovery before these communities are back to a form of normality. They are working hard themselves and moving ahead with great spirit but still need some support to make it all work. Perhaps you can share this report with your friends and colleagues and encourage them to contribute?
Namaste