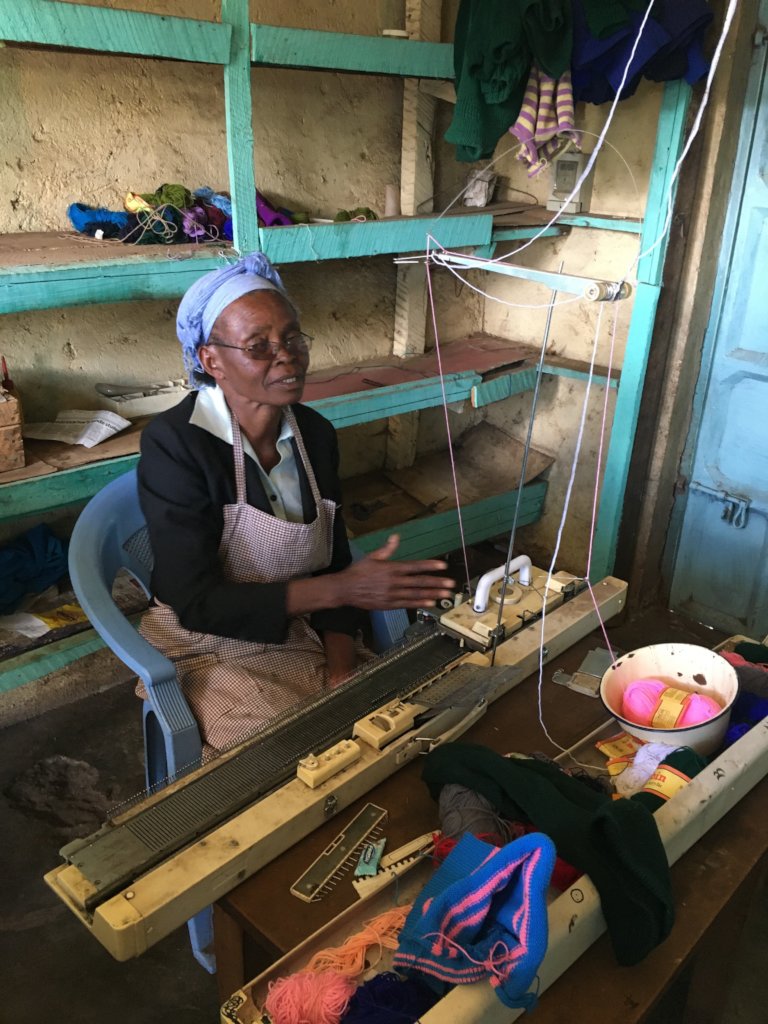 Meet Eunice.
"I love to knit, it is very enjoyable for me."
Eunice is 55 years old, and the secretary of Karimi Women's Group. She owns a shop in the trading center of Ntirimiti in northern Kenya. In her shop, you will find a knitting machine as well as pots and pans that she sells. The pots and pans are supplementary to her knitting, which she has been doing for more than 30 years.
In 2011, Eunice opened her knitting business, making all of the items by hand. In 2016, she took her first WMI loan and bought a knitting machine, which allowed her to take on more business as it cut her production time down immensely. It's cold at night in northern Kenya and people wear knitted hats and sweaters to keep themselves warm. Customers can put in customized orders or purchase pre-made items. Her hottest selling items are pullovers, beanies and socks. One of her favorite things to do is to make new designs for all of her items. This along with her high-quality materials is what puts her ahead of her competition. Currently, there is one other shop in the trading center that makes knitted goods but Eunice says that people prefer her. She is also an outstanding marketer, showing her items at community gatherings so people see her work as well as buy!
When she started her business the community and her family were very supportive and excited for her. With the income generated after the purchase of her knitting machine, she has been able to buy grazing cows as well as pay school fees for her three children, two of whom are in university, the eldest having finished and now earning a living as a farmer. With this same income, she was able to expand her business to include pots and pans in her shop which help offset the slow season for knitted goods.
High season for the sale of knitted goods is when each school session starts: January, April and September, meaning that most of the year is slow season. Along with selling pots and pans, Eunice also mends clothes throughout the year and has started teaching women to knit! She charges $50 (5,000 KSH) which provides customers 2 hours a day of teaching until they learn to knit competently. To date she has trained 6 women. With all of her income streams, Eunice averages about $150 (15,000 KSH) a month in income.
Even with all of her innovations, her business still faces difficulties particularly when it comes to people buying on credit. At times, they refuse to pay and she has to involve the local leadership to make sure that she gets paid back (which she does).
Her advice for women wanting to start their own business is: "Income from your business is so important. A way to make sure you have good income is understanding how to market your business, so you must make sure you know how to market it!"
Your generous donations help Eunice and borrowers like her access the working capital they need to succeed in business. A loan to buy equipment and materials will enable the borrower to generate the cash flow she needs to provide for her family – and pay back the loan so that another woman just like her can start a new business! Your support to WMI is giving African women the chance to work their way out of poverty, and the savings to stay out of poverty. Will you consider another donation today?